Honda motocross buys
Honda happiness - Is a blood red dirt bike.
A honda motocross bike is an excellent motorbike. With spares & parts in abundance and a great range of models - a honda is quality and reliability wrapped up in one. You do of course see some championship motocross riders favour the honda dirt bike. Not only can you buy superb bikes with the most reliable engines, honda offer plenty of MX gear as well.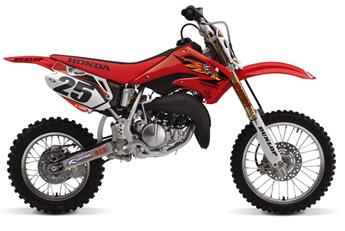 Are you the proud owner of a honda crf 230 enduro or a honda crf150f dirtbike? Or are you thinking of buying a honda 250 or honda xr 400 perhaps? Well Honda is a mammoth motocross company, with tons of models and motorcycle aftermarket spares stores. So why not have a honda cr500 dirtbike or this years honda motocross bikes?
You're best reading up on a motorcycle review first before buying your chosen honda dirtbike for sale (or a video on youtube). A 50cc might be ideal for a beginner, but you might find the honda crf450r dirtbike, too much to control! So research this manufacturer, in case you can't find a model to suit your riding style. Even off-road bike forums will discuss the honda dirt bike at length; and their experiences on them.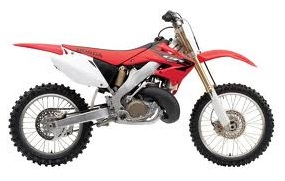 The internet calls and we see what honda motocross bikes are being sold, and more importantly the costs of such extreme bikes.
Ridemx.co.uk was our first site to visit, which popped up a used Honda CR250 2005 going for £1995. It had new graphics and plastics, and bills for all its spares including a new exhaust.
Reduced from £2350, its certainly a nice price; but you would always ask the seller why the re-modelling of the plastics and graphics – was it involved in a big crash!
Ridemx.co.uk also offers spares too - and a set of upper fork decals for your Honda were on sale at £13.69, plus an Excel front wheel (21x160), at £264.21. Not a bad store for motocross stickers and other honda dirtbike bitz. However like all of these MX stores, when buying - you have to dig a bit deeper to get your specific model; or in finding an item that will fit as an aftermarket accessory to your ride.

Championship motocross bikes
Honda MX used bikes and some spares too.
Mxchange.co.uk is always one of our favourites as it's easy to navigate and drill down to certain cc's of dirtbikes, to locate a 110cc pit bike or a honda xr80 dirtbike is a breeze. A very clean 2007 Honda CRF 150 4 stroke was found for around, £1,699. Only 3rd owner from new, with a new oil and filter change. So its both practical plus a number of aftermarket spares were offered along with this bike.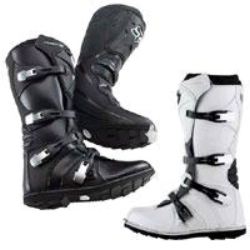 Another 2007 Honda came our way, but this one was a more powerful, CRF 450R 4 stroke motocross bike. It's a road legal bike, with road tax and had only covered 70 miles. For £3,000, you get all the guys gear too – and the only downside was a couple of boot scuff marks on the bikes casing.
Other excellent bargains were a Honda CRF 250F (2005) for £1900. The Bike came with new stainless steel valve, trick bits and was in superb condition. Or what about a Honda CR 125 (2003), complete with a wisco piston kit and brand new nickle plated barrel all for £1500. If you're after a cr85 honda dirtbike or maybe a 2009 honda 450 dirtbike in red, you should definitely check this site out.
Ebay came a close second, as its not just pit bike models you can buy but freestyle motocross clothing and graphics for dirtbikes too. Our finds included a HONDA XR front sprocket for most Honda models priced at £6.99. Or a current bid on a honda xlr 125 field bike was only £102, with literally a day to go.
A honda crf 50f children's dirtbike came along next, with a Current bid of £515, but the reserve was not met. The great thing with ebay, as this last advert showed was that an unwanted present – gives you the bargain of the year! (And this honda 50 dirtbike was like new).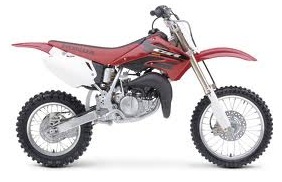 Mxbike.com has honda 2 stroke and 4 stroke categories. With tons of spares; from a Pro Circuit Honda Works pipe for a CR80R- for $229.95 to a Pro Circuit Honda Ti-4 Slip on for a XR400R 96-04 for around $374.95.
But believe us their store is huge! If you don't find a part for a honda 175 enduro or your silkolene honda motocross gp bike, you can also contact the store for quotes and whats in stock.
Bike-exchange.co.uk was our final stop, where a 2005 Honda CR 85 (as new) was going for £1150, lots of description and photos were in the ad - which we like to see. Another Honda CR 85 came in at £850, with only local field use.
Admitidly we didn't scout around for honda patches and Honda motocross spares to round the day off, but we are sure google would have turned something up as well. All in all, if you're seeking used Honda motocross bikes, these websites are worth a visit and the bargains kept on rolling.
Some MX gear motocross rider?
What is MX gear? - This can be anything from jerseys to boots & other motocross products for your personal protection. Honda motocross of course has their own branded clothing as well. Quality is excellent and should do everything required of it.
BUT - If you abuse your honda pit bike or dirt bike, you will need to visit the parts store on a regular basis. So keep it sensible and only push the Honda dirtbike when you know you can do so safely, and well within your ability. What you save on good Honda motocross gear, you don't want to be spending on parts – that's just bad maths.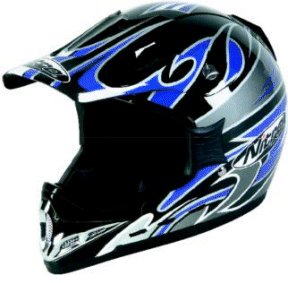 ---
Home | Dirt Bikes | Cheap Dirt Bikes | Accessories | Mini Dirt Bikes | Motocross Racing
Motocross Gear | Off Road Bikes | Used Dirt Bikes | Wholesale Dirt Bikes
Honda | Kawasaki | Suzuki | Yamaha