How do you look after mini motos
The quick checklist of mini-moto care.
How Do You Look After Mini Motos, is a well used question for many owners.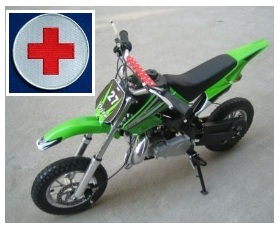 Basic maintenance is paramount of course and keeping the bike well topped up with oil and water (if your bike is water cooled of course) is one of the main things you need to do.
Here below is a compiled short-list of main things to check when answering "How Do You Look After Mini Motos" when you use your bike at race events or on the track.
Never ride on flat or very low pressure tires. If riding in rain or heavy dirt clean your mini bike afterwards. Adjust handlebars and foot rests to suit the rider using it.
Check the ignition is firing correctly & warm up the engine a few minutes before riding. Avoid jumping off ramps or curves, and abusing it unnecessarily if you dont know what your doing.
Clean the bike over and check all nuts and bolts are tightened fully.
Check brakes are not worn and adjust if necessary.
Check and clean plugs, oil, and radiator regularly, and especially if it hasn't been used for a few weeks.
Check chain alignment and maintain with correct oil especially before racing.
Truthful Answers to - How do you Look after Mini Motos
How do you look after mini motos and what are the reasons for proper maintenance and care of your mini moto?
Quality operations produce quality results and fixing problems right away saves money and downtime later on. Safety, of course, is at the front of the line. Well-maintained bikes have a harder time breaking down. You know about the pre-ride check. What about when the fun is over for the day?
No matter if it is your bike or one you borrowed – take responsibility for the cleanup and spot-checking of parts. After the ride is over, clean the mud and dirt off the frame, seat and handlebars. Just as a reminder, you will want to give it one more going over before you are done.
Check the engine, because it is sure to be a bit grungy after the ride. Clean it all around and wipe the box off to be certain grease and sludge is gone.
You will notice that the frame, seat and handles are dirty again, thanks to the engine cleaning. This is the time to get the dirt, grease and grime off the mini moto exterior with a second cleansing.
Apply polish, leaving some on to protect the mini moto from the elements while it is just sitting. You can wipe the extra polish off before your next ride.
Just as you do with any other type of transportation with tires, check the pressure. Not only does this save on wear and tear, it also prevents a flat while riding.
When you are finished with all these steps, start the bike. Allow the engine to run for 3 to 4 minutes after washing to clear the lines and dry up any traces of water. Have an extra air filter, spark plug and sprocket on hand.
So how do you look after mini motos ? after reading the above list you now know how.........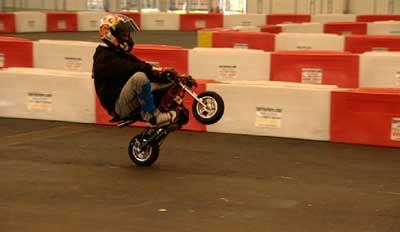 The Complete Guide To Understanding, Maintaining And Tuning Your Minimoto is great for those wanting a perfect sport racer or a minimoto instruction manual that goes more in-depth than we do here.
Not only tips on maintenance, but how to modify your miniature dirtbike and much much more. This manual is a must-own item for riders of smaller bikes.
The Mini moto dirt bike
You need technical advice and small spares.
Ok you enjoy mini dirtbike racing, wearing those personalized MX jerseys and gear on your small dirtbikes. BUT - Having cool clothes and the best custom painted helmets isn't what the whole sports about.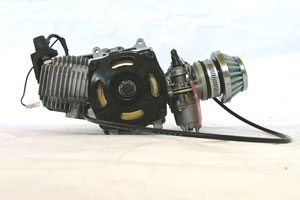 You might have to get handy with the spanners. That's the advantage of xbox racing games – no need to fix those broken pitbikes when things go wrong.
After every race Do check your helmet, boots and goggles for damage plus your mini bike tires for tears and rips. A good instructional video or set of MotoX dvds will show you how to prepare for a race, Plus what to check for afterwards.
On the net we found a few helpful sites that help answer the dilemma - "how do you look after mini motos"?
Minimoto.co.uk, has a great page on technical advice, and other sections about what clothing you should wear? And what's the correct fuel mixture for mini motos as well.
Funbikes.co.uk also offers great prices on actual mini bikes and spares, and you can contact them for advice – which is great.
Always look for websites with secure payment options & know what they are talking about. The motocross racing news pages can help to some extent, but always use common sense, and if you really don't know – ask – you could ruin your mini bike by assuming repair procedures.

The mini pocket dirt bike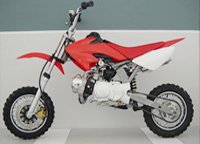 Mini bikes can take a pounding on the off-road tracks. But the mini moto dirt bike especially is cheap as are the mini dirt bike parts to replace any broken components - so its really win-win.
If you want a beginner's idea of dirtbiking then the mini pocket dirt bike - (with a 49cc engine), could be ideal for you.
Plus they dont cost anything like the full-sized bikes, so its a great first motorbike (or pitbike as they are sometimes called).
When you say - how do you look after mini motos - always ask specific questions and you'll get specific answers - thats the best way to gain knowledge.
Home | Dirt Bikes | Cheap Dirt Bikes | Accessories | Mini Dirt Bikes | Motocross Racing
Motocross Gear | Off Road Bikes | Used Dirt Bikes | Wholesale Dirt Bikes
Honda | Kawasaki | Suzuki | Yamaha