Kawasaki used dirt bikes
Pre-loved bikes - The way to go for most MX beginners.
Kawasaki used dirt bikes are amazing value and an ideal bike to have.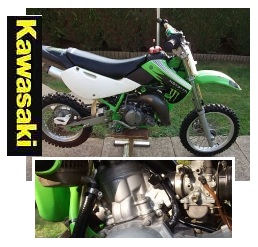 Online classifieds are numerous and superb for seeking out specific brands and models. Ebay is fine too, but thoroughly check the pictures and information given, and ask questions if you feel any critical info has been left out of the advert.
Also look at the seller's feedback when they are advertising kawasaki used dirt bikes; and make sure it's genuine too!
Used is great if you have a small budget as the depreciation is significant on a new MX ride, but also take care looking over the condition & history and maintenance on the bike. Check and double check; if you buy in haste you may have overlooked obvious faults.
A used 200cc dirt bike or a big air motoX-er always seems a good idea. The cash savings alone from a pre-loved motorbike are fantastic. First find out the bike that's perfect for you - are you a off road racing newbie?
If so a 250cc MX bike might be too much power. Also are you good with mechanicals, if so – you could pick up an off road dirt bike that's been an abandoned project; perhaps an old brown, dusty n' dirty dirt bike that no one wants anymore - but you can see potential in it.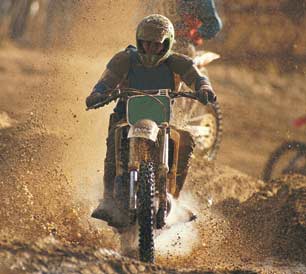 Kawasaki used dirt bikes can be picked up very cheaply, add some graphic kits, new off road wheels and tires and a smattering of aftermarket equipment and the dirtbike will look very different. Have a budget before-hand so you know what the motocross bike will cost when completed – maybe keep a motocross journal of your spending.
Now where do you buy cool secondhand kids moto x bikes and powerful yet inexpensive kawa bikes? Here are a couple of great outlets to get pre-loved motos............
First along in our exploration of kawasaki used dirt bikes is the ever popular mxchange.co.uk. They have dedicated pages on the 125cc's, suzuki's, Honda's and of course Kawasaki's. We found a 2007 Kawasaki KX 250F 4 stroke motox bike in perfect condition, with less than 5 hours of riding on it, for a price of £1,799. Also on offer was a 2007 Kawasaki KX 250F 4 stroke dirtbike with pro-hoses and a new water pump fitted. Ready to race for around £1,700.
The Kawasaki dirt bike
Cheap bids n' bikes, in bargain town.
Now if that wetted your spending appetite what about ebay - do they have kawasaki used dirt bikes? - well YES in a big way!
We uncovered a kawasaki kx 250 scrambler showing a current bid of £300. True it was a 1992/93 model which did require attention, due to some engine smoke (possibly piston ring issues). This would be ideal for someone who requires a dirt bike project of course. So do factor in costs to buy vehicle parts and other moto x gear you'll want for your future expeditions.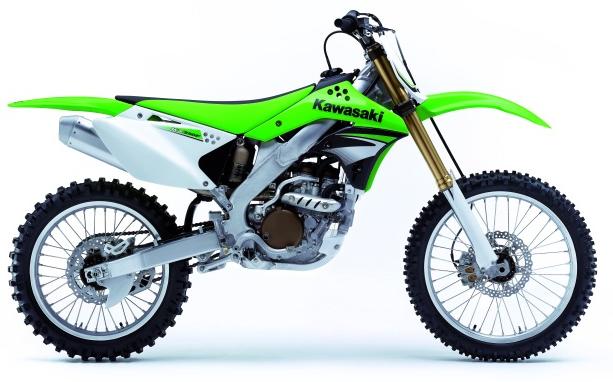 Now dirtbike gear is one thing thats in abundance within the pages of ebay not just complete kawasaki used dirt bikes – so what bargains can be found?
A pair of KAWASAKI motocross goggles for £6.90 was an instant spot, or perhaps a Youth pit bike helmet (large size) currently with no bids but a reserve of only £6.90 + £27.72 shipping, may be more to your liking? A bit "left-field" was a Kawasaki KX65 Wall Clock great for a Childs bedroom - on sale at £10.39. You know as well as us that motorcycle boots, off road parts to a set of dirtbike headlights are available on ebay so do dig around here for some fantastic accessories.
Bike-exchange.com came along next - digging up more kawasaki used dirt bikes for sale, with a Kawasaki KX 144 for £2000 being our first scalp. A V-force reed block a full HGS 144 system and GMX blue hoses were all on this bike; plus lots of care and attention has been lavished on this classic Kawasaki.
OR - Would you prefer a cheaper Kawasaki KX 65 for a miserly £900? Coming equipped with new piston rings, new chain and sprockets, selling due to the current rider wanting a more powerful ride.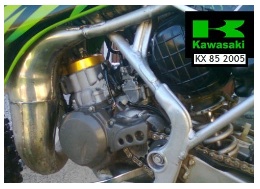 And a Kawasaki KX 85 popped up for an even cheaper £888. Great starter, new chain, never been raced with some small accessories included, like petrol canisters, mixing jug etc etc..
When going to buy dirtbikes like this test ride them at all times. You not only find out if the MX bike is sold as advertised; but you may realize that the mud tires will not be suitable for your local track, or its slightly too big, or unmanageable - and so on. So always insist on this.
Ukbike.com had a Kawasaki KX 65 (the 2005 model) for £900 and ocala4sale.com – in their used motorcycle section were selling a 2004 KX65 for $1000 or best offer! The latter site did not have many pics, or ads, but was worth a quick look in case a bargain should crop up.
Gumtree.com has often come through for kawasaki used dirt bikes - so it had a Kawasaki Kx 250 (2005) advertised for £1195 where as ridetheplanet.com were selling a Kawasaki KX250 A5 in a fully restored condition – but price was available on application.
An impressive line up of endurance sport bikes i'm sure you'll agree. Ebay of course is an eclectic website selling allsorts from motorcycle grips, tires and wheels, and discount dirt bike pants etc etc. Some branded for Kawasaki's while other items like motocross apparel that are not necessarily branded Kawasaki, but can be used in conjunction with your new kawa bike.
Pick and choose according to your budget.
Kawasaki dirt bikes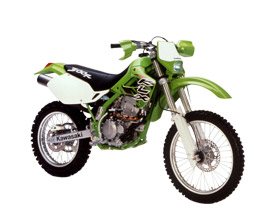 Kawasaki dirt bikes, are seen often on the tracks and trails, as they can be picked up much cheaper than famous yamaha models.
For instance the kawasaki 125 dirt bike, is ideal, its light and rugged for jumps and tricks.
So buy a kawasaki if you see one for sale at bargain prices. You'll be pleasantly surprised by how good they are.
The wide open spaces are awaiting your new Kawasaki recreational vehicles to ride you off into the sunset. What bike will you own? and how much will you save?
---
Home | Dirt Bikes | Cheap Dirt Bikes | Accessories | Mini Dirt Bikes | Motocross Racing
Motocross Gear | Off Road Bikes | Used Dirt Bikes | Wholesale Dirt Bikes
Honda | Kawasaki | Suzuki | Yamaha