KTM USA MotoX
The infamous orange monster.
KTM usa is a term you'll often hear in racing rallies involving ktm motorcycles.
There's a lot of ktm talk and adventure in these places, which is useful for anyone looking for good motorcycles.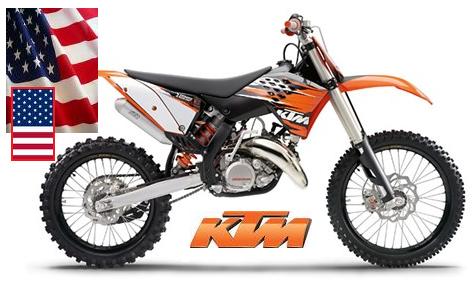 The fact is, owning a ktm dirt bike puts a person on the list of elite riders that know about off road motorcycles.
The products of this company specialize in creating lightweight and easy to handle bikes, including the supermoto that is super popular right now.
Anyone looking for a way to break into the dirt racing world should take a look at some of their models.
Anyone interested in KTM usa riding should follow the ktm logo to find dealers who sell this type of motorbike. It's interesting how this company started out, and the way it has evolved from creating simple bikes to powerful off-road equivalents.
A KTM requires little work for MX races.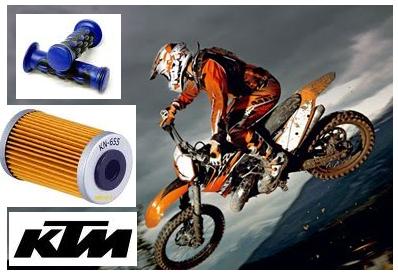 As a person keen on buying an atv or used ktm motorcycles I can say that living in the ktm world you have to look into the history of this brand.
It's just unfortunate that such a brand is not more popular, compared to the husky or honda, but I can see in some rallies how a lot of people are now using this kind of bike more and more.
The KTM USA brand is often the subject of discussions online and in community boards. Browsing through these discussions will lead a person to believe that only the most elite riders know all there is to know about these orange & black bikes.
Even if one only knows about ktm history, it's easy to mingle with owners of great old dirt bikes. Talking to these specialized groups of people will often lead to a discussion on used ktm dirt bikes and the best methods of buying a pre-loved motocross bike.
Someone I know got all the info he needed for buying ktm dirt bikes online; as MX forums & some social networks can advise on ktm motorbikes to buy, you just have to select what's right for you.
KTM USA Bikes – a bit of MX History.
The orange KTM USA bikes are a normal sight at any off-road race. KTM first started production back in 1934 in Austria, and by 1953 the company had produced the R100. Forty years later, KTM would be offering forty two different models.
John Penton would soon revolutionize dirt-bike riding and racing within the USA by sourcing and importing these machines in 1968 under his name. The GS model was the first to arrive. KTM America Inc. would soon be established in 1978 in Ohio.
The decade would see an explosion within the 50cc market, and one which this company has dominated within racing circles.
KTM primarily identifies themselves as a manufacturer of dirt bikes. Bikes such as the 250 SX and 450 SX are promoted in the supercross and motocross series, while their EXC and XC enduros are well-liked KTM USA bikes in off road scrambling.
KTM's first race was in 1956 during the International Six Day Enduro. They have also been participants in the grueling Paris-Dakar Rally, considered to be the toughest off-road racing event throughout the world.
KTM are now poised in becoming the 1st major manufacturer to start producing an off road bike that is electrically powered.
Being part of this brand by owning one of their bikes, will almost make you feel like a champion too.
2011 KTM Test
Trans America Trail Off Road Ride Across the USA
---
Home | Dirt Bikes | Cheap Dirt Bikes | Accessories | Mini Dirt Bikes | Motocross Racing
Motocross Gear | Off Road Bikes | Used Dirt Bikes | Wholesale Dirt Bikes
Honda | Kawasaki | Suzuki | Yamaha