Metal mulisha dirtbike gear
Mulisha mania – to test your metal.
The reason metal mulisha dirtbike gear is so popular is firstly they have combined with Shoei. Well the helmet is at least, and they are extremely sought after. Many stores only have small numbers of these helmets now and they have been great sellers for these two companies.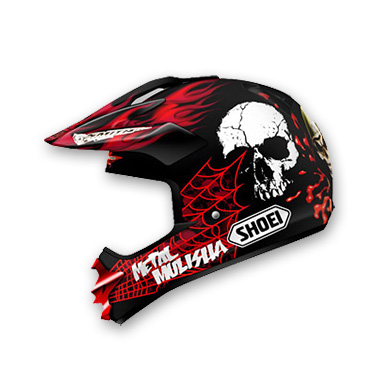 Metal Mulisha offer a great paint scheme on this item and their gear is world renowned, many MX fans love the styling and quality of their impressive products.
If you are serious about your dirt biking Metal Mulisha is a brand to have, but keep an eye on your pocket as your hard earned cash can be swallowed up quite quickly, however they are well worth seeking out - both new and used.
Motorcycle clothing comes in all shapes and sizes, and indeed custom colors too. But one MX textile brand that sticks out is metal mulisha dirtbike gear.
They are a radical manufacturer that supplies dirtbike helmets with unique punk bike graphics (an ideal special occasion present perhaps?). But they are more renowned for street clothing, which is great for youth fans who want something related to the sport which have funky motorcycle related designs for boys and motorbike girls.
The homepage metalmulisha.com offers custom fleeces, denim, tees, moto jackets and jerseys. Plus you can buy punky and motocross style stickers, key chains, bags and belts for the sport fan inside you.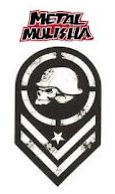 For instance a sticker set for a HON CR125/250 came in at $69.95 and a "gatekeeper" fleece jacket was offered for sale at around $52.00 (in black or white).
The pictures on the website are clear, and the clothing store is easy to navigate but descriptions of the apparel is sparse.
Also check out ebay for metal mulisha dirtbike gear, where we discovered one of the best MX motorcycle helmet graphics on the planet. It was on the Shoei V-Moto Helmet from Metal Mulisha priced at £175. The offroad helmet is Snell M2005 / DOT Approved, with a Cross Vortex Rear Exhaust Vent, 3D Comfort Liner System and a Semi-Dual EPS Liner Ventilation System all included within this superb lid.
Ideal for your MX poses n' riding and the moto-photo in the ad looked amazing. Also on ebay was a HONDA CR 125 / 250 Metal Mulisha sticker/ decal set for their 2002 - 2008 models priced at £99.
MX Mulisha casual clothing.
Caps and sweatshirts look darn fine.
Btosports.com had a full mulisha page with a number of accessoires crammed with metal mulisha dirtbike gear.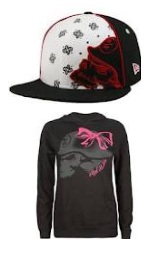 A Metal Mulisha Iconolistic Tee shirt for $22.00, and a Metal Mulisha Chevron style Glove coming in at $49.99 and finally a Metal Mulisha Helmet Filled Sock for a very cheap $8.00 was easily sought. If you're into all things moto & Metal Mulisha this is certainly worth a 5 minute browse.
Freestylextreme.com had some nice buys for the man wanting metal mulisha dirtbike gear. A Metal Mulisha Draft T-Shirt in Grey for £8.99, plus a Metal Mulisha Red Twitch Signature New Era Cap for around £31.99 was also lusted after - and a Metal Mulisha 8 Inch Ruin Sticker for a mighty £2.99 was our last buy. A cool vender for metal mulisha dirtbike gear and apparel, and we'll be back.
Bossmotocross.com was our final destination which has some good direct buys within their catalogue and some fine fotos along with their listings. A Metal Mulisha Ladies Sweatshirt was $63.99, a Metal Mulisha Sticker (Batallion 6") for $21.95 looked awesome and a Metal Mulisha Mens Hat Bonez was offered for $24.95 which is almost half price on RRP.
We looked further and found a Metal Mulisha Ladies Shirt coming in at $19.95, which again was on during a seasonal sale.
This brand can be expensive depending on what you buy, and what's HOT. So always have the patience to shop around and you'll be surprised by what you can shave off the RRP.
We can't say for sure that all the apparel listed is ideal for a candlelit moto restaurant, but as a spectator on the dirt and pitbike track you'll look second to none.
Dirt bike riding gear
Casual is good….. But buying good dirt bike protective gear should be a top priority. For instance alpinestars & thor dirt bike gear is superb, and much of the branded dirt bike gear worn by famous riders is of the highest calibre as well. Also women's MX apparel is of excellent quality today; but prices vary widely so check a number of MX stores before buying. Combo's, gloves and boots dont come THAT cheap so use your cash wisely.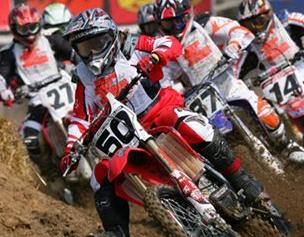 ---
Home | Dirt Bikes | Cheap Dirt Bikes | Accessories | Mini Dirt Bikes | Motocross Racing
Motocross Gear | Off Road Bikes | Used Dirt Bikes | Wholesale Dirt Bikes
Honda | Kawasaki | Suzuki | Yamaha