Michelin motocross tires
Burn dirt bike rubber – with a Michelin.
Michelin motocross tires are regarded as excellent MX tires. You can tell them easily by the motocross logo on the side of the tyre wall. You may get lucky and find these tires in a close-out sale, or as an un-needed spare, and are being sold for rock bottom money.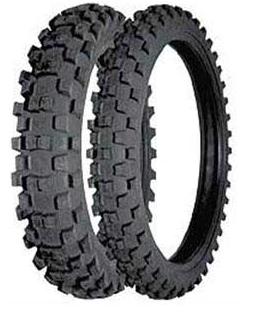 But its REALLY best to buy new. For instance your motocross gear should be bought new (where possible), it may be cheap enough but quality is all important. Dirt bike helmets especially should be purchased new and they should be in excellent condition.
Off-road motorcycles tear up their michelin motocross tires with a greater frequency than the average rider would like. Michelin are a well respected supplier of motorcross tires, and you'll find they have rubber for your 49cc mini bike right up to a 250cc dirt bike monster.
If you ride frequently; you'll need a good bike shop to keep you in the groove with next weekends motorcross action. Michelin have vast supplies, not just for pit bikes but vintage motocross rides as well. When you do find a suitable parts and accessories store which has lots of Michelin tires, check sizes first – they need to be bang on – or you'll have your MX tires coming off when extreme jumping or racing for that corner.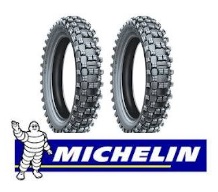 Here are a few stores that sell Michelin tyres, ideal for your motocross bike.
Onoffroad.com, had a number of offerings, such as Michelin Desert Front Tires for $94.35. These bike tires are DOT-approved for the road, and give excellent performance on the motorcross tracks as well.
Now for intermediate terrain - they had some Michelin M12 Front Tires at a well priced $69.25. And the Michelin M12 Rear Tires were being sold for $77.75. A number of other branded tires were also available, so do feel free to spend some time on the site if you require some better buys.
Your Michelin guide..to tires
Tyred of searching? See our attempts.
Motorcycle-superstore.com came along next, which has all kinds of off road wheels and tires, so we dug a bit deeper for Michelin racing tyres.

How about a Michelin AC 10 Enduro-MX Front Tire on sale at $67.99, or a Michelin M12 Intermediate Front Tire going for $62.99. The Michelin Starcross MS3/MS2 Soft-Intermediate Rear Tire was offered up at between $23.99 - $82.99 depending upon size; and the Michelin S12 Soft Terrain Rear Tire at a tasty $62.99 - $71.99 was also on sale. A great choice of brand new & quality tyres for bikes of all kinds i think you'll agree.
A really great place to look out for michelin tires; is motoxoutlet.com. If your about to get tires for your kids rides and are wanting to complement their rims n' wheels do browse this site. Amongst the MotoX tires for sale we encountered :-
Michelin STARCROSS MS2 pitbike tires selling at $42.99 and Michelin STARCROSS MH3 tires for $40.99. Do check how much shipping costs are being added for your country, as prices seemed low to us. However if they are correct - that's the best price we have seen so far!
Finally we popped into motorcycleonlinestore.com for a look at more michelin motocross tires.
They seem to have a full page of Michelin tyres ready for the rugged rocks and dust tracks. Including the STARCROSS HP4 HARD TERRAIN TIRES, and the AC10 OFF ROAD/DUAL SPORT MX TIRES as well. Tyre Prices are gained by clicking on the "buy now" buttons and entering in a verification number, which is unique in our buying experience. But each site works differently i guess?
We would avoid used dirt bike tires, as they can be an unidentified quantity. A rider will never know for sure if the side wall of the fabrication on a tire will let you down at a critical moment. Some forum fans can often volunteer advice in regards to Michelin motocross tires, and good places to get bargains too. Should you buy any type of tire for sale see that you have good big branded tyres; that way you'll know they'll last you a long time – maybe all the way to a championship race!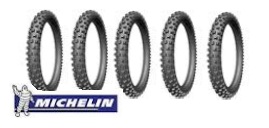 Be a Tire bargain hunter
A big or famous brand like michelin motocross tires - maybe something your interested in buying. Dont be swayed by buying tyres with the latest cool graphics or amazing looking logos. But if you do see tyres & clothing or indeed helmets that have quality for reasonable prices then go for it. Sales are always on - so ask around and be a MX bargain tire hunter.
Michelin motocross tires are amongst the best - so you want them on your bike.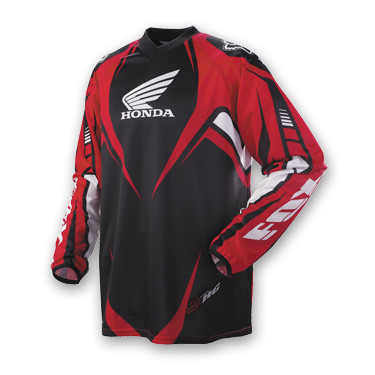 ---
Home | Dirt Bikes | Cheap Dirt Bikes | Accessories | Mini Dirt Bikes | Motocross Racing
Motocross Gear | Off Road Bikes | Used Dirt Bikes | Wholesale Dirt Bikes
Honda | Kawasaki | Suzuki | Yamaha