Mini bike choppers
Easy Rider guys (and girls).
Mini bike choppers like any type of bike you get - always has a custom version. Mini choppers are no different (more so in fact), and it's a great companion to the whole mini moto range.
These are just as the name suggests and are "minibike" choppers that look like their full sized big brothers. Some bike fans prefer them to the regular mini bikes and again this style is ideal for customisation. The tanks & frames look superb with a unique paint job, as would the rest of the bike including wheels and rims.
This particular type of small bike is bound to become very popular in the coming years with bike designers of the future – it has so much scope.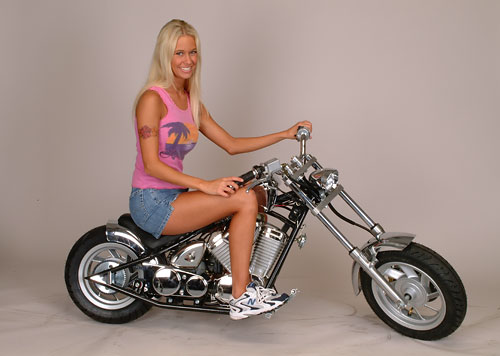 C'mon and ride on my chopper.
Mini bike choppers May Look Weird, But They Are Popular
If you were to take a typical motorcycle chopper and then throw in a pool of shrinking liquid, you would end up with a scaled-down version that you could call a mini chopper. Everywhere you look you are able to find these mini choppers.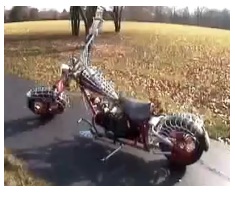 Just head over onto eBay Motors and start looking at the number of offers available, but only if you have nothing to do with the rest of your day.
There are even mini chopper owners who look like full-fledged, bad-ass bikers complete with leather outfits riding one of these scaled-down versions on surface streets managing somehow to display a ferociously frozen and fiercely focused gaze as they successfully keep from cracking up. This is the mini chopper craze. It's the latest to hit the broad world of motorcycling.
What Are Mini bike choppers?
As stated earlier, these are scaled-down versions of what we typically refer to as a motorcycle chopper. However, the mini versions are usually built on smaller engines from about 50 cc to 100 cc single-cylinder, four-stroke engines.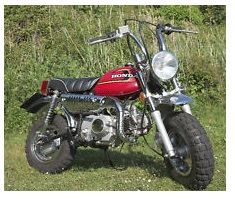 There are electric-driven mini chopper versions that are propelled by lawnmower engines.
The most popular Mini chopper bike available is one from the many available out of the Far East, China specifically, that are actually clones of a Japanese model - the Honda 50 cc Mini Trail bike.
This little Honda was designed in the early 1960s and you can tell its cloned replicas since they are almost universally distinctive employing a horizontal finned cylinder set up.
Additionally, the motors used are quite inexpensive to build and if they are offered by a respectable knockoff manufacturer they can be almost indestructible.
The Mini chopper dirt bike
Power and cool-ness all included - Mini bike choppers.
Hop Up Kits Available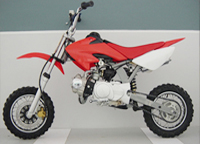 Many of the Chinese clones of the Honda CB100-125 feature a much more traditional upright finned cylinder. This gives the model more of a real motorcycle look. Additionally, this particular cloned mini chopper can be subject to one of the many "hop-up" kits that can take one of these off-the-shelf models and power it up to 200 cc or much more.
This type of power allows the Mini bike choppers operator to gain open highway speeds while traveling at nearly 12 inches off the ground, all the while riding on a strangely light, possibly fragile frame that is only bicycle-like thick.
When you see this particular image coming down the road, you're either going to be set off chuckling, or become thoroughly appalled and possibly scared out of your boots by what you see.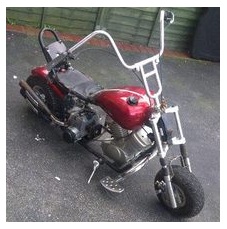 Are Mini Choppers Street Legal?
Actually, there are very few states in the US, and only a few countries throughout the world that will allow a mini chopper owner to legally register, insure and then operate the vehicle on public streets.
Therefore, the question has to be posed, what can the owner of a mini chopper do with the contraption anyway. Take a look at Craigslist for the mini choppers available and you're more than likely to see it described as "Hardly Ridden at All!"
California Dreaming
The North American continent is definitely tilted toward the West, so everything usually rolls into California eventually. Here you will find a contingent of mini chopper owners who have jumped through all of the states regulatory hoops, discovering a variety of different ways to obtain legal status for plating their mini chopper and hopping on the road.
Mini-choppers are available in many shapes and sizes. Some can cost more than $3,000. They're funny to look at, but the girls think they're adorable.
Mini dirt bike motor sounds
The main thing to remember with Mini bike choppers - is the engine or motor - if that's running right, the rest can be fixed up (unless it's in a helluva mess) - so be sure to listen carefully when that motor's running and your about to buy.
The mini chopper dirt bike is a cool bike for kids. The chopper is also a classic looking moto, and loved by many riders and people of all ages. If you're looking for a unique mini dirt bike motor then "the chopper" is the motorcycle to own.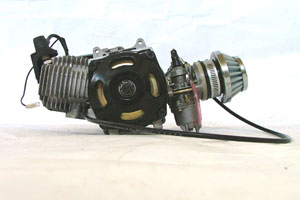 ---
Home | Dirt Bikes | Cheap Dirt Bikes | Accessories | Mini Dirt Bikes | Motocross Racing
Motocross Gear | Off Road Bikes | Used Dirt Bikes | Wholesale Dirt Bikes
Honda | Kawasaki | Suzuki | Yamaha