Mini bike engines & bikes
Miniature power – from a "mini" power plant.
The mini bike engines do vary in specification from 39cc to 49cc, many with some much larger engines available.
The majority of these mini engines are 2-stroke units and produce around 3.4hp standard on the bargain models going up to 17hp for the racing tuned mini bikes. As you can see there is plenty of power in these little engines so never underestimate them or you will for sure injure yourself.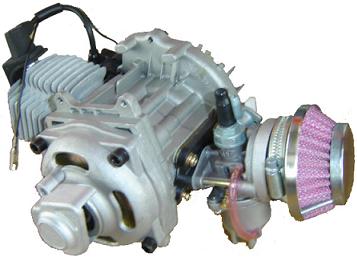 If you own a motocross mini motorcycle, then you might eventually need one of the mini bike engines available. The ultimate goal is to choose the right engine for your motorcycle.
What are mini bikes?
Mini bikes are motorcycles that are smaller and lighter than their full-size counterparts. Due to their smaller size, the cost of such motorcycles is also lower than the price tag of larger motorcycles.
However, while mini cycles are smaller, they can definitely serve as an effective tool for riding and racing. In fact, some motocross riders prefer mini bikes due to the precise handling that their compactness provides. Also, by definition the replacement parts of such motorcycles (including mini bike engines) are smaller, which makes them much more affordable.
When was the mini-bike first mentioned in print?
As with much of history, there's some debate about when the "minibike" was born in print. Many experts refer to a March 1960 issue of "Rod and Custom." The magazine issue referred to the Viper Cycle as a new small motorcycle in the "Mini-Bike" sport.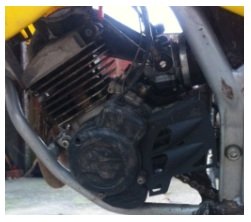 A few months later, the same magazine advertised what was likely the first official mini-bike race in print: The Tiny Bear. The race was named as such, as a smaller version of The Big Bear Scrambler race. While knowledge of this race won't necessarily improve your hunt for mini bike engines, it can certainly inspire you to make your own minibike history by maintaining the best bike possible.
What are the main types of mini bikes?
If you're in the market for mini bike engines, then knowing the basic types of mini bikes will help you to choose the right engine. Here are the main types:
Midi-Motos: These minibikes resemble the styles of Pocketbikes, though Mini-Motos are a little larger. The majority of these bikes are manufactured in China, and have a Honda or Honda-style engine.
Pit Bikes: Pit Bikes maintain the spirit of the original scooter. The racing of Pit Bikes has recently become quite popular, with the largest yearly event being the Las Vegas Mini Supercross race.
Pocketbikes: Interestingly, racers use these minibikes to race on go-kart tracks. This type of minibike became popular due to several makes and models being imported to the USA, from China.
What is the most popular type of engine for minibikes?
If you own a minibike, you don't necessarily need an encyclopedic knowledge about their engines, if you're in the market for mini bike engines. But it's highly advisable that you know the basics.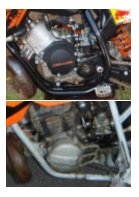 The majority of minibikes have two-stroke engines. This is a particular type of "internal combustion engine." In each cycle of the engine, the crankshaft rotates one time (one up-stroke and one down-stroke of the piston).
This differs from the four-stroke engine, in which the piston undergoes two up-strokes and two down-strokes during one revolution of the crankshaft.
What are the most important steps to take when shopping for a minibike engine?
First, do your homework. Learn which type of engine your minibike needs. While it's advisable that you buy a new engine, a used engine can also be a wise investment if it's been maintained well. Then it's crucial to shop around for the best deal on that particular engine model. The Internet will make your search as convenient as possible.
Buy a mini engine you'd be happy with not only for its power but its performance too. Heres some videos to help -
and part 2.
The 110cc Mini dirt bike
Like the gutsy mini engines? there are some brilliant ones out there such as the 110cc unit which has tons of power, or how about something lighter ? and perhaps less of a "bull in a china shop" for the young rider. The 50cc dirt bike, should help you out with small jumps and a little less speed. Some lighter bikes are much sought after like the 49cc mini panterra motocross bike, or the specialised mini razor MX bike; ideal for younger kids wanting to dip their toes into the dirt bike sport.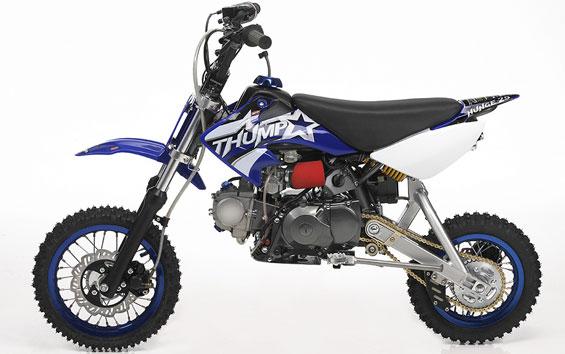 50cc dirt bike confidence
If a 50cc mini bike engine is perfect for you that's fine – but don't get ahead of yourself and buy something way to powerful. It'll only dent your confidence and you'll be less likely to ride your motorbike.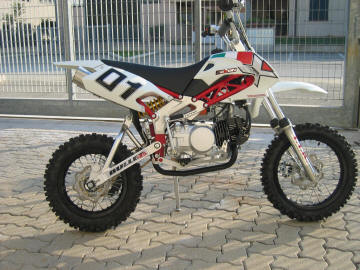 ---
Home | Dirt Bikes | Cheap Dirt Bikes | Accessories | Mini Dirt Bikes | Motocross Racing
Motocross Gear | Off Road Bikes | Used Dirt Bikes | Wholesale Dirt Bikes
Honda | Kawasaki | Suzuki | Yamaha