Mini bike kits
Self assembly Mini Motorbikes.
Mini bikes are not always assembled so you may opt for mini bike kits. You may find these kits are cheaper as your assembling the bike yourself, and you will more than likely need to fill the bike with all the liquids such as oil and water.
Its best to follow instructions to the letter as any mistakes could be costly. Ideally a local store could help you put together these mini-bike kits. Most assembly is fairly straight forward so if you're excellent at mechanics they are a great buy.
Check prices before you buy as some fully assembled bikes may not be that much more than the kits, but the final choice is yours.
The DIY motocross bicycle.
Mini bike kits --( what are the best mini motocross kits to build a bike? )
You can find free plans online to build your bike from scratch or use mini bike kits to modify your own motocross bike. If you love the creation process, consider starting your bike from the ground floor and then using one of the kits to make it look more professional by adding graphics or special equipment.
One of the best sites to find free mini bike plans is www.vintageprojects.com.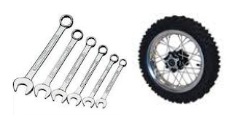 While you have to do a little hunting for the parts necessary, once you build it, you can use the various mini bike kits (mods & decals) - to make it a dazzler anyone would be proud to ride.
The plans involve the use of a non-aluminum bike frame so you can weld on additional reinforcement. While it sounds like a lot of work, in the end, you know your mini bike inside out and know that the frame construction, along with the rest of the bike, is solid.
The use of a junked bicycle can save quite a bit of money. The handlebars are already pre-bent and you don't have to invest additional funds to purchase the parts. Of course, you may have to bend the "gooseneck' on the frame a bit forward in order to make room to put the engine.
Make sure you don't flatten the tubing when you do this. Not only will your bike be unique, it will be far sturdier than the heavily plasticized frames on bikes you purchase.
Making a Fast mini dirt bike
Going mini motocross surfing? Check these out.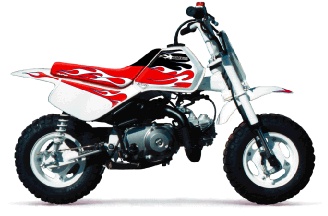 Using spare parts to create your mini bike doesn't mean it has to look like it came out of the trash bin. That's where the minibike kits come into play. You can use the small bike kits that offer a complete set of decals and designs or hunt for mini bike kits to complete your project.
One site offers groups of kits. While you can't buy everything to build your mini-bike in one kit, you can select several kits that contain all you'll need including an engine and clutch package.
There are some mini bike kits offered online such as one at GoKarts USA. However, none of these kits contain the engine or the clutch so you still have to find those.
For a complete kit or one to finish your homemade mini bike, one of the best online places to shop is Five Flags Motor Bikes where you can purchase kits for the various parts of the mini bike.
If you need a frame, there's the frame and fork package. If you couldn't find wheels locally, you can get a wheel package. For those hunting for fenders there are fender packages. You also have chain packages and best of all, an engine and clutch one too. These mini bike kits allow you to purchase only the parts you require.
Whether you use a kit to build the entire bike or simply use mini bike kits to create a hotter look, there are plenty of options from which to select if you know where to look. In many cases, you'll find partial mini bike kits that still require you to supply an engine. Of course, this allows you to customize your mini bike to your own specifications.

The quick pocket moto.
Would you like a fast mini dirt bike? well the mini motorcycle is so light, and new developments in engine technology give you lots of speed whatever you buy (including kits). But if you're buying a big engine, compensate for this, by budgeting for a frame and brakes that will control this grunting mini beast.
If you're not ready for a kit just yet – check out Honda mini dirt bikes & other youth pit bikes, like the Sikk pitbikes - which offer great reliability; and no need for playing about with the oily bits anymore, just start and go.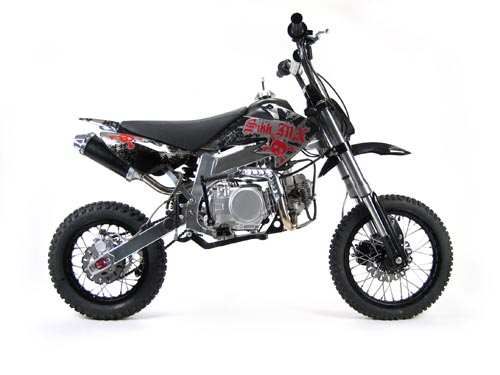 ---
Home | Dirt Bikes | Cheap Dirt Bikes | Accessories | Mini Dirt Bikes | Motocross Racing
Motocross Gear | Off Road Bikes | Used Dirt Bikes | Wholesale Dirt Bikes
Honda | Kawasaki | Suzuki | Yamaha