Mini chopper part (s)
Chopper spares, bits, parts and widgets….
When finding the right mini chopper part, you need to do your homework first. There are a number of mini choppers on the market, so be sure you have the right make and model to give to the store you intend to buy the parts from.
Ideally the spare will have a model number or serial number on it, so double check that as well. If you have bought a custom chopper its best to know what it was built from, usually the seller will be more than happy to tell you, and keep receipts so when it comes to repairs you have all the information to hand.
Finding and Buying the Mini Chopper Part you Need.
Popular parts are easy, but those chopper rarities are just a nightmare.
Whether you need that one last mini chopper part to complete the custom ride you have been building, or you need to make a repair, or you're just starting to work on something from scratch or customize a stock bike, you'll need to find the perfect part.
It's not exactly as easy as heading down to the local national chain of car stores or your favorite mechanic, because not everyone has these parts. Mini choppers are still a fairly rare breed, so you need to know where to look and how to find the part you need.
For most people, the best place to go for a mini chopper part is online. There are many websites and online stores dedicated to mini bikes and nothing else. This means that they are sure to have all of the little parts, pieces and components that you might need. They'll have the right sizes and the right styles, and you'll be able to choose something that is literally and figuratively a perfect fit.
As an example, if you visit the website partsforscooters.com, you'll find literally hundreds and hundreds of different parts which can be used specifically for mini choppers. From complete engines to tires to all of the tiny bits of your engine, fuel system or anything else, plus superficial and style components, performance parts, and more. It's just one of many different places online where you will have a great chance at finding the exact mini chopper part that you need.
Choppers and ebay
The auction site that always delivers – if your patient.
You may also want to check out some of the auction sites, most notably eBay. eBay is still a super large community with tons of buyers and sellers, and that gives you a good edge when you need to find a potentially rare mini chopper part.
Of course, eBay has its own advantages and disadvantages, and that's something you'll need to consider before you make your purchase.
For one thing, you'll need to see whether the part being offered is brand new or whether it has been used. Used parts will be cheaper, but there's always that extra risk that comes along with them. You really need to make sure the part is in working condition and is not damaged in any way that will either lead to it failing, damaging your ride, or otherwise not living up to expectations.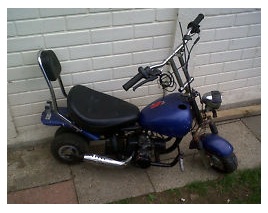 When you need a specific mini chopper part, your best destination is probably a mini bike specific website or retailer.
They'll be loaded with different parts, pieces and components, and should have competitive prices.
In lieu of that, consider the auction sites like eBay, or just tap into the local community of riders and enthusiasts in your local area and see if they have anything for you or could point you in the right direction.
At the end of the day, you should be able to find what you need to help complete your perfect mini chopper, whether you're fixing it up, building it from scratch or decking it out with some new additions.
Many different parts make up this homemade mini-chopper.
Mini "motor" bike buying…..
When riding your chopper or dirt bike you need to be sure you have the correct dirtbike motor. Is a 110cc engine going to be WAY to powerful? Or is your ego buying this powerful engined motorbike? When you buy your motorcycle from ebay, or from any other auction site be aware even those small engines have incredible power and you can get a smaller capacity engine "first" and upgrade later if you're a novice.
Once you have your confidence in the bag, you can get to customising your chopper or Moto-crosser and the sky really is the limit.
---
Home | Dirt Bikes | Cheap Dirt Bikes | Accessories | Mini Dirt Bikes | Motocross Racing
Motocross Gear | Off Road Bikes | Used Dirt Bikes | Wholesale Dirt Bikes
Honda | Kawasaki | Suzuki | Yamaha