The Mini Dirt Bike
What's the difference between a mini dirt bike and a full size counterpart? Who should buy one and what is the advantage to learning or riding on these models.
MINI BIKES AND THEIR GROWING POPULARITY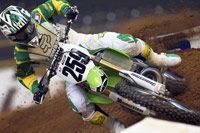 A mini dirt bike is popular among riders for a variety of reasons. For kids and young adults, it is one of the best models to start on because they fit a shorter stature more accurately and many models come equipped with speed controls that allow an adult to watch over the new rider's progress before they can open the bike up to full speed.
Many adults like a mini bike as well. They run at a lower top out speed than full size models, but they are easy to handle, lighter weight, and consequently they hold less gas. This saves on prices at the pump but also means the rider is limited in the amount of mileage they're allowed between fill ups; perfect for the casual rider using the bike for off road adventure.
Advantages of a Mini Dirt Bike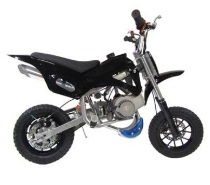 One of the main advantages to a mini is the price. They can run more expensive for some models, but most are reasonably priced. The low to the ground features are obviously ideal for children and younger adults, but they're also a better fit for some adults of a smaller stature.
For the newer rider, a mini bike runs at a lower speed and gives you the extra comfort and confidence of being lower to the ground and able to put both feet flush to stop. While they will not give you the full power of a regular sized dirt bike, they are a great way to learn maneuvering in a controlled environment before bumping up to the more powerful models, if you're so inclined.
How Do I Pick A Mini?
When searching for any dirt bike, first you want to do your research. If you're new to the sport, ask an expert or do some reading through reliable references. Go to the local shop and ask as many questions as you think are important. Definitely sit on the bike, make sure it fits you and can handle your weight. Make sure you're comfortable and the machine isn't too heavy for you to move along on.
If this is a purchase for your child, you'll need to ask the questions. Bring your child to the shop and have them sit ON the bike. Make sure it fits them well and double check with the experts if this is a good model for their age, size, weight, and ability?
Mini dirt bikes for sale
Small is beautiful.....
Mini dirt bikes for sale are always a good bargain, as used bikes are always cheap. Mini bikes come in all brands and engine sizes, so bag a bargain today.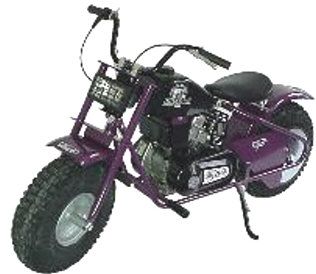 Mini motorcross bikes, seem to be all over the parks & byways these days. The mini bike manufacturers are building great motorcross bikes with cheap tires and used prices are always tumbling. From a xfr 500 minibike to a childs electric "toy" ride they could all be classed as mini dirt bikes to some degree.
We will show you some mini motorcross links below, and cool prices to-boot so you can track down the best small bike for sale, and make your own comparisons.
Monstermoto.co.uk have a bike called an SXF Pro. It's touted as the very best bike you can build today, with a 140cc large 27/23 mm big valved head - smooth ported head, a 33mm Race exhaust and a 26mm Mikuni Race carb. Plus it has a 4 Speed gear box, Race Ignition and an Alloy bash plate. The official title is the MonsterMoto SXF PRO 140 / 160. The website has lots of pics and even a video of the ride ! Prices are POA as each mini dirt bike is built to order.
Funbikes.co.uk have a good range of fine minibikes as well. From the KXD 50 going for £179.99 through to the COBRA 50 - in yamaha blue for £220 all inclusive of VAT & Delivery.
The site offers "quantities left" figures; on each bike so you know how low stock levels will be before you order. Many of the motorcross pics show these miniature mud bikes do come in a wide range of colors too.
Demonmx.co.uk, is more of a mini bike parts store. No used parts here, its all brand new stuff. A DEP XSPORT exhaust will set you back £161.76 (single silencer), and a DEP XSPORT twin silencer is priced at £199.21 thus giving better power, without annoying the neighbours.
Mini moto dirt bikes
We had to visit ebay next, although we are looking for complete bikes remember; you can pick up cheap motorcross helmets, boots, gloves and even decal graphics sets (made for mini bikes.) There are also tons of aftermarket parts, custom off road wheels, MX seats and those very cool metal mulisha helmets.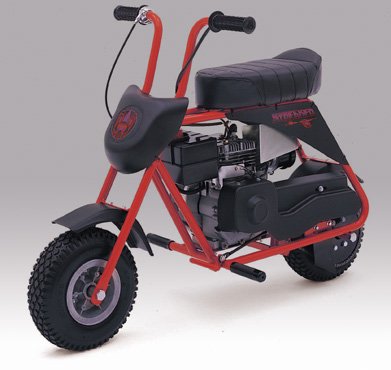 First we encountered a Mini bike PRO scrambler for £139. This had a 49cc Air Cooled Engine, Anodised Forks and a Metal Pull Start.
Even for a mini bike it had Disc Brakes, 12.5 x 2.75ins Tyres and was Chain Driven (with a Safety Chain Guard), of course. This bike has a top speed of 50kph, now that wont cause instant motorcross death – far from it, but wear a helmet none the less.
While still on ebay, a new non-branded mini dirtbike for £109.95 was found. Which was quite a drop from its RRP of £299. It had new 8 spoke Alloys for its chunky tires, Metal Footpegs, K&N Style Performance Air Filter and a Chrome performance TWIN exhaust. Plus an Uprated Sports Chain, New PP Flexi plastics and a safe throttle restrictor. More suited for ages 14 to adult and their demo bike had a recorded time of 35mph. So not bad for the price – not a free mini bike – but quite close!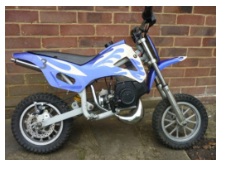 Of course the big advantage of riding minibikes, is you don't need any motorcross trailers or hitches. They'll fit in the car (normally); plus minibikes are ideal for younger girls and boys to get to grips with low powered battery and engined bikes.
A dirt bike forum and reviews in magazines should be able to guide you on what's hot at the minute. Perhaps they'll even supply a used price guide – but its unlikely. As new mini bikes are so cheap "used" mini motos are REALLY dirt cheap.
Do be sure and check feedback and ratings of sellers on ebay, and don't buy in haste. If you follow all those tips you'll soon have your minibike on fun motoX tracks, or other great destinations for some Mini Dirt Bike & pitbike fun.
---
Home | Dirt Bikes | Cheap Dirt Bikes | Accessories | Mini Dirt Bikes | Motocross Racing
Motocross Gear | Off Road Bikes | Used Dirt Bikes | Wholesale Dirt Bikes
Honda | Kawasaki | Suzuki | Yamaha