The Mini moto bike
Your mini moto bike is a pocket rocket on the dirt.
A mini moto bike is on most childrens want list - for those into motorbikes anyway.
Young and Focused Mini Bike Riders in this Decade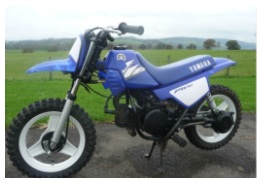 We hear a lot about the big name mini bike with names like Honda, Yamaha and Kawasaki, and read quite a bit about the less expensive copies from other manufacturers. Every now and then, another name jumps up to remind everyone that industry is alive and well, such as the Cobra mini bike headquartered in Hillsdale, Michigan.
The Cobra has racked up some amazing victories on the MX amateur circuit, in addition to land speed records at Bonneville Salt Flats and winning junior class SMX races.
It definitely takes the right bike to win, but to make it happen, a determined, skilled, aggressive rider must be aboard. Some of these riders are too young to have a particular move named after them yet, but are combining the right moves and making a name for themselves.
The 2011 AMA Devil's Staircase National Hillclimb Championship saw seven-year-old Bodee O'Neil on the podium with his victory on a King Cobra 50cc. Bodee's dad, Corey, modified the swing arm on the bike. Bodee has been hillclimbing for just over 3 years and took the National Championship for his age division.
Determination keeps champions learning and winning, such as Stilez Robertson from Bakersfield CA. At age seven, he won the major amateur MX national titles at the Las Vegas Mini GPs, Lake Whitney, TX, and the Amateur Open of MX in AZ and tied for the record number of wins on a Cobra 50cc bike in Dec 2010 against Adam Cianciarulo.
Robertson also won the 2009 4-6 title at the Loretta Lynn's. Stilez now races amateur MX for Monster Energy Kawasaki Team Green, as does Adam Cianciarulo, now riding a KX100. Cianciarulo cleaned up at the Mini-O's with wins in Supermini classes: 4 championships in four classes.
Jordan Jarvis is the first girl to qualify in the 65cc 7-9 Stock class for the Loretta Lynn's. However, the very first Girls 9-11 moto resulted in her going down, hurting her collar bone and unable to ride in the 2011 Loretta Lynn's. She recovered for the November 2011 Mini-Os and finished 2nd in Girl 9-11 MX and 3rd in 9-11 Girls SX categories. Making a name for themselves now, follow these careers as the riders develop their own unique style.
Anywhere you like.
The mini moto dirt bike especially is very popular, as you can ride off road anywhere or even in your back garden. Once you have developed your skills, you can go down to your local club and start on a proper dirt bike track.
This small fantasy motocross bike is becoming a reality for lots of kids. American and UK stores are springing up all over selling such rides. They might be a classic honda monkey bike, or the new wave of Chinese mini-moto motorcycles.
True they can be good for small FMX jumps and a bit of stunting. You're not that far from the ground and perhaps your less inclined to be worried about a few dents on a bike that's only cost a few hundred dollars. But do take care – if you watch a few vid clips you will be amazed by what some riders can get from a small zippy machine.
Some riders have no fear motocrossing the narrow dirt trails. Many motorbikes have fantastic illuminating graphic kits & decals and tires that hold you tight on the curves. You could forget for a few seconds and pretend you're in a real motocross championship duel. They might be only baby sized MX bikes but frenzied racing will cut up the dirt and have your adrenaline pumping.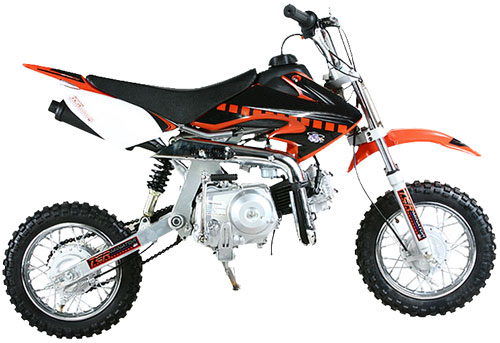 If you do nail your mini moto bike on the gas, don't be too complacent whizzing along in only your casual wear – put on a helmet & the real MX gear!
Take suggestions from a club if your unsure what to buy, and if you want more balance how about off road quads? They come in "mini" form as well.
The appearance of the Mini motorbike
Hold steady Speedy Gonzalez.
The mini moto bike is not a speed demon; it only goes approximately 15 to 40 miles per hour. It is, however, a very attractive bike. They are essentially half the size of a normal motorcycle and they are very light in weight.
The mini motobike is a very desirable bike to anyone who is into making a fashion statement. You can paint it how you like – detail it with YOUR decals and wear matching motocross gear to be as stylish as any pro dirtbiker out there today.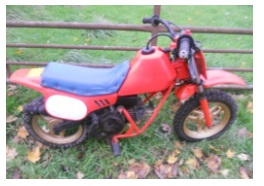 Part of the allure of the mini motorbike is its appearance; it is a very visually attractive bike.
Its easy to spend as much again on accessorizing your ride; with chrome aftermarket parts like exhausts and all the other paraphernalia to bring your motorbike up to the pinnacle of excellence.
Keeping all of the bells and whistles clean and free from debris will ensure optimal performance from your MX bike.
After cleaning it, don't forget to polish it to keep that pristine shine. After you have made sure that the appearance of your mini moto bike is perfect, do check the mechanicals including tire pressure.
The last thing you need to happen is while you are showing off for the fans is to have a mishap where the tires blow out due to improper tire pressure. Also look over the brakes, cables etc. and when did you last change the oil? If you can't remember its due one right now.
Taking a few minutes out of your time to make sure everything is functioning properly will ensure a safe and fast ride on your mini moto bike.
Here are a few mad videos for some enjoyment - plus it shows what you can achieve without having too many mini moto crashes.
Freestyle mini moto bike flips & crashes- Dane Ferguson
TOM SKELDING BMX MOTOCROSS MINI-BIKE
A Fast Homemade mini moto bike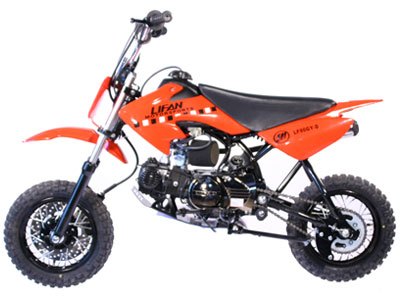 Dirt bike track time
Ride the dirt bike tracks on your mini moto bike...... These are great places as not only can you pick up hints and tips on riding, but get advice on personal improvement.
Racing on tracks, gives you a real feel of others and their competitive spirit. Something you can't read about in books. And the more you do it, the better you'll get – that's guaranteed.
Computer games can help to develop your hand/eye co-ordination skills and perhaps develop some ideas - without injuring yourself. But ultimately you'll have to get plenty of track time under your belt – if you want to be a champion with a cabinet full of silver wear.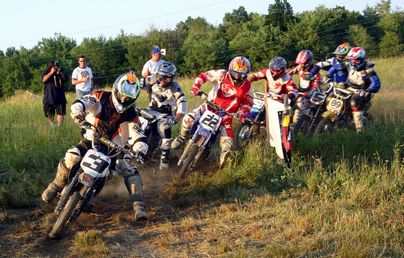 ---
Home | Dirt Bikes | Cheap Dirt Bikes | Accessories | Mini Dirt Bikes | Motocross Racing
Motocross Gear | Off Road Bikes | Used Dirt Bikes | Wholesale Dirt Bikes
Honda | Kawasaki | Suzuki | Yamaha