Mini moto crashes
Crash, bang, wallop!!
A number of mini moto crashes are well documented particularly on you tube.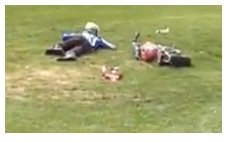 But don't end up being one of them! This is where a good helmet and pads are a must-have. Many crashes are caused with the rider doing something stupid, or abusing the bike. If you take your time to get used to the bike and have it well maintained your crashes should be few and far between.
Racing other mini motos will result in enthusiasm and crashes sometimes follow, great tracks and organisation help a lot. So if you do crash your still going to limit any injury, after all you don't have far to fall. – look after your bike and it'll look after you.
It happens a lot – a motocross crash on your small bike.
Mini Moto Crashes
Mini motorcycles sales have been skyrocketing for some years. Both children and adults ride these miniature versions of the larger faster bikes.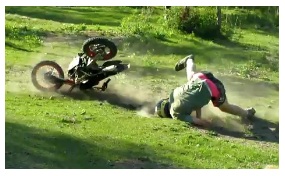 Don't let their small size fool you. Plenty of injuries occur with mini moto crashes. Before you ride or allow your child to ride, get the proper MX gear.
If you or your child has a bike with too much speed for the level of skill possessed, you're both asking for trouble. While you might think that simply taking precautions and keeping the speed down should solve the problem, often beginners panic in a dangerous situation and instead of hitting the brakes, they throttle even faster.
Taking classes also helps hone skills necessary for riding in all conditions. In most cases, the classes are only available to those that wear protective MX gear. A good helmet, chest protective gear, gloves, boots, knee and elbow protection are all part of racing and many classes insist that you or your child has a minimum of racing protection.
However, when riding in the backyard, this gear can prevent a spill from becoming a disaster. While you might not own all the MX gear, make sure you have a good helmet, hard toed boots, gloves, long sleeve shirt and long pants at the minimum.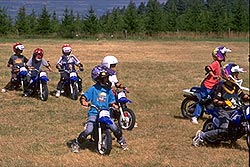 A simple crash can be fatal if the rider lands on a limb pointed upward. While these don't happen frequently, they do occur. The more protection, particularly in the initial phase of learning, the better you are.
Normally once a rider has enough experience to compete, he's seen the damage a crash causes. This often prompts the rider to make sure he's adequately protected. Don't let a small crash ruin your racing season by failing to wear the proper MX gear.
Many municipalities prohibit riding mini motorcycles on the road. Mini moto crashes with automobiles mean far more damage to the rider and the mini moto than they do to the car or truck in the accident.
To prevent these types of mini moto crashes, the solution is simple. Never take the bike on the road. You're normally not only breaking the law, you're also putting yourself or your rider in danger when you allow this to occur.
Dirt bike tips
If you don't own good youth motocross helmets – you really need to.
If you're the parent of a new rider, you have the power to start your rider off right.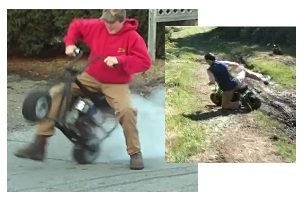 Set the ground rules for safety. When you purchase a small dirt bike or mini moto, get one the right size for the rider.
You know your child and if they're a daredevil, buy a mini moto with less power so they can't "test out the speed." Electric mini motos are ideal to keep the speed lower.
Insist your rider wears protective gear. It doesn't matter if the rider whines. If he can't ride the mini moto with the MX gear, he'll wear it. Don't skimp on the gear, particularly the helmet. Get one that is both Snell and DOT certified.
While almost all bike helmets on sale have DOT certification, spending the extra money for one with a certification from the Snell Foundation is important.

The MSR Racing Legacy Velocity Helmet and Shoei Hornet DS Helmet are two examples of helmets having both certifications.
Fit the motocross helmet for comfort and size. Don't buy one a little bigger so your child fits into it next year. A wobbly helmet leaves the head unprotected.
The distance around the widest part of the head is the hat size. Getting the best protective MX gear won't help in mini moto crashes if the gear is too small or large for the rider.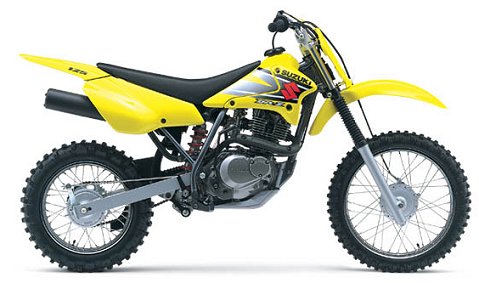 Wheelie the rider didnt want.
Pocket Bike HUGE Car Jump and BAD Crash
Nasty KTM 50 Motocross Dirt Bike Crash
Danger on Small dirt bikes
Taking dirt bike tips about avoiding mini moto crashes is of course a good thing. When your on small dirt bikes riding in and out of the dusty dirt track, accidents will happen so safety is the main thing to keep in mind. For instance a cheap used 125cc motorcycle maybe an ideal solution,(for some riders) - but one engine size is not BEST for everyone, so never be forced into buying a MX bike your not sure of - That really will make YOU an accident waiting to happen.
Home | Dirt Bikes | Cheap Dirt Bikes | Accessories | Mini Dirt Bikes | Motocross Racing
Motocross Gear | Off Road Bikes | Used Dirt Bikes | Wholesale Dirt Bikes
Honda | Kawasaki | Suzuki | Yamaha