Mini moto racing
Be a mini MX winner! – ride fast!
More and more tracks for mini moto racing are springing up. It depends a lot on the tracks as to how organised they are. You may be against gifted amateurs or people out for a fun day. Check prices and availability too.
Indeed you may wish to just go along and watch and see all the action, if you have no bike at present. The race day is a great way to meet other people interested in these bikes, so take a good look around and chat to as many enthusiasts as you can.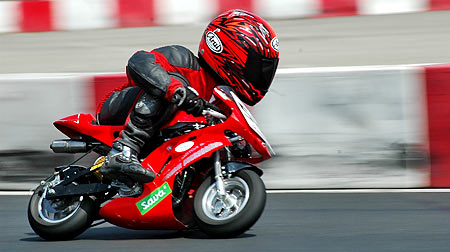 Mini Moto Racing – a growing motocross sport.
As the entire sport of motocross has continued to grow more popular over the past decade, many sub-disciplines and niche aspects of the sport have also taken off.
So it is that today you can either participate in or watch mini moto racing. Competitors ride on pit bikes or minibikes, and can complete races and courses of all kinds, from the race track to the hills and mud tracks of dirt bikes.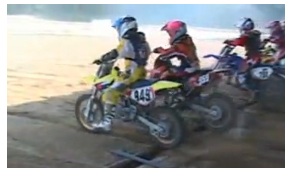 Use this introductory guide to learn more about mini moto racing and what it entails.
The concept itself sounds familiar or easy enough, it's just like motocross but with smaller bikes, right?
The quick answer to that question is yes, and the long answer is yes, but, there are innate differences. The size, style, power and weight of the bike are all of course vastly different, and this lends itself to different kinds of riders, different riding styles, different courses, and much more.
Minibikes have been around for over 50 years, coming from very humble beginnings when they were basically assembled from scraps and leftover parts, and were used more for entertainment or convenience than anything else.
From there, children's bikes were often used for people seeking out dirt bike mini moto racing or other types of mini-motocross. A kids bike would be more or less the right size, and could be tweaked and adjusted to have the engine and performance more suited to your task.
Popular mini-motocross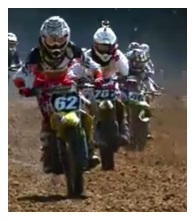 The new-ness of minimoto motocross.
In truth, it's only been within the past 10 years or so where manufacturers have actually been producing minibikes from scratch and selling them directly to consumers.
This reflects the growing popularity and the widespread nature of the sport, and has made it even more popular as riders and enthusiasts have now found minibikes to be accessible.
Today, there are many different classes of minimoto racing, all types of courses and circuits, and all types of competitors. As it is still a relatively new niche or discipline, the sport is not as regulated or "official" as other aspects of motocross and motorcycle races and competitions.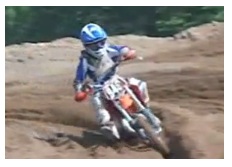 Different circuits and rules may be found all over the country and all over the rule, and things to keep an eye on will be when official rules for exact size and weight specifications, and competitive race style are all standardized.
As motocross continues its rise in popularity and becomes a sport that kids pick up from an early age, mini moto racing is bound to grow more as well. If you had asked a decade ago whether motocross would be as popular as it is today, most people would have said no.
So in the time of another five or 10 years, you may just be tuning into ESPN and the X-Games to watch the mini moto racing competitions and who knows what else.
Get in on the ground floor and check out some mini moto racing now and see what the growing sport and genre is all about.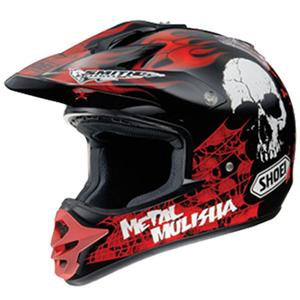 Mini bike "dirt" racer
The ever increasing popularity of these bikes gives a brilliant day out to watch or participate in mini-moto racing.
If you DO decide to participate, you'll find it a very easy sport to get into. The mini dirt bike, should really only cost you a few hundred dollars (if you buy used) – which you should until you're sure you love the sport.
And the MX gear and dirtbike helmet a few hundred more. Mini bike spares are very reasonable and fuel pretty negligible too. It's a great way to test your riding prowess first - before the larger motocross bikes beckon.
Mini bike testing for a race.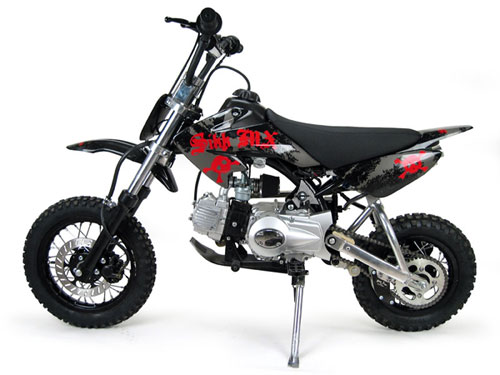 ---
Home | Dirt Bikes | Cheap Dirt Bikes | Accessories | Mini Dirt Bikes | Motocross Racing
Motocross Gear | Off Road Bikes | Used Dirt Bikes | Wholesale Dirt Bikes
Honda | Kawasaki | Suzuki | Yamaha