Mini moto reviews
MINIBIKE Value and top 5 opinion.
Possibly the best place to go for mini moto reviews is the internet. Forums are the more informative, but be aware they can be slightly influenced by more forceful members who post more than others.
Independent websites can be useful as are club sites who use specific bikes for good reason; fans use only the best, so always ask them what model they use. Those that have been enjoying this pursuit can usually point you in the right direction.
– keep an open mind, and don't be swayed by one or two peoples opinions, a broad view is always best, and then you can narrow your choice.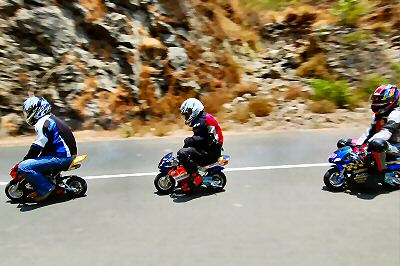 The best of the small motocross classifieds.
Mini Moto Reviews – our top 5 for mini motocross champions.
It's tough to pick out the top mini motos. Writing mini moto reviews is subjective and based on personal experience. However, some bikes tend to be on the top list most of the time or are the most popular. Here are my mini moto reviews for bikes I think make the top five.
1. Thumpstar Super 125 cc Pit Bike
Even though this bike is a Chinese bike, you'll be amazed at the durability and power from the bike. Best of all, it's far cheaper than most pit bikes. You'll get more for your money and be happy with the performance. This isn't saying all Thumpstar Super 125 cc Pit Bikes are magnificent. No matter what you buy, sometimes you get a clunker.
However, in most mini moto reviews you'll find these bikes rated high for reliability, handling, power and maintenance. Some people found that the engine runs a little hot but an oil cooler can solve that problem. You'll find the power awesome and if you're a beginner, be careful about slipping the clutch or you'll flip because of the power surge.

2. Pitster Pro X2 Pit bike with an YX140cc Engine
One of the top competitors against the Thumpstar is the Pister Pro X2 pit bike with an YX140cc engine. You'll often see the bike beat it's more expensive brother at the racetrack. It's a Chinese pit bike but the company has made adjustments and changes to fix or upgrade parts on the bike every year so the quality, speed and reliability just continue to improve. For the money, this bike is one of the top in strength, reliability and affordability.
3. Aprilia Mini RX 50
Aprilia has two RX 50 models, the Entry model for the beginner and the Experience model for those who have a bit of track time under their belt. You can't separate the two when you're writing mini moto reviews since they both have the same great base and design. The Aprilia Mini RX50 entry is especially for the younger group starting at about four to age six.
It's strictly for riding around the yard and learning. However, once they graduate, the Aprilia Mini RX 50 Experience is ready for the rider to climb on and race. These reasonably priced bikes are good starters at both levels. However, if you're over 12, consider a different bike.
A Yamaha dirt bike duo
A double dirt bike motocross adventure from Yamaha.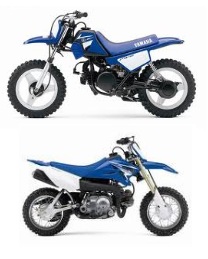 4. Yamaha PW50
If you want a bike that doesn't require high maintenance and is easy to ride, consider the Yamaha PW50. It's a starter bike and outgrown easily but the price is right. There's no shifting required since the tranny is automatic.
You won't get a lot of speed out of the bike, but if you have a beginning rider, it should be fine. You might be looking for low maintenance and one with a governor, then this bike is perfect. Mini moto reviews require negatives too. The PW50 ride isn't the best and if you aren't careful about the governor screw, you'll find your youngster going faster than is safe for this lightweight bike.
5. Yamaha TT-R50E
This electric start bike makes it a great one for those beginners but even the most experienced rider will enjoy the smooth ride of the Yamaha TT-R50E. While it's a perfect size and model for kids, adults will like it too, even though they may feel a little uncomfortable in the cramped space. This bike rides great in second gear but first gear requires too much revving, even for beginners. If your rider is young, you can use the throttle limiter governor to control the speed.
Don't forget you can ALSO build a dirt bike for your kids. There are many sizzling kits out there plus add on some of those dirt bike training wheels once your bike is complete. You'll then have a confident rider in no time.
Baja heat mini dirtbike review.
The Bmw dirt bike
Smaller dirt bike interest will lead to bigger bike lust sometime down the road. Where thousands of motocross riders go for KTM, Suzuki, Honda and Yamaha etc. but do consider the BMW dirtbike. They are regarded as very different to their counterparts, and perhaps you'd find the "street legal" G450X perfect, for riding to work and having some fun at weekends?
Or perhaps the BMW G650 Xchallenge is more your thing. Brilliant for long journeys and many riders have tested BMW dirtbikes to (almost) destruction and come away impressed. Perhaps BMW isn't quite there yet – but it's another brand to think about on those demanding circuits.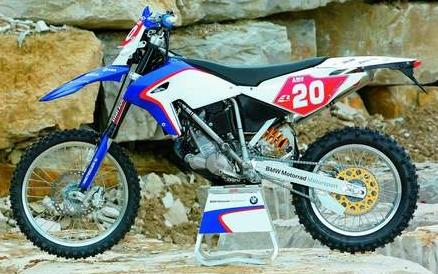 ---
Home | Dirt Bikes | Cheap Dirt Bikes | Accessories | Mini Dirt Bikes | Motocross Racing
Motocross Gear | Off Road Bikes | Used Dirt Bikes | Wholesale Dirt Bikes
Honda | Kawasaki | Suzuki | Yamaha