Mini motor bikes - On dirt.
Smaller Biking sizzling Sensations.
Mini motor bikes are great fun for the younger generation and are affordable fun. They can be stored easily and can be bought for the fraction of the cost of a real bike.
Although they are cheaper don't think they are any less powerful - as mini motos travel at a good pace, so always make sure you wear your helmet. Safety is paramount, even if you have far less to fall. Always make sure you don't use public roads and be aware of other users in parks and playing fields. Ensure if animals are nearby to give them a wide birth as they can be unpredictable and they may end up being the cause of you crashing!
Pocket dirt bikes of today…….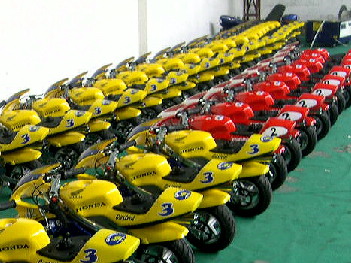 Mini Motor Bikes to Buy
Mini motor bikes are one of the hottest trends these days. While they have been around for quite some time, they have really taken off in the past five to 10 years.
Now, you can find a huge selection of manufacturer made mini motor bikes of a very high quality. So what are some models or features that you should be looking for, and what else should you know when making a purchase?
First, it's important to distinguish between the mini motor bikes that were used when they were first conceived and the ones that are used today. Some fifty years ago, pitbikes began making some waves, but it's not as if you could buy one from a dealer or shop.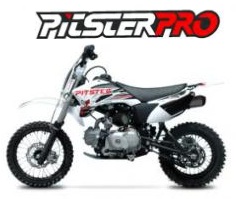 They had to be pieced together and modified. Today though, many of the biggest manufacturers of dirt bikes and motorcycles produce high quality, specifically tailored mini bikes for use for recreation, competition or both.
You'll find that there are many models which are produced really with kids in mind. These kids bikes though are of roughly the same power and engine capabilities, and size and style, of professional pit bikes for mini moto racing and tricks. Keep in mind though they may not be designed to handle the same kinds of things on the track, and may perform differently.
Either way, mini bikes take some adjusting to and practice before you're really capable riding on them because of the different properties of weight, balance, power, size and so forth.
One major manufacturer of high quality mini motor bikes is Pister Pro. They make almost a dozen different models with a combination of different sizes, shapes and engines, from 90cc up to 140 cc. They are one of a newer breed of specialty manufacturers that really hones in on mini bikes and produces some fine tuned, excellent riding machines for their class. They aren't the cheapest ones available, but they are high quality to be sure.
BIG manufacturers - Low Cost
Are honda mini dirt bikes the right deal?
Some of the big name or major brand companies also produce mini motor bikes. Honda for example has a whole lineup with multiple models. These are pricey too, from $1,500 to $2,500, but you get all of the craftsmanship and durability that Honda is known for.
Their CRF50, CRF70, CRF80 and CRF100 models are all quality choices depending on your needs. Also the advantage with the Honda brand; is in finding and fitting a honda dirt bike accessory or indeed a honda dirt bike part – which will be a piece of cake.

In general though, many manufacturers of mini bikes have very low prices. You can find brand new machines that cost between $300 and $750, and perform very capably for their class, with 49cc or 50cc engines, and perfect handling and dimensions for a mini moto circuit.
Hopefully you've learned more about buying a mini motor bike, and what you might want to look for. From the big brands like Honda, to specialty manufacturers like Pister Pro, and many others, you have more choices today than were ever available in the past.
That means you're always just a few clicks or a trip to the store away from bringing home the mini bike you've been craving.
150cc Motocross Race 2 Mini Lights
Spares for your titchy Dirt bike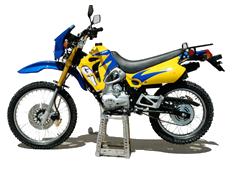 If you're rummaging around to find parts for your mini bike, you're in luck - you have never had so much choice. Even if you don't use the handy dirt bike part finders online, it just takes some common sense.
Apart from the specialised motocross stores, eBay and even craigslist might turn up the exact thing you need. Also if you're an owner of a Honda or Yamaha mini bike, there should be no issue having the part delivered to your door.
Buying bits for Chinese mini pitbikes can be another matter, as they have short production lives in many cases; and unless they use universal well known engines and other components, you could find it easier to buy another cheap motorbike.
---
Home | Dirt Bikes | Cheap Dirt Bikes | Accessories | Mini Dirt Bikes | Motocross Racing
Motocross Gear | Off Road Bikes | Used Dirt Bikes | Wholesale Dirt Bikes
Honda | Kawasaki | Suzuki | Yamaha