Mini motorcycles
Tiny and new bikes – for anyone.
The boom in Mini motorcycles or mini motos has been quite phenomenal, lots of children as well as adults enjoy these bikes.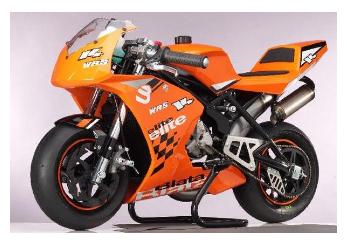 The sheer compactness of the bike, makes them easy to take anywhere. Plus you can pack it into your car and go to a park or off road track and have immense fun.
If you're a beginner ensure you wear a helmet and good pads, as if you're in a t-shirt and shorts, and you come off, you will hurt yourself.
It's surprising how quick these bikes can go on a level ground, so never underestimate these bikes. Although the engines are tiny the power they produce is amazing. Look after yourself and your bike.
The variety of miniature used motocross bikes.
Mini Motorcycles Come in Many Sizes
If you're looking for a mini motorcycle for a child, you need to consider their age, ability to ride and common sense before deciding on how much power to hand over to the child.
You also have to decide the type of mini motorcycle you want. Of course, if you're buying one for yourself, you need to make sure it will be durable enough to support your weight.
Mini motorcycles vary. You can get anything from a mini chopper to a mini pocket rocket and a large group in between. These bikes are simply smaller versions of the bike styles driven on the roads and raced.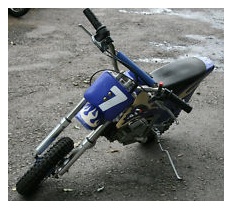 As mini motorcycle racing grew more popular, it brought more attention and more selections from which to choose.
If you're buying a mini motorcycle for a young child, consider a bike with a smaller engine or an electric bike.
While bike manufacturers often recommend these smaller bikes for children four and up, there are riders that start as young as two-years-old, but not very often. In most cases, the electric bike and those with less HP are slower.
You don't want the beginner or young child to go much over 10 to 15 MPH. However, a new breed of mini motorcycle, the electric powered mini moto, breaks old concepts that electric mini motorcycles are for children because they're slower. Look at the specs carefully.
Developing into dirt bikes
Cheap motocross bike parts too.
These bikes are normally fairly expensive (on new models) - and you can save a lot by purchasing a used one. But overall condition must be good, as with anything you'd buy in this bracket.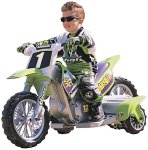 Look for well-crafted bikes with safety in mind. If your child is under the age of six, you'll want his or her introduction to mini motorcycling to be as safe as can be.
The bike should also be as inexpensive as possible without giving up any safety features. They'll out grow the bike soon enough.
You can spend a little extra on it if your rider is the first one of several children that will be using the bike.
In fact, in this case, get one of the more popular brands so you can be assured of getting parts when the last rider takes a spin around the yard.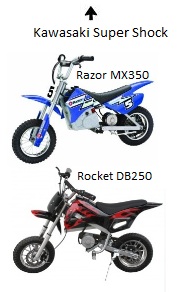 As your child gets older, you can switch from the electric or smaller engine bike and give the rider a little speed. Since age may not equal maturity, wait until your child shows responsibility and pays close attention to safety details.
It helps to take your rider to classes and build on the experience he already has from riding. You know your child best; weigh the pros and cons of getting them a bigger bike against the child's level of maturity and behavior.
There are all classes of racers and all ages. You don't have to wait until your child hits early teen years to let them participate in racing. Of course, if your rider has no interest in racing, that's okay. Don't push them because you'd like to do it.
Instead, look for a small motorcycle for YOU to race. There are plenty of adult races in which to participate.
Once the child reaches those early teen years, they'll want power and looks from their bike. At this point, a mini pocket rocket or mini chopper is often a choice.
The Electric dirt bike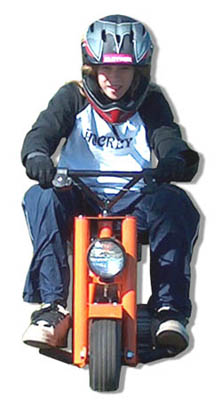 Select your electric MX bike first. Have a look through a number of dirt bike pics with your child to see what appeals to them before making your choice.
It's good to get them involved from an early age.
The electric dirt bike, will undoubtedly be their first bike. It's the best choice - as you have no flammable liquids around and they are not speedy enough to cause any major harm.
Range is limited, and they are often quite expensive to buy (generally over £250+) – if you buy new that is.
There is the Razor MX350 Dirt Rocket Bike (ages 13+); the Kawasaki Super Shock Dirt Bike (ages 3+), and the Rocket DB250 Electric Dirt Bike (ages 8+) to name a few.
But if you think a gasoline mini dirtbike is way too powerful they are the perfect choice and a great xmas or birthday present.
---
Home | Dirt Bikes | Cheap Dirt Bikes | Accessories | Mini Dirt Bikes | Motocross Racing
Motocross Gear | Off Road Bikes | Used Dirt Bikes | Wholesale Dirt Bikes
Honda | Kawasaki | Suzuki | Yamaha