Mini pocket dirt bikes
Pocket rockets on dirt and mud.
The mini pocket dirt bikes are a great fun bike for those on a budget. If you buy one, take your time especially if it's a used item. These types of bikes are not too expensive in any case, but you still don't need to lose a few hundred pounds on a bike that doesn't run.
Ask the seller questions and if it's been maintained well. Of course always take it for a test ride too, so you can feel if the pocket bike is running as it should. Dirt bikes like this can be used hard on tracks or parks, so firstly check suspension; and that the wheels look fine, and the engine isn't mis-firing or smokey too.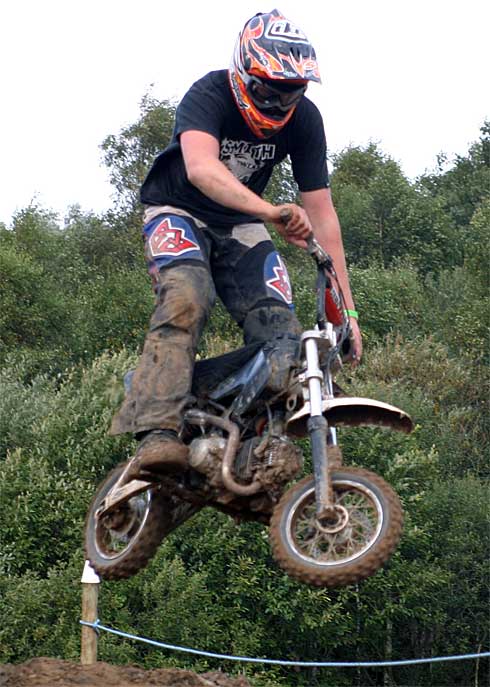 Do you like tiny racing honda's and small suzuki motos? Well you're not alone; mini pitbikes & 50cc MX bikes, are great fun for park rides in the afternoon.
Mini bike parts can be as cheap as you'll find anywhere – which makes this a brilliant entry level bike. This is partly the appeal, as if your mini dirt bikes do need accessories & spares, such as offroad tires or EVEN a new engine it wont cost you anywhere near the price of the full sized motocross bikes.
Riding these mini sport bikes; kids can feel like international riders for a short while, as their dirt tires churn up the soil - because the bikes are so detailed and look the part. Mini dirtbikes can be bought from a trader magazine or MX classifieds on websites such as bike-exchange.co.uk.
The online market for mini motorcycles and youth accessories is growing. With some clubs offering minibike tips on all manner of pocket mud racing and answers to questions like "what kind of metal rims should i buy for my pitbike?". Sometimes forums can be fine for finding quality fotos or answers on "how to build a mini moto ramp", or "what to buy your child for a special occasion or birthday present" - and a mini motorbike or pitbike would look great all wrapped up for a special day, Wouldn't it?
Pocket bike buyers
The perils of Mini Pocket Dirt Bikes.
Mini pocket dirt bikes began in Japan, a speedy small miniature motorcycle that turned into a big hit for competitive racing in that country. In this wonderful world of jet flights and internet access, it is impossible to keep a good thing quiet.
The mini pocket dirt bikes sprouted up in different countries and soon were blazing around North American racetracks. Bike owners away from the track soon found out it was fun to ride them on trails or around the area, just for the heck of it. Some states have made it illegal to drive them on streets or highways.
Overall weight ranges from 85 to 100 pounds on the 2 stroke engines with a travel range nearing 35 miles.
It is a shock to see the extremely smaller size of parts and causes owners to think of the different sizes of motorbikes, which scale down in size with parts, and accessories, accordingly.
The difference is that the mini pocket dirt bikes are strong enough to hold an adult and run powerfully.
Like any motor driven machine, mini pocket dirt bikes faced the decision on whether or not they were subject to compliance with environmental protection regulations. The 2-stroke model, exempted by the EPA, ended up in the go-kart or dirt bike category. The 4-stroke mini pocket dirt bikes went through quite a few grueling tests before earning EPA approval and certification.
Some MX tracks have specific areas for pocket bike riders to race one another. Other options include building your own track and inviting your racing buddies over for friendly competition, but check the impact on your insurance first.
Those owners without an area like that can head for the hills in search of a non-public road that does not exclude the running of 2-stroke or 4-stroke mini dirtbikes.
Mini motocross bike videos.
So I expect you want to watch some mini bike videos now? Well check out these pitbike video clips. We picked 3 mini dirt bike videos you're sure to enjoy – they are just our selection, and if you see any more exciting ones we'd love to know about them.
Mini dirt bike jumps on mini pocket dirt bikes
Pocket bike racing
Pocket Dirt Bike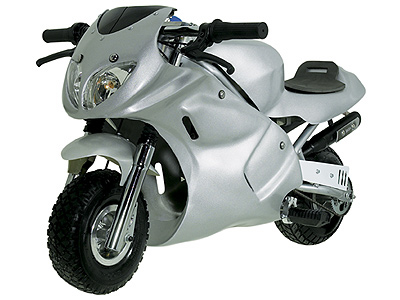 Pocket bikes and spare parts
There are many pocket bike buyers out there, but finding great bargains on an electric pocket pitbike or miniature motocross bike does take time. You may want to check out the pocket bike specialists and exporters, who may have discounts.
But when buying the cheaper Chinese bikes; be aware spares can be troublesome for older models. Many have short runs, and are not designed to be cherished but are thought of as disposable machines.
---
Home | Dirt Bikes | Cheap Dirt Bikes | Accessories | Mini Dirt Bikes | Motocross Racing
Motocross Gear | Off Road Bikes | Used Dirt Bikes | Wholesale Dirt Bikes
Honda | Kawasaki | Suzuki | Yamaha