Mini rocket bikes
Family Fun with Mini Rocket Bikes.
When the whole family is involved in biking, the cost of fun starts to climb. One way to resolve that situation is to get a couple of affordable mini rocket bikes. You can find new bikes ranging from less than $200 to more than $2,000.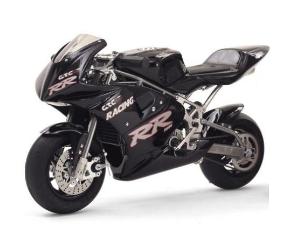 They look like a motorcycle because that is what they are, just in a scaled down version that ranges from a tenth to half the size of a regular bike.
Learning how to handle the ride is a great experience for kids, as well as those older getting on a bike for the first time. Mini does not mean just small kids can ride them. The bikes are strong and some can hold up to 300 pounds.
Do read the manufacturer's specifications, as some are rated for no more than 175 pounds. Before giving any new rider free rein, check the maximum speed and limit it to help avoid accidents.
Riders love mini rocket bikes such as the RX1 Traxxis for a number of reasons. The Traxxis carries a $379 price with a choice of red or blue color. Forging the sub-frame and main frame together and calibrating the off-duty road springs makes tough trails easy to handle. Maximum control of the bike makes challenging a steep dirt trail less stressful for any rider.
Some of the other features include front and rear heavy duty disc brakes, a 2 stroke, air cooled 49cc engine, and low down torque when you need to get out of a tough spot. A special edition Redline Motorsports tuned exhaust pipe provides the delightful sound of the motor revving up to 10,000 RPMs.
The Razor MX500 Dirt Rocket Electric Motocross Bike is available for $408 at Amazon. Riser handlebars and dual suspension make the ride smoother. One of the mini rocket bikes designed to travel on and off the road, the large pneumatic knobby tires grip the trail. Not for younger kids, the MX500 is built to carry up to 175 pounds with a suggested age of 14 up. The bike reaches 17 mph; the charge lasts about 10 miles.
Pocket rockets for you n' your mates.
Mini rocket bikes are very popular with people of all ages. Ideally the younger person enjoys these bikes. A vast array of models are available and most seem to fall within the 200 – 500 dollar margins. You can buy cheap imports from china, which are non-branded. Or go for a main make which is familiar to you.
Some mini-rocket bikes can be even more expensive! If you DO need to keep a firm hand on your finances, a mini bike is the perfect solution. Forums and other fan-sites can keep you upto speed on any second hand (used) gems and new developments.
A dirt bike review of the small rocket motorcycle.
Mini Rocket Moto Bikes + motocross events = a lotta fun.
The world of mini rocket bikes continues to grow and become more popular, and there are also more options available for purchase today than ever before.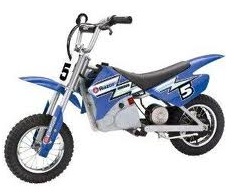 That means you'll have to do some research in terms of what you should be looking for when you make a purchase, and it also means that there are lots of great choices to choose between. Use this quick guide to help prepare yourself to buy any one of the great mini rocket bikes out there.
First of all, it's important to learn more about mini rocket bikes and what they actually are. Not all mini bikes or mini motos are the same, and while the term mini rocket bike might be used interchangeably with all the rest, that's not technically the truth. Actually, a mini rocket bike is a super fast street mini moto, or a fast mini dirtbike.
That's as opposed to some other models which can only get top speeds of up to 10-15 MPH. That's certainly not the case with rocket mini bikes, and the word rocket is used appropriately here.
These little bad boys can get up to speeds of 30-50 MPH depending on what model you purchase. That's a whole lot of speed and power for a bike so small, and it makes for a hell of a riding experience that you need to experience for yourself to understand.
The difference in speed is going to be the result of the bike manufacturer and model. The power source and engine, along with the engine size and type, will of course have a lot to do with the top speeds you can achieve. The most common engine size for mini rocket bikes is probably the 50cc class, although you'll find other options too.
Off road pocket dirt bike
Perhaps a classic dirt bike for kids ?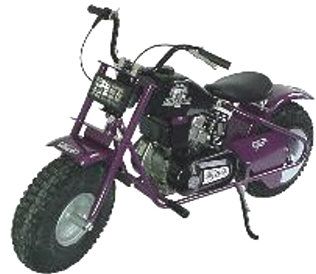 Also, it's important to note that the scooter company Razor makes an electric mini bike they call the razor electric dirt bike (or the razor dirt rocket mx350 bike to be exact). This is not what you'll be envisioning when you think of other mini rocket bikes.
This will top out at 15 miles per hour, and it utilizes a charging battery instead of a gas engine, and it's made more as a children's toy than for something for adults to enjoy, going at super speeds.
Another difference to think about with mini rocket type bikes will be just how "mini" they are. What this means is how tall the bike actually is. Some minis can be as low as 17" from the ground, while others are taller in the range of 24", which is a full two feet. This will have an impact on how you ride or how comfortable you are when you ride, the speeds you can achieve, and the types of moves, tricks or riding styles you can pull off.
Mini rocket bikes are super exciting and there's nothing like sitting on one of these things and taking off and approaching 50 miles per hour on a tiny little bike. These things are built to move and move fast, and you won't believe how fun they are until you check them out and give one a spin.
Super pocket electric bike
Would you want a fast electric pocket bike? Well most are for kids and you could struggle, unless you want a full sized dirtbike, like the 2012 Zero MX –but this isn't a minibike. The Razor MX650 "Dirt" Rocket bike, does have an approximate top speed of 17mph, as does the Razor MX500. So if your child's over 14 you should find these just dandy.
Or you could go for road racing type mini-bikes like the one below – but these aren't electric, but boy are they fast!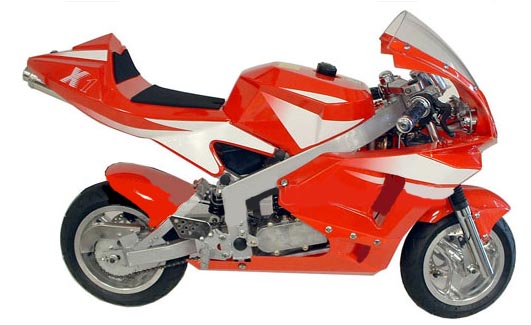 ---
Home | Dirt Bikes | Cheap Dirt Bikes | Accessories | Mini Dirt Bikes | Motocross Racing
Motocross Gear | Off Road Bikes | Used Dirt Bikes | Wholesale Dirt Bikes
Honda | Kawasaki | Suzuki | Yamaha