Mini sport bikes
For Tiny MotoX race fans - mini sport bikes.
The mini sport bikes are a great deal of fun and are used for racing. Ideally they are seen as mini replicas of the full sized bikes. The quality of graphics and detail is not lost. To make the bike practical, things such as the handles and other controls are obviously larger so the bike can be ridden.
If you have a track near you the mini race bikes are a superb day out. Many just go along to watch, and as they are only mini bikes if you like racing them it won't take you a huge amount of cash to join in.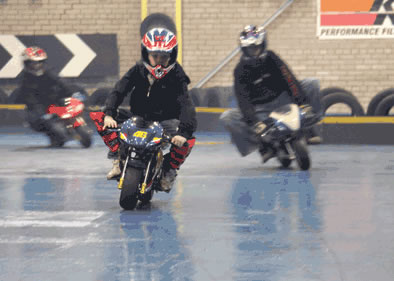 The Greatest small motocross rides .
The 3 Best mini sport bikes - (Dirt Bikes) on Sale Today
Just what is it about a mini motocross bike with a short, small frame, high handlebars, extremely light build and pedals that feet feel good resting on.
The 3 best mini sport bikes (dirtbikes) on sale today all have one common feature: popularity with people of all ages. Because of the slight build they are extremely inexpensive to buy and since they have less power than a regular dirt bike, mini dirt bikes are great to start beginning riders on.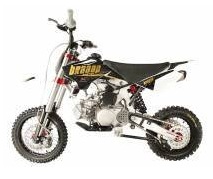 If the kid decides to get involved in something else or is a motocross success and has to upgrade, the initial cost is minimal. Some of the pro names riding minis for fun include Carmichael, Stewart and McGrath.
Braaap is definitely one of the top contenders for popularity. The Australian company, founded by Brad Smith, is named after the superlite engine sound.
This is definitely an international piece of equipment, designed in Australia, manufactured in France and assembled in the United States with parts from Canada, Japan and Italy.
The smallest size is the 110cc Braaapsters and out for mean, lean contention is the 500cc Braaap. Marcos Ambrose is a popular Aussie in NASCAR, driver of the number 9 car. He is putting a lot of energy into making the Chase this year.
He is also an avid rider and Braaap is definitely a brand he advocates. Affordable excitement like riding mini dirt bikes is something Ambrose is involving as many people in as possible. Braaap Factory Team riders Michael Blose and Jarryd McNeil, age 20 (who just joined the Gatorz team and will represent them at X Games 17 in Los Angeles) took part in the 2011 MiniMoto SX World Finals in Las Vegas.
GOOD Mini sport bikes
A motocross ride on toy ? – nope don't even think it.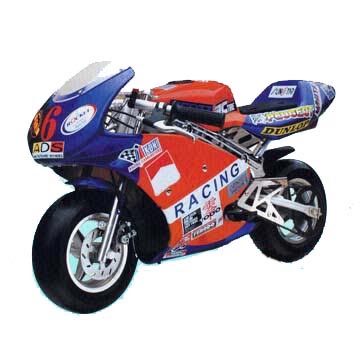 Another one of the 3 best offroad mini sport bikes on sale today is Giovanni with a 49cc mini dirt bike that is available in several colors, including army green and urban camo.
Fast and reliable, the bikes feature front shocks and heavy-duty suspension. The dual exhaust pipes are finished with light alloy, extending their wear. K&N makes a conical air filter to improve airflow and increase performance, plus the air intake system has been improved.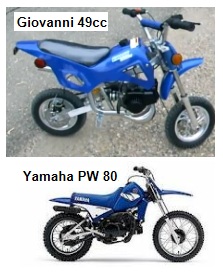 A racing pull start engine replaced the electric starter and that is good news for starting the bike more easily. Drilled disc brakes deliver awesome stopping power.
Like anything mechanical, you can start with the basics and rebuild it to what you really want. Aside from quality performance, the various sizes of dirt bikes offered by Giovanni are classy looking bikes.
The PW80 is one of Yamaha's great mini dirt bikes and provides plenty of power for adults and children still learning technique and driving tips. It competes against the larger Yamaha bikes, but does not deliver as much power as the 500cc Yamaha. It is easier for learning dirt-riding basics and can pull off some great stunts with the right rider.
Honda also offers great quality and good performance measures in all their bikes. The CRF50F with its 49cc engine is designed for the inexperienced rider. Dedication to the sport and responsible ridership should earn someone the CRF100F.
That bike offers great suspension and a 100cc engine. With any of these bikes, the power exists, as even the 49cc pocket bikes have the ability to travel between 30 and 35 mph. With these smaller bikes, DO get the best safety gear and have fun!
Looking around a mini dirtbike.
A 70cc super pocket bike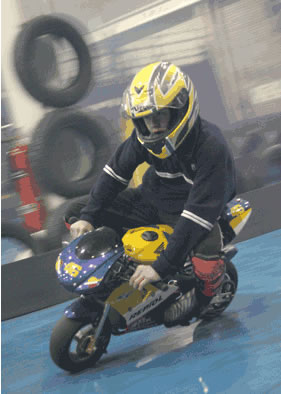 A bit of pocket bike drag racing has been known to happen in some bike clubs or friends trying to show off their new mini pocket bikes to each other.
Some models such as the ninja super pocket bikes are highly regarded and look amazing.
The next generation of super pocket bike are bound to be raced but remember you don't need a big engine!
Even the 70cc super pocket bike, can pack quite a punch on the drag run or circuit.
Especially if you're a youngster just trying to handle the lower cc of MX engine.
Go with what feels right, and your confidence will build.
---
Home | Dirt Bikes | Cheap Dirt Bikes | Accessories | Mini Dirt Bikes | Motocross Racing
Motocross Gear | Off Road Bikes | Used Dirt Bikes | Wholesale Dirt Bikes
Honda | Kawasaki | Suzuki | Yamaha