Mini street bikes
Street smart -(in a small way).
Mini street bikes are a superb introduction to this interest.They are rugged and are good value, as the size of the bike makes it a very accessible item for most pockets.
Second hand mini street-bikes are becoming plentiful as well. Always check whatever bike your going to buy as they will travel at quite a speed and you need to ensure brakes and tyres are not going to let you down in emergencies. They are brilliant fun if you like bikes on a budget, so enjoy them but look after your bike and yourself.
Being legal doesn't mean JUST having the right motocross tyres.
Mini Street Bikes - (how do you make a mini dirtbike street legal in America?).
If you're trying to turn an off road bike into your cheap transportation for work, don't attempt it unless you already have turn signals in the front and rear, a headlight, speedometer and break lights.
In most cases, it's difficult to get your mini street bikes licensed for the road. Each state has different requirements so it varies depending on your location.
Some of the problem of variance occurs with the location of manufacturing. If your bike is imported and new, you might have a chance at registering it. You must have a set height that is at least 90 cm or more and a ground clearance that's 30 cm or more.
At that point, the state allows you to register the bike as an enduro, one that has dual purpose of off and on road. However, they still require an inspection for lights.
Some states such as Washington, are making it easier to register your off road bike for use on the highway. First, in the state of Washington, you must have your mini dirt bike registered as an off road vehicle or at least have a temporary registration. You also need a valid driver's license with a motorcycle endorsement.
In order to make your bike one of the "legal" mini street bikes, you need a headlamp that follows requirements of the law in both specifications and use. You also need a tail light and working brake lights, just as any on road vehicle would require. Mini street bikes also need reflectors.
The new law in Washington set requirements for brakes and you must meet those requirements. You also have to have mirrors on both the right and left side of the handlebars. In addition, the state requires all mini street bikes to have a windshield that meets certain specifications unless the driver has goggles glasses or a face shield on when they operate the bike.
A Mini Dirt bike on the highway
The all terrain motocross stuff you need to have.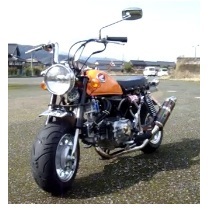 Finally, the state requires a horn or other warning type of device, tires that meet their specifications, turn signals and fenders to avoid water spray and rocks.
The fenders have to be as wide as the tires and extend down to half way of the axle center or further.
While this is just the requirement for Washington State, other states are also following suit. The main thing to keep in mind when considering registration of your bike is that it must be equipped the same way as larger on road motorcycles. You might not need a turn signal if you're riding out on the open field or on a racetrack.
If you're in the middle of traffic, you'll definitely want to let the other drivers know where you're going and that makes a turn signal a must. The same holds true for brake lights.
If you're considering making your off road motorbike into one of the mini street bikes, check with your local BMV to find out if its possible. Because of the popularity of these mini bikes and the low gas consumption, many states are now setting forth requirements to register the small MX bikes and legally operate them on the road.
Mini Bike Ride in San Diego 2010
Dirt bike costings
Mini bikes are always being advertised in dirt bike classifieds – but very few will be legal motorbikes. It's just a matter of cost, with all the extra additions it drives up the final purchase cost.
However if you have bought a mini motocross bike with brilliant suspension and a perfect dirt bike motor you can then look around for all the bits you'll need to make it legal.
Work out how much that'll all be? And will it be cheaper than one "off the shelf"? . If you can buy an already adapted (street legal) mini dirtbike, all the better – it'll save fuss and cost.
---
Home | Dirt Bikes | Cheap Dirt Bikes | Accessories | Mini Dirt Bikes | Motocross Racing
Motocross Gear | Off Road Bikes | Used Dirt Bikes | Wholesale Dirt Bikes
Honda | Kawasaki | Suzuki | Yamaha