Minimoto atv rides
Go everywhere - All terrain vehicles.
The US Minimoto ATV Ban

One of the greatest gifts motor-happy parents bought their kids was a minimoto ATV. A challenge for adults to control, imagine a young kid with little concept of caution reacting to the privilege of being the sole rider on something powerful with speed.
Turning the handlebars too sharply, speeding over bumpy surfaces – well, picture new drivers in a vehicle and you get the same image and results. There were turnovers, jump-offs and lessons learned.
Now and then, the kids ended up with mild or serious injuries and once in a great while, the accident resulted in death. However, that was a rarity as parents worked with their kids to teach them proper riding methods, safety and handling.
It is obvious why the idea of kids on a motorized conveyance with nothing between them and the ground except protective gear resulted in a ban of the minimoto ATV in the US - except it did not work that way. It was actually the Consumer Product Safety Improvement Act of 2008 that called for a ban on many items, including quads for kids, because of the lead in the product and the fear that kids would be gnawing parts on the ATV, resulting in lead poisoning.
Yamaha and other companies responded to the act by halting sales of affected products, including the Raptor Kids Quad. As a four-wheeled all-terrain vehicle, this stopped quite a bit of outdoor activities for families at quad parks and trails. Kids fit well on the quads with the saddle seat and handlebars and were more comfortable with maneuvering.
The challenge resulted in the uphill and downhill handling skills and the temptation to throw another kid on the quad, when it was actually designed for one person. The major challenge for companies that produced these recreational vehicles was getting the lead out of any part specified under the act. On April 3, 2009, a one-year stay of enforcement on the youth OHV ban went into effect while companies addressed the areas regarding lead.

So what is happening now? Those searching the internet will find once-active sites dead. Keywords used for the search may provide a variety of articles unless you happen to hit the right combination of words in your query.
The response shows the newer minimoto ATV with increased plastic available in the US such as the CMS Prowler 110cc Kids ATV. It has great colors, a remote control start, kill switch, automatic transmission and is a 4 stroke so the kid does not have to mix oil and gas. With both electric and kick start, the Prowler offers great fun for kids.
The Trail Tamer has a cloned Honda engine, as well and keyed electric start. Not so much fun for the kids but providing ease of mind for mom and dad is the governor that allows parents to set maximum speeds from 5 mph to 28 mph.
Order the Suzuki Quad 6-Volt battery powered ride with forward and reverse gears and a top speed of 2.5 mph from your favorite Walmart. The same store carries the KFX Ride-On 12-volt Power Wheels Barbie, which has a high-speed lockout setting and can coast along at 5 mph. The next issue for the US is likely to be the company ads that show kids without safety gear.
Small ATV models.
The Minimoto Atv or Mini "all terrain vehicles" kind of sums up this type of ride quite well.
They are generally used on grass & tarmac, but can be equally at home on dirt tracks. If you're going to do this ensure the bike has the correct type of tyres that afford you plenty of grip.
If not you could end up having a bad crash, or slipping off every corner. Dirt tracks are very popular and having an all terrain vehicle is something different from the norm.
Well organised tracks may even have selective races on, so it's well worth having a look around locally to see if they support ATV's in general and mini ATV's of course.
Children's Atv's have many models and makes, so research your future purchase well and only buy when your sure you have the best atv your kids can have fun on; and are easy to repair.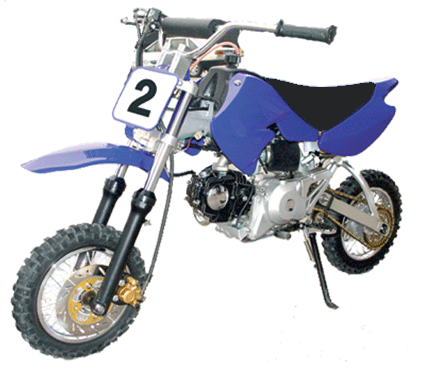 If you have ever wanted to take your ATV's & small quads on some serious tracks to test the off road shocks to the limit your not alone.
Some get inspired by the TV & DVD's that feature this type of vehicle or they like watching the stunts pulled on tiny 4-wheelers. Riding ATV's has never been more accessible. Quad vehicles can be bought new, from a wide range of manufacturers, or if you want seriously cheap atv's – buy used !
Trails can easily be found, with new circuits popping up all the time that allow ATVS to race. Parts and gear can be bought from websites such as slyfoxmx.com or cmsnl.com - so never worry you'll be short of accesories. Quality wheels and mud tires are a must, for your small recreational vehicles. Performance parts such as a racing exhaust can be purchased if you find the 4 wheel off road experience is for you. It can be as cheap or as expensive as you want it to be.
Here is a shortlist of some great mini ATV's for kids, you might consider when looking for a good ride for your children.
Minimoto atv's - Four wheels
Mini ATV's – two wheels (bikes)
Small ATV n' bike videos.
Take a quick sneak peek at some quick videos if you're thinking of the mini dirtbike or mini quad for your home. You might be surprised by how versatile they are?
Minimoto atv drifting in mud
Mini Moto Ride Mini Dirt Bike (loses quality at the end of the film.)
Minimoto atv - Freestyle Quad Extreme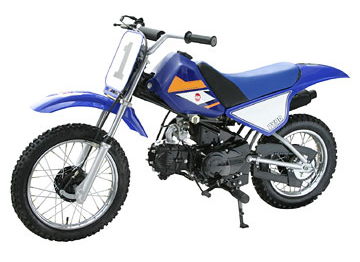 Dirt bike choice.
How about the 90cc dirt bike? Everyone has a personal choice. Whats yours? The miniature ATV (quad) or dirt bike, are possibly going to be your first "toe-dip" into off road riding so it's very important you make the right choice.
It's not that hard really, just be realistic on what you can and can't do, and avoid being over ambitious in your decisions on power – and picking a mini ATV that's way too powerful - like riding a bull. Now THAT can be a bit grinding after a while.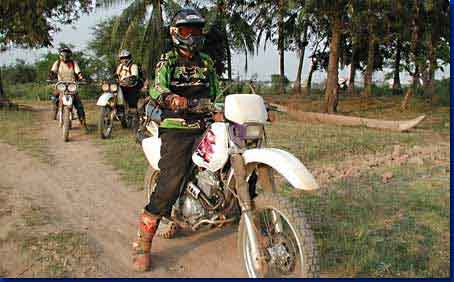 ---
Home | Dirt Bikes | Cheap Dirt Bikes | Accessories | Mini Dirt Bikes | Motocross Racing
Motocross Gear | Off Road Bikes | Used Dirt Bikes | Wholesale Dirt Bikes
Honda | Kawasaki | Suzuki | Yamaha