Motocross 2 - it's mad !
Games and pit bike gamers.
Motocross 2 , or "motocross madness 2" to be correct is a brilliant computer game. Fans enjoy the great graphics and game-play this issue offers. The motocross graphic images used in mm2 is as realistic as possible so far, and the playability has had some great reviews.

Those motocross madness games .
Motocross 2: the Motocross Madness 2 Game is Still Crazy, Still Fun
Rainbow Studios and Microsoft knew what they were doing when they followed Motocross Madness with their Motocross Madness 2 game in May 2000.
Not only did they create a better opportunity for gamers to enjoy the different aspects of motocross, they set in motion a means to develop in technology and skills that were in the process of introduction in other video games.
Where does a company get the best technicians and developers? Serious gamers usually fill the positions thanks to their learning and drive to focus on technology.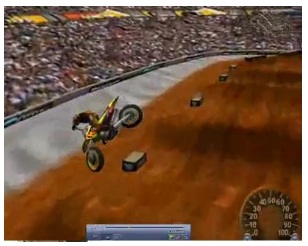 Requirements to become proficient at the Motocross Madness 2 game are much the same as any other game of skill. You have to learn the rules, the cheats and the other players. Regardless of whether you are facing human or computer competitors, study and remember the style of play they use.
The improvement of the Motocross Madness 2 game ( motocross 2 ) is the ability to customize tracks to your liking and style and how to switch between 2D and 3D images. Tutorials are available online that offer tips on how to increase speed and add scenery and obstacles with trees, hay bales and signs; Adjust and add spline on the track etc. SO - Set your own boundaries.
The more variation you make for a track to be unique, the better rider you and your avatar will become.
Adobe Photoshop and the Armadillo Terrain Operator have many options to use and the tutorial teaches the gamer how to create incredible sections and awesome jumps on a track. Not just gravity, but also the concept of aerodynamics, is realistic with reaction to the jump.
If it is a good one, the bike will balance out and hang time and distance will be incredible. With over forty tracks and more than fifty thousand 3D objects, there is never a chance of running out of options. The graphics in the Motocross Madness 2 game allow objects to cast shadows around the track and specializes in lighting effects, including the emission of smoke from the bikes while running.
The Madness of motocross 2
Are they motocross 2 custom graphics ?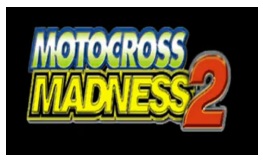 Ladies and gentlemen, select your motocross 2 bike, because MSN got the license for Honda, Yamaha, Suzuki and KTM. With the incredible graphics, it is easy to design your bike your way and acquire clothing to match.
Select the racing style you prefer and get ready to have fun, learn lots about racing and competition and pick up a few hints on how to accomplish feats of skill.
Stunts are always exciting events, because most people can send a bike around the track but it takes a lot of skill to jump and land successfully.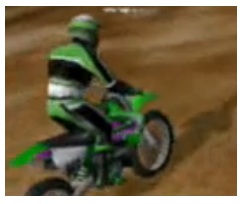 Points win the stunts competition and one of the first things needed, of course, is height from the jump. If your bike does not fly, you crash. Thanks to virtual stunts, you can work on your procedure.
Nationals require laps on a dirtbike track. Supercross has a large, compact track and a reactive audience, to boot. Gamers once could compete against one another in multiplayer game play, but Microsoft retired Motocross Madness and the Motocross Madness 2 game from MSN Gaming Network in 2006.
It is hard to believe that such a fun, enjoyable game lost that extra competition, especially with the kudos from IGN, Gamespot and PC Gamer.
Thousands of fans still love the many things offered in MM2 and continue to play it for the excitement, the fun and the crashes. You will find many how-to articles and tips if you want to revive the excitement.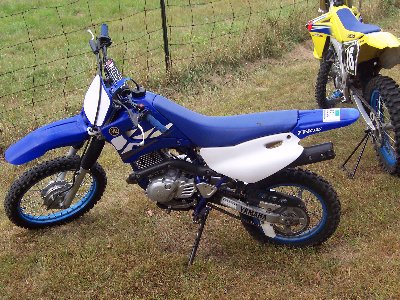 Real world Motocross bikes
If this inspires you to buy a real dirt bike you need to look in the motocross classifieds or ebay. They offer lots of used models and it's a great way to begin as it's cheap and doesn't matter too much if you get the odd scrape or dent.
You can go for a particular model like a suzuki motocross bike or the yamaha dirt bike which is held in high regard by pro bikers. Whatever you buy look after yourself and get geared up and wear the best helmet you can afford. Try not to buy second hand helmets as they might have tiny cracks in them, and this could fail you on the mx track.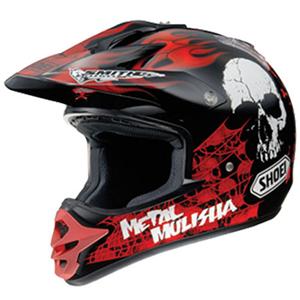 ---
Home | Dirt Bikes | Cheap Dirt Bikes | Accessories | Mini Dirt Bikes | Motocross Racing
Motocross Gear | Off Road Bikes | Used Dirt Bikes | Wholesale Dirt Bikes
Honda | Kawasaki | Suzuki | Yamaha