Motocross Apparel
What do you look for in Motocross Apparel? It is extremely important in this sport to purchase items for safety and comfort.
Having the Right Motocross Apparel to Stay Competitive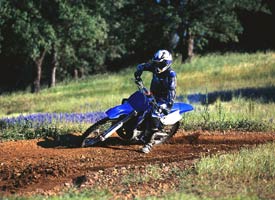 In order to compete, the right apparel is imperative. While some sports need few clothing considerations, safety and comfort are paramount in dirt bike racing. From the outside, perhaps the most noted feature about gear is the bright color and pattern – but this only helps to identify the rider on the track.
What Kind of Gear Will I Need?
The beginner might want to know exactly what kind of apparel is needed in order to compete safely. Protective gear includes shin, knee, elbow, and shoulder guards, as well as roost deflectors, which are chest protectors. With this type of gear you want to buy a good, solid quality brand and make certain the "fit" is right. If you buy gear that is too small or large or that doesn't fit your body well, it can leave you unprotected or can be too awkward to allow for your needed mobility.
Other essential motocross apparel includes riding pants, jerseys and jackets, gloves, goggles, boots, and a helmet. All of your apparel should be chosen primarily for safety and comfort. They should be made of material strong enough to protect you from a spill, yet they should allow for your agility in handling the bike. Try them on; don't just buy something and make-do with a bad fit – if you're uncomfortable it will affect your ability to control the off road bike.
Where Should I Buy My Gear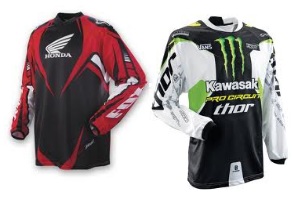 If you're very familiar with MotoX apparel and know the various sizes and brands, the skies the limit. Some gear can be rather costly and buying second hand or from an online venue might be a good alternative to buying motocross gear new.
If you do order online and find that the apparel is a bad fit, don't be afraid to send it back. As stated earlier, don't try to make-do with any gear that's very uncomfortable.
Most venues where you can buy your motorcycle and parts will have a good supply of motocross apparel on hand, and can specially order for you if you choose.
You can also look for second hand equipment by checking and participating in online boards and various communities devoted to dirt bike riding and racing. Your local classifieds and even eBay may have just the thing you're looking for but, again, make certain you can return it if it's the wrong size and only order from a venue where all sales are final if you're certain of your fit and its the brand you want.
Your Dirt bike kit
Essential Motocross Apparel for Beginners and Beyond
Admonishments about wearing motocross apparel may seem extreme at times, but it is like getting dressed to go out in inclement weather. The basic gear is typical, with the right helmet, boots and goggles designed to protect the rider. If a rider can deal with a less than favorite color or the lack of a hot brand name, there is equipment that costs less with the same protection.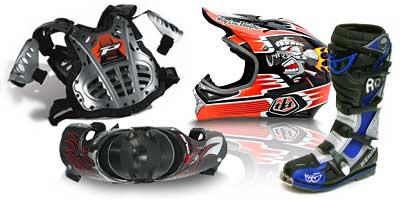 The helmet is considered one of the most important items of motocross apparel yet developed, and is similarly regarded in other action sports or anytime someone rides a piece of equipment with two wheels.
Required by law in most areas, it has guarded against injury and death many times. Several features make the ideal motocross helmet.
A word of caution is to avoid a used helmet. The shock-absorbing foam lining creates a shape that fits each person and the helmet must be full-face with the proper fit to be effective. Minimum construction for a beginners' helmet should include high impact plastic or fiberglass.
The Fly Kinetic Electric Graphic Helmet is priced as low as $89. With D.O.T. approval, vents, a removable liner, poly alloy shell and a mouthpiece, it provides the standard requirements at an affordable price.
Sometimes vanity gets in the way of common sense. The purpose of wearing motocross boots are for support and protection in areas like the ankle, sole and shin.
At the same time, they need to be able to provide the flexibility and comfort required for the sport. If a pair of boots catches your eye, think first about what you need before believing the motocross boot claim. Zappos has an inexpensive Harley Davidson motocross boot that is seriously lacking in the motocross apparel category. It looks good, but lacks safety features by the pound.
Avoid going overboard on beginner boots, because just like shoes, they are outgrown quickly. Do not let style blind the need for protection. Check into Fox beginner motocross boots, built for safety and economical.
Goggles are yet another critical item for motocross apparel and Amazon is an excellent place to find beginner MX goggles. Never buy used goggles. For under $13, there are a variety of colors that feature the things important in protection and performance.
Lightweight frames with shatterproof, scratch resistant and anti-fog lens's are supplemented by a foam padding that contours to the face. The strap is adjustable. Rocks get tossed up towards other riders by the bikes in front and a great set of goggles gives amazing protection to the eyes and surrounding soft tissue.
Body armor is provided by manufactures like Fox and Thor, such as economical MX gloves. The leather palms of this nylon glove save a lot of skin while your body skids along the dirt after a fall, making the $20 worthwhile. Chest protectors offer extra protection to your upper rib cage and breastbone. Elbow pads, kneepads, shin guards and a jersey to top it all off are additional safety garb.
Motocross pants deflect or absorb the brunt of rocks and dirt while providing riding comfort. Body armor includes all the motocross apparel above and any other item designed to protect you while riding and give you the chance to get up and either keep on riding or walk away from a spill.
Dirt Helmet DO's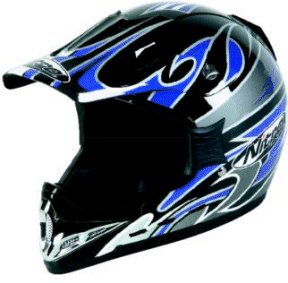 When riding your dirt grinding motor bikes you need protection. A used motocross helmet can be an absolute bargain but ideally a new MX helmet is imperative.
Why? Well a pre-owned helmet could have been knocked about badly, and you'd never really know.
Unknown quantities are not for any pro dirt biker, so don't let it be a concern of yours either.
Buy new and your worry free.
If you should take a big spill and you know for sure your helmet has took a pounding it's time to re-new it. Closeout sales and bargains are easy to find, and when you do re-new your old motocross helmet, "bin it!" – never sell the old one ON to an unsuspecting newbie. It's unethical and that's something you don't need on your conscience.
Keeping your helmet, boots and other dirt bike kit in good order, is your main priority after your bike.
---
Home | Dirt Bikes | Cheap Dirt Bikes | Accessories | Mini Dirt Bikes | Motocross Racing
Motocross Gear | Off Road Bikes | Used Dirt Bikes | Wholesale Dirt Bikes
Honda | Kawasaki | Suzuki | Yamaha