Motocross bed sheets
Dirt bike duvet daydreams.
Motocross bed sheets have become a winner for most kid's bedrooms. You can buy whole dirtbike bed sets and pillow cases too, ideal for birthdays and Christmas. Sticker motocross sets too, can give that extra flash for a childs bike so they can customise their own ride. When letting your child loose on their electric or even toy dirtbike keep a note of motocross safety.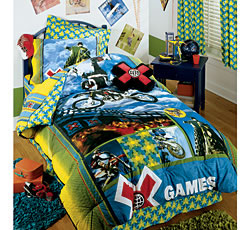 With such ingenious inventions like "motorcross bed in a bag" buys, ideal for sleeping over at dirt track racing tracks. The main purchases are always regular motocross bedding sets. You might be lucky enough to find motocross baby bedding for those that want to get into the sport – very young!
We scouted around for quality Dirt bike bedding sets and motocross kids bedding and were surprised to find that there wasn't that many stores selling bedding motocross blankets. And those that were offering motorcross comforters with motocross pillows had been sold out!
However we did find some cool websites for kids motocross bedding and mx comforter sets. The first site was dirtbikebid.com. They had a number of bedroom ideas motorcross fans love, with lots of pics. This should at least give you some ideas on what designs you'd like on your motocross pillow cases and motocross bedding sets.
Next up was dirtwerkz.com in our motocross bed sheets search. They had motocross bed in a bag buys, fleece blankets, duvets, huggers, and motorcross baby bedding sets. All the top motor cross brands for track heads are available. Some examples of prices are – The DirtWerkz MX Comforter (blue) - $104.95 for a "twin" off track bedding set, a "full" set was $120.95 and "queen" sized motorcross bedding was $159.95.
A Motocross bedroom
Still at dirtwerkz.com; digging for motocross bed sheets, Smooth Industries had for sale a Jeremy McGrath Fleece Blanket 48" x 60" coming in at $39.95. A nice motor cross gift, or a superb dirtbike in bed accessory for your boy or girl. Or if a Motocross Woven Blanket is your thing a Yamaha (logo) Blanket was being sold for $69. This bedding kid motorcross blanket is 100% Acrylic, and looked stunning, finished in high detail.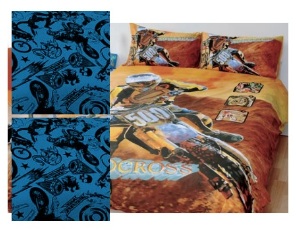 Now if you cant find motocross bed sheets at ebay you're not really looking - but we were. An XGAMES motocross bedding set was offered up for £20.13.
Plus we located another Smooth Industries MX motorcross kids comforter set up at £81.94. And our final bikers comfort bike pit duvet set was a sweet CRF YZ KTM bedding motorcross combo for £93.27 (+ £43.45 shipping if your outside the USA).
Motoshopper.com too had a Chad Reed Signature Series Blanket for $39.95 and a Smooth Industries SX Sleeping Bag for the same figure. Plus they have baby pj's too – such as a set of Mcgrath Signature Series Pajamas 1 Piece, items for $29.95.
So there you have it, there are some dramatic differences in baby bedding motorcross sets and kids moto x duvets. But hopefully this review should give you some girl / boy; toddler bedroom ideas, motorcross thoughts on what's available and how much you should be paying for those cool motocross bed sheets.
Kids Motocross safety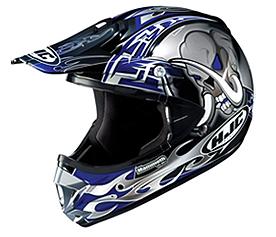 Outside the bedroom a helmet is advisable and if your child has a mini moto or small pitbike even some body protection will be required.
Don't be slow getting out of the motocross starting gate on issues of safety. Riding a dirtbike the dangers are obvious for any child, but less so in the bedroom.
So when you buy bedding sets for your son or daughter, keep in mind that the items you purchase should be fire retardant and be "equal to" or above todays soft furnishings regulations.
When you buy really cheap items from unscrupulous vendors can you really be sure those blankets will be inert during a fire?
From track-side motocross gear to dirtbike pajamas – a kid will love blending the sport into his daily routine - but its upto you to make it safe for them.
---
Home | Dirt Bikes | Cheap Dirt Bikes | Accessories | Mini Dirt Bikes | Motocross Racing
Motocross Gear | Off Road Bikes | Used Dirt Bikes | Wholesale Dirt Bikes
Honda | Kawasaki | Suzuki | Yamaha