Motocross bedding
Dirt bike Zzzzzzz's.
Motocross bedding is a brilliant addition for the kid dirtbike rider in your family. You can buy comforters or bedding covers for both motocross and supercross, so do take your time in your selection. Of course they make a great present and there is no need to stop there for your youth motocross fan. There are so many motocross posters, memorabilia, gear and toys too.
Are you a buyer of motocross bedding sets ?
Dirt bike Bed Products Available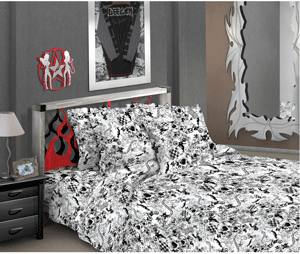 Motocross has really taken off in popularity over the past five years, and that means that kids are starting to become fans of the sport and the lifestyle from a younger and younger age. Many new products have become available as a result, including motocross bed-sheets.
Motocross bed sets can showcase all different kinds of things, from the bikes themselves to gear, tricks, different personalities, and more. Use this guide to learn a little bit more about what's out there today.
First, one of the major suppliers of dirt bike bedding is the X Games themselves. There is a decorative X Games Moto-X pillow in the shape of an X, which is pretty neat. There are also X Games blankets and sheets too, some highlighting Moto-X specifically, and others which are more general or all purpose for the whole event.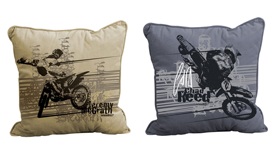 You'll also find that different brands produce their own products. For example, you can find a Honda-themed comforter showcasing one of their latest dirt bikes, and riders in the midst of completing jumps and tricks.
Other brands produce similar products as well, so if you have a particular brand that you really enjoy or your kid really enjoys, you can choose that. Many brands make nice woven blankets, which can be used on top of a bed or on a couch, or can be brought out to an event and placed down on the ground.
There are many individuals within the world of motocross who also have their own items, such as signature pillows. You can find big names like Travis Pastrana, Jeremy McGrath, Charles Reed and more with signature pillows, and those will cost about $25 or $30 depending on where you find them.
Not only the Motocross bedroom
The dirt bike accessory for camping out.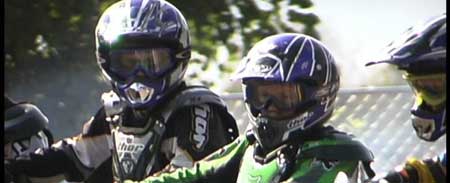 In addition to all of the above, some of the most popular motocross bedding style products are sleeping bags. These are great for camping trips and kids having sleepovers. You can find a wide array of sleeping bags, once again either showcasing an individual rider, or a brand or model, or so forth, and they don't cost much money. You can find a decent selection in the $20-$30 price range.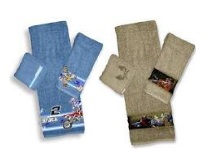 Plus, if you wanted to stock up on some cool motocross items outside of the bedroom, there are similar or companion items for the bathroom too.
You'll find motocross shower curtains, bath towels, hand towels and even floor mats and on down the line. So for the kid that's really a big fan, you can set them up with a motocross bedroom and bathroom at the same time and go that extra mile.
As you can see, there are plenty of options out there when it comes to motocross bedding. You can find all sorts of bedding products representing the sport, the gear and what it's all about. So for the kids in your life who are getting started with motocross from a young age, (yep even motocross baby bedding sets are available too) - help them take it all in and become hardcore fans with some bedding products ranging from comforters and blankets to sheets and pillows.
Motocross and supercross ideas
You can transform any bedroom into a super fans dream, but this does come at a cost. If you shop around and compare prices it should save you some hard-earned money. Motocross posters should also be a great addition to a bedroom and can be given as birthday or Christmas stocking fillers. So many items to buy; only your imagination limits you.
---
Home | Dirt Bikes | Cheap Dirt Bikes | Accessories | Mini Dirt Bikes | Motocross Racing
Motocross Gear | Off Road Bikes | Used Dirt Bikes | Wholesale Dirt Bikes
Honda | Kawasaki | Suzuki | Yamaha