Motocross bikes
Get involved in dirt bike action.
Motocross bikes are becoming very popular due to the rise of televised events such as supercross and motocross tournaments. Wherever you live there is probably motocross tracks near you, or a local club that would help you get involved in the sport. If you're becoming serious about dirt biking, some quality motocross apparel will be needed such as fox or shift.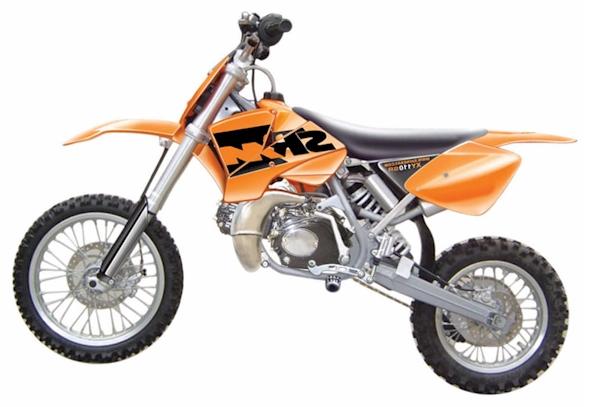 Sport atvs and motocross bikes can cover such a large spectrum. Many motorcross stores cover not only off road bikes but motorcross accessories. First thing is to select what type of off road dirt bike you require? Will it be one from the suzuki motor cross range, or perhaps an electric motor cross minibike for you child. Maybe you're specifically looking for a yamaha 175 ct3 enduro or you need any 125 motor cross dirt bikes ready for the race track.
We went over some known off road bikes stores, to show you what kind of motocross bikes are available. You can then select what might be the best enduro motorcycle for your personal needs. Where to buy off road bikes -
Mypurerush.com was our first stop, which have a number of smaller cheap atvs for sale. One mini off road bike that caught our eye was offered up at £719.99. It had a 125cc Lifan 4 stroke engine, chromoly double beam frame, kenda tyres and FastAce forks and rear gas. But if you enjoy "named" off road motor bikes, mypurerush had an Akuma Assassin 110cc for £349.99. The Akuma dirt track bike too has a 4 Stroke Lifan Engine, Mikuni carb and rear gas shock absorber.
Mypurerush.com has new mini motor cross bikes for sale of course, but some real bargains are off the beaten track such as used atvs for sale. And where better than bike-exchange.co.uk to get a quality fast track bike, that's only a few years old.
We uncovered a Suzuki RM 80, for £900. The Suzuki off road motor bike had a new fmf motorcross exhaust, asv clutch and new brake levers plus the track racing engine had been fully re-built.
Motocross bikes on Motocross tracks
Another option was a Kawasaki KX 60, now this was unusual as no price was given only offers! This dirt bike track ride was in excellent condition, but the rider wanted a quick sale due to needing a scooter. You don't have to be a specialized enduro sl expert for specific prices, so do check out a few other used Kawasaki KX 60's used ads and atv prices, to find out how much they go for. Then offer the seller a figure slightly under, but don't go so low to be insulting of course.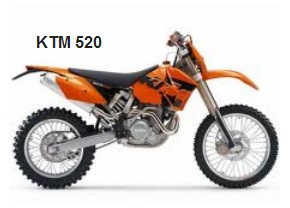 Ebay came next in our motocross bikes discoveries, great for cheap to almost free motorcross games and bargain apparel motorcross items. But today we are after complete atvs dirt bikes.
So what did we find? A KTM 520 2001 specialized enduro sl which had a current bid of £1,611.00. With only 2 hours 20 mins to go, this price wasn't going to go far higher. This model has Steering Dampers, Hand Guards and a Stainless steel sump guard. Plus it has been maintained regardless of cost, with oil and filter changes at regular intervals. Lots of power for motorcycle track days and all original paperwork and the KTM bag that came with it.
If that wasn't a great motocross bikes buy; Ebay also tipped up a Mini Dirt Bike - 50CC model sitting at £82.00. With only 6 hours 47 mins left, this mini racing atvs ride wasn't going to go for much more too. The model was just rev and go, hitting a massive 35mph. With Yamaha YZF style plastics and a full set of motorcross decals a mini pit bike for less than £100 is a nice atv sale used buy.
Powersports4sale.com was selling a 200cc 4 Stroke Full Size Dirt Bike at a Sale price of $899.00 plus Shipping & Handling: $199.00. And a DB 200B Motocross Style 200cc Super Dirt Bike for the same money - $899.00. Remember these moto x bikes have 180 days parts warranty, Owner's Manual Handbook, free Tool Kit and free Technical Support all included.
A neat place to check out motocross bikes is dirtbikerider.co.uk. As they have a Free UK Listing of Stolen atv bikes / Vehicles. You just email them the details of the stolen bike and they place it on the website. Great too if your not sure of that very very cheap yamah enduro for sale or an unusually low priced motor cross bike in dessert colors. All ads, have quality pics and rewards are offered. Definitely worth looking through to partially ensure your not buying a stolen motorbike.
Motocross graphics on dirtbike gear.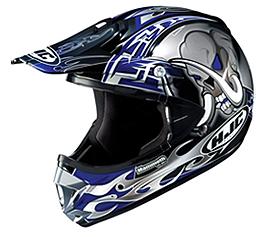 You can even get some used gear from auction sites that offer incredible value.
When buying gear don't be too swayed by the cool motocross graphics on them.
You need the item to fit you well and if it's too loose or tight, it will spoil your riding.
Save on dirtbike gear where you can and then spend MORE on the important items such as MX helmets, boots and chest protectors.
---
Home | Dirt Bikes | Cheap Dirt Bikes | Accessories | Mini Dirt Bikes | Motocross Racing
Motocross Gear | Off Road Bikes | Used Dirt Bikes | Wholesale Dirt Bikes
Honda | Kawasaki | Suzuki | Yamaha