Motocross body armor
Keep it safe and cool when your trackside.
Motocross body armor is a critical addition to your protective gear purchases. If you crash into another biker in a race or hit a rock you'll be glad you had worn some dirt bike armour for your upper-body. It's worth checking out the motocross gear catalogues and look over their items for sale. Manufacturers of high quality merchandise as easy to find, but like any clothing it needs to fit both your requirements and your pocket. There has also been a big surge in sales for casual motocross apparel as well.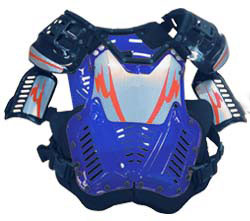 Bouncing around on the twisty tracks on your motorcross dirt bikes your going to need some torso protection. You could be on your yamaha 175 or a bmw hp2 enduro and hit an off track obstacle. Motocross body armor is a must-have in your motorcross apparel wardrobe, and (it should) tuck neatly under your track star jersey.
The moto fans within off road forums, can give you advice on discount motorcross gear for free. But if you need some moto tips on this product we'll take you through some online shops that have great bargains on motocross body armor.
Dirtbikestore.co.uk have a CE Approved "Extreme" Youth Full Cover Body Deflector priced to sell at £49.95. All the protection sections are vent foam & plastic, and the material is built from a breathable, lightweight Lycra. Plus this deflector includes six tuff protection pads for your back, to give maximum spine and rib protection – and is available in a range of sizes.
This dirt bike store had an "Extreme" Youth Roost Deflector going for £29.95, and an "Extreme" Youth MX-Pro Kidney Belt at a meagre £11.50. This incorporated an elasticated velcro strap, built from high density foam, and hard PVC reinforced pads, to protect your important body parts.
The price of their other motorcross products were quite cheap – such as "Extreme" Youth Elbow Pads at £12.22. Which were CE Approved too, using injection moulded plastic and a 18m/m E.V.A. pad with polyester foam with Lycra mesh to give excellent fit and comfort.

Sports n' motocross gear
Motocross body armor - Stay protected at all costs.
Getgeared.co.uk is a uk store that caters for on-road and motorcross riders of all ages. But they do have a dedicated full page of motorcross body armor and dirt bike clothing sets. A pair of MADHEAD long knee protectors was offered up at £34.99. A pair of MADHEAD elbow protectors going for £19.99 came up too. Plus some Optimum body protection from MADHEAD again - starting at £59.95 seemed great value. This motocross track protector is fully ventilated and made from lightweight materials; adjustable straps make this a great fit for many race riders of all shapes and sizes.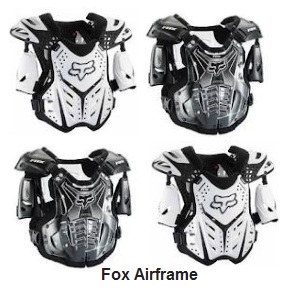 We looked at gumtree.com next, but no luck this time on track apparel protection. So we checked out ukgooddeals.com, which has all kinds of bits for going around the track on a pit bike n' dirtbike. Ukgooddeals uncovered a set of MotoX Chest protectors in adult sizes, at a sale price of £19.99 - (£5 off RRP). You're unlikely to get a full compliment of outdoor and indoor enduro clothing from this price guide website, but worth a quick look for a fast bargain.
Ebay was our final roll call for motocross body armor. Here we could find ceramic bike bearings, fox racing motorcross clothing and even parts for motorcross ramps – if that's what you wanted. But take this hint and check for excellent feedback on the seller first before you buy anything on ebay.
What motocross body armor bargains did we find? There was a motocross body armour protector (fox air frame) for £29.00 + £22.00 shipping, and an enduro body armour jacket for £49.95. But also available was an Underdog O'NEAL Azonic Body Armour set – ( Adult XL ) showing only 4 Bids – currently priced at £26.00!
The links to the MX stores above should help you save a packet on your motorcross buys and dirtbike body protection. When riding a new circuit check out the motocross track design properly first, in case it's too much for your skills. This should stop needless accidents and hopefully keep your body armor from being used too frequently.
Casual motocross apparel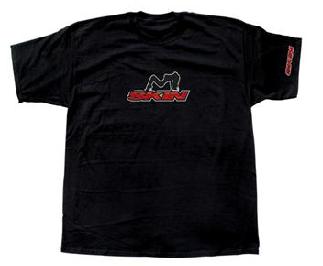 When you have had enough of the dirt bike track and you're out partying with your buddies you'll still want to be associated with the sport you know and love – dirtbikes.
So motocross casual apparel has seen huge surges in sales. Riders want to be associated to famous big brands and perhaps you're a frequent fan of supercross and want it known.
Stores have all kinds of styles and designs, with Metal Mulisha being one of the more popular.
Well today that can be as cheap or as expensive as you want, from a tee to a limited edition cap. It's all there for the buying, and people will instantly spot a dyed in the wool motocross fan when you're out chilling and relaxing.
But if you wear your motocross body armor underneath your casual gear you will get some strange looks – be warned.
---
Home | Dirt Bikes | Cheap Dirt Bikes | Accessories | Mini Dirt Bikes | Motocross Racing
Motocross Gear | Off Road Bikes | Used Dirt Bikes | Wholesale Dirt Bikes
Honda | Kawasaki | Suzuki | Yamaha