Motocross crash videos
A Sample of the Spectacular Motocross Crash Videos since 2007.
Wear your helmet. Dress defensively. Use body armor. Anticipate anything. Just a few words of caution for any person involved in riding motocross to give them every chance to live to tell about a crash and learn something from it.
So, you want to see the best motocross crash videos?
James Stewart seems to be the king of crash during the last few years. The Houston 2012 Supercross, held the end of March, saw Bubba near completion of a triple jump.
Hitting one of the pylons, he and his bike flipped over and parted ways on the track, with Stewart stopping just off the track. The wreck aggravated a hand injury from his earlier crash in Indianapolis. He walked away knowing he would miss New Orleans in April. An experienced, brilliant rider, perhaps the lesson is more focus.
Take a look at some of his motocross crash videos and you'll wonder how he's still in one-piece !
At Red Bud in July 2008, Mike Alessi crashed just past the ski jump on the first lap. He lost control and then lost the bike, which skidded away a bit but remained on the track. Down and out, Alessi was hit by rider after rider as they came over the top and ran across him before a caution flag was displayed in the area.
Surprisingly, the riders avoided hitting the motorcycle, lying on the ground nearby. The bike was picked up and ridden off the track, while Alessi was carted off the track. He suffered a bruised lung, broken rib and two broken scapula. Yeah, it is a tough sport. Tough helmets, jerseys, boots, chest protectors and every other protective item known to humankind are a benefit in a motocross crash.
On February 9, 2009, FMX rider Jeremy Lusk died from head injuries suffered in a motocross crash. Attempting the Seatgrab Indian Backflip at an X-Knights event in Costa Rica, he lost control of his bike.
Jeremy was part of the Metal Mulisha team. Coming off the X game gold medal in FMX 2008 and a silver medal in Moto X best trick, he was reaching for one better display to bump up his stellar career. There are two lessons to learn from this tragedy: Safety gear can only do so much and prepare as much as possible for any trick.
Lusk excelled at the sport and had every right to be confident in his skill and bike. Accidents happen and this was a tragic one. Videos of this incident are quite detailed.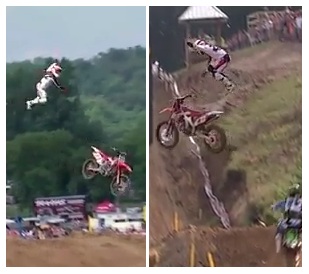 Chad Reed had a major motocross crash at Millville's MX Class Moto 2 in 2011. Out in front, he hit the jump.
The bike started going sideways and forty feet midair, he and the bike parted ways. The bike flew towards the dirt away from the track and Reed peddled through the air to maintain some balance and minimize impact and injuries.
Amazingly, he got up, climbed on the bike, and finished fourteenth in the competition. I am not sure if the old adage about getting back on a horse after you fall off applies here, but it worked. It shows that every bit of body armor and safety equipment is worth the time it takes to put it on.
Perhaps the biggest lesson is to prepare for the unexpected. Studying motocross crash videos from the shows on TV tell you what can happen to even the best of the best. Learn and give yourself a chance to survive.
Those motocross crash videos are a permanent reminder of those slip-ups, but use it as a helpful learning curve for us all.
Pit bike movies and you-tube crashes.
Motocross crash videos turn up all over the net, youtube is the most famous. But do seek out other fan sites and individual posts on motocross file sharing networks.
If you DO crash it'll sting - so you'll need a motocross chest protector of some quality too, such as fox or thor body armour. Protective dirt bike gear can be found easily in a sale either in a local store or online.
Tearing up the race tracks on your MX bike is an exhilarating day for most dirt riders. Causing some moto mayhem, and some off road fury can be costly. Should you have a crash on your moto cross ride, you'll be funding some repairs - both on your motorcycle and yourself.
So take some advice from the experienced in regards to motocross crash videos, such as offroad clubs and famous riders. They are sure to tell you to always ride with your helmet and motorcycle body protection on.
That way when your tires and wheels hit a bump and you fly off - your motor cross adventure wont be leaving you bruised and battered.
We have included some videos below, of racing guys that could certainly do with seeing a specialized expert. The video clips, are a lesson in HOW NOT to ride your offroad bike at top speeds. Yes the tracks on your motorbike can be hazardous, but they can be a lot of fun too.
Dirt bike crash movies.
Hold on tight……………….
When you have a motocross bike you can ride within your abilities, you'll feel more at home. Becoming the solo rider with all the skills others will admire. You don't need the latest gizmo, gadget or gear, its all about practice, practice – practice. So seek out local clubs n' tracks to give you the chance to ride well and often.
Here are the motocross crash videos you should be avoiding when you ride your pit bike & dirtbike.
Dirt Bike Crash
My first dirtbike ride... CRASH
Awesome dirtbike crashes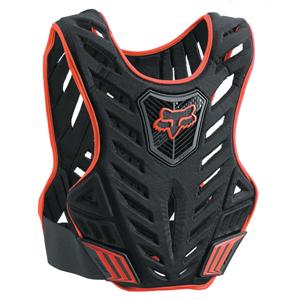 Motocross safety.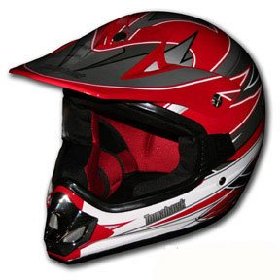 Everyone at some time will have a crash – that's a fact of dirt biking. So now is the time to get set up with the right helmets and pads before you start zipping about on your motorbikes.
Be specific on your body size and measurements to get a snug fit. If your clothing is too tight it will impair your skills and limit what you can do.
And if it's too loose it'll simply be falling off you, so there is hardly any point in wearing it.
Change your helmets, chest protectors and gear regularly when you find defects or signs of age, so when you do have a crash your wearing stuff that will be operating at its optimum.
---
Home | Dirt Bikes | Cheap Dirt Bikes | Accessories | Mini Dirt Bikes | Motocross Racing
Motocross Gear | Off Road Bikes | Used Dirt Bikes | Wholesale Dirt Bikes
Honda | Kawasaki | Suzuki | Yamaha