Having a motocross crash
Interesting Information about Motocross Crash Videos.
You are relaxing in the front room watching your favorite television show when you hear a lot of cheering and the sound of many motocross bikes in the background.
Before you duck and cover, check the computer area for one of the recently posted motocross crash videos. Always popular, better technology makes them better and viewers are increasing.
Best Places on the Web to Watch
It is probably no surprise to hear that a lot of the professional videos from sports networks such as ESPN and racing teams like Monster Energy and Kawasaki have links on MX magazines and blogs. You will also find them listed on various SEO results. There is always the chance of finding the same motocross videos listed in a row.
Even if the action is the same, it is possible that you will get a different commentary or pick up on something that was not noticeable in the other videos you watched. Now and then, you will reach a video that has been eliminated due to copyright infringement. Check for other links that might cover the same incident and are not carrying copyrighted content.
The Appeal of Action
You will find many of the motocross crash videos credited with quite a few views. Some of them are quite graphic. They bring about scenes and sorrow that no Hollywood studio can ever hope to simulate. Sometimes we get to cheer as the rider gets up and walks away. Sometimes even men cry as their favorite rider lies still and never gets back up again.
The appeal is in watching the group having a great day on the track and making every trick right up until a certain moment when it all unravels. The same instinct that has people of all ages watching other things go wrong kicks in. It is hard to look away and equally hard to believe scenes of big bikes flipping over with the rider one or more times.
It would be hard to pinpoint which rider attracts the most attention in motocross crash videos. James Bubba Stewart has certainly had more than his fair share of wrecks over the last 4 years. One reason is that the better the rider gets, the more he or she wants to accomplish.
Regardless of which extreme sport is in question, the participants want to create something unique that will go down in history with their name on it. An easy ride and win is not what fans come to the track to see. The way riders stay out of the videos that focus on wrecks is by watching for possible danger and noting where others are having problems and the bike's reaction to it.
Making Your Own Video
The world has gone camera crazy. Shoot a video with cell phones, digital cameras and eReaders. A mini-camcorder is convenient, also. To get the best motocross crash videos, decide where the most competition will take place. Get as close to that area as possible and position yourself where the crowd will not be in the way. Be familiar with your equipment and shoot the action. If there is a wreck, you will have a great video to post to YouTube. If not, you will still have an action video to post with the day's event.
Falling off a dirt bike – like falling off a log?
A motocross crash is obviously pretty unpleasant. So do spend cash on the correct helmet and motocross gear to stop your body and skull taking a pounding.
Accidents do happen and although it's unfortunate; you're bound to have a couple in your dirtbiking life.
You could develop your skills with as much practice as possible, but when your adrenaline is running anything can happen.
We found some crash footage of off road fans on their 50cc motorcross bikes. These guys seriously need to visit a riding school, or other centers for some advice on how to ride dirtbike trails. We wouldn't say these are some of the most extreme motorcross videos on the web, but we hope you don't take MX riding tips from these guys.....
A motorcross dirt bike and even a kids motoX bike for that matter can travel at speed. If you're considering buying offroad racing bikes get geared up at online stores first and you'll be ready for anything.
You'll need a new helmet of course, motorcross pants, a motorcross jacket (or jersey) and other apparel such as pitbike gloves and boots.
If you ride like these maniacs, you'll require a parts store or a local motorcross breakers for spares. Replacing damaged spares, can soon punch a hole in your wallet.
So don't become a dirtbike nut, get some motorcross training – it's far cheaper than repairing your bike every weekend.
Once you do you'll have admiring fans adoring your skills. And you could even create some simple layouts in your back garden or local field if your luckily enough to live next to some open countryside.
Let these videos tell a tale of woe.
Anyways here are a few motocross crash videos we liked. Visit youtube for more links should you find them exciting.
AMA Motocross Crashes Highlights
Pit bike / Motocross crash
Ride in 2 on Pit bike = Crash !!
Crash of the day pit bike vid
A helmet is your friend.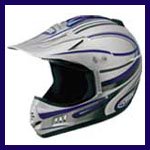 Safety is all important and the more risks you take, the more chance you have of injuring yourself and damaging your dirt & pit bike.
If a stunt is way way beyond your limits, its a sure-fire way for somthing to go wrong.
Even if your riding a quad which with four wheels should normally give you tons of stability.
Don't be fooled many people have had serious accidents on bikes and quads so wear a helmet at all times, its too late going over what you should have done later in hospital.
---
Home | Dirt Bikes | Cheap Dirt Bikes | Accessories | Mini Dirt Bikes | Motocross Racing
Motocross Gear | Off Road Bikes | Used Dirt Bikes | Wholesale Dirt Bikes
Honda | Kawasaki | Suzuki | Yamaha