Motocross freestyle Info
Checking Up on Star riders of Motocross Freestyle.
As one of the extreme sports requiring constantly upgraded tricks, motorcross freestyle offers a new display every time an event takes place. Even the practice sessions are spectacular. The challenge draws new participants each day, determined to learn from and best the star riders.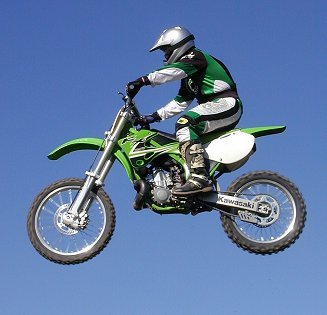 A contender with Red Bull X-Fighters, New Zealand's motocross freestyle rider Levi Sherwood is nicknamed the Rubber Kid.
Winning the opening series in Dubai with gravity-defying moves, he is showing a return from the injuries that minimized participation in 2011 with tricks like the one-hander backflip Hart attack.
Other events leading to star status include the X-fighters win at age 17 in Mexico City (2009) and 2010's win in Moscow, as well as rookie silver in the 2010 X-Games in Moto X Freestyle. Sherwood rides a KTM SX250.
Taking second in the April 2012 X-Fighters Dubai opener, Metal Mulisha Australian rider Rod Adelberg showed his star status convincingly. He started riding in 1992 at age four on a Z 50 and currently rides an YZ250. He won his first amateur competitions at 14, concentrating on rock solids and double grabs. At 15, he entered his first pro competition.
Participating in motocross freestyle events for more than ten years, his best trick is the KOD Indy Flip. Other achievements include first place in the 2009 Narrogin Revheads and second in the 2010 Berlin IFMXF.
Motocross freestyle star Robbie Maddison started riding at 4, racing at 6, and became Australia's national amateur champion ten years later. Motivation and drive led him to FMX and at 31, he still has the ability to amaze others with tricks and grace in his style. Heart-stopping jumps with a Yamaha YZ250 at the Arc de Triomphe in Las Vegas, as well as a backflip over Tower Bridge and the Thames on July 13, 2009, are among the actions leading to his fame.
An injury in September 2011 prevented him attending the X-Fighters event in Sydney. Earlier in 2011, Maddison skimmed 95 meters over the water of the Corinth Channel in Greece at a speed of 125km/h to reach the other side.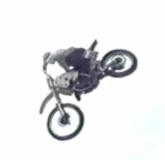 Australia's Josh Sheehan started riding for fun at fourteen on a KDX200, found motocross and then motocross freestyle, graduating to a CR250.
He practiced flipping bikes on a 50cc bike and then practiced on his KX450. His specialty is a double backflip. His first FMX competition was in 2007 and he signed with Factory Honda Race Team in 2008.
That same year, he won the AFMX round at Brisbane Super X, beating Levi Sherwood and Kain Saul, among others, with an unbelievable ruler-flip. Sheehan was the first rider in the world to ruler-flip a 450 four-stroke bike. He placed 3rd at the October 2011 IFMXF World Championship held in Riga, Latvia and won at the Sydney X-Fighters.
A bronze medal at X Games 17 (2011) also earned a dislocated shoulder in Freestyle, requiring reconstructive surgery. Sheehan joined the Red Bull team in 2011 and earned a fourth place finish at the April 2012 Dubai Red Bull X-Fighters competition. These are just a few of the riders that dedicate the time required to excel in FMX to provide the excitement and performance fans crave. The competitive spirit keeps the competition fierce and the tricks more amazing each time.
Flying on those dirt bike jumps.
Motocross freestyle is a spectacular way to ride a dirt bike. You may not be able to do this with every motocross bike, but you will need the correct combination of a light yet powerful FMX bike. You can see a lot of freestyle & motocross photography on the net that loves the freestyle riders. The jumps and positions they give, can't fail to impress the fans. Selecting the right bike for your jumps is paramount and clubs n' forums can offer advice.
Dirt bike freestylers riding by the seat of their pants, is an enjoyable spectacle. Track fans never tire of FMX stunts and jumps, on yamahas and suzuki's speeding over high ramps. This is hardcore riding for sure, and one of the fastest growing sports with TV covering all the major world events.
Of course your tires and shocks will take a battering. So if you're becoming an FMX pro, get a motorcycle purpose built for this style of performance. Some riders are lucky enough to get track scholarships or advertising from a sponsor.
So where can you get freestyle information online? Well freestylemotocrossonline.com has lots of absolutely jam packed pages. From latest news items, fmx results, video of the week, tickets and events, plus cool FMX photos and a freestyle dirt bike store to boot.
If you want to go and see a dirtbike stunt show yourself, then what about freestylemotocrossteamfmx.com. You can join up for their mailing list and also get rider info, photos and all out action videos.
These guys know how to test their brakes and wheels to the max. You will see real freestyle fury close up, as they punish their tires on the massive ramps.
Redbullxfighters.com too, has an amazing looking website. These guys use unbelievable track skills, under the "Redbull" banner to thrill the crowd on their freestyle bikes. You can often catch them on TV and you'll be glad you did.
Free-wheeling videos and tips.
Salvage yards are not the place to buy jumping suzuki's or honda stunt bikes.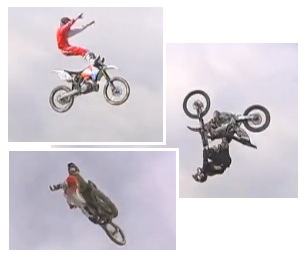 Quality tires are needed like goodyear or bridgestone tires, or check with your local store for custom built motorcycles specially designed for motocross freestyle riding.
Get the best gear too - you will need a proper FMX helmet, goggles and a full set of body armor. The history pages, are peppered with tragedies such as freestyle rider (Jeremy Lusk).
If you have a dirtbike, be aware freestyling is the most dangerous, and also the most thrilling thing you can do.
Here we have selected some great (free) freestyle videos for you to enjoy.
Dirt bike flips whips & freestyle tricks - TRAVES KELLY
A Freestyle Motocross Tribute (Version 2)
Travis Pastrana with his freestyle moves
Weight on motocross freestyle tracks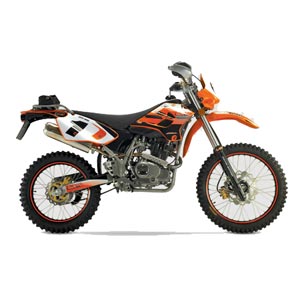 The bikes suspension is all important as is the quality of the bike you'll be bustin' your FMX moves on.
You can't have a heavy bike for freestyling, and although a big engine can deliver quite a punch the weight of the power unit will stop you from being confident on that mx bike.
Don't forget your own weight can play a part too.
So keep this in mind, and of course being as physically fit & having a good diet before any event will help enormously in your preparation.
Being a motocross freestyle star takes years of dedication – but if you can achieve it the rewards are beyond measure.
---
Home | Dirt Bikes | Cheap Dirt Bikes | Accessories | Mini Dirt Bikes | Motocross Racing
Motocross Gear | Off Road Bikes | Used Dirt Bikes | Wholesale Dirt Bikes
Honda | Kawasaki | Suzuki | Yamaha