Motocross gloves
Apparel for your hands – but that's not all.
Motocross gloves are often overlooked items of apparel but very important. Good ones should not only help you grip the handlebars far better than cold slippery hands, but stop you falling off your dirt bike by loosing control. Have a look through the many accessories stores on the net to find a pair right for you. They should not be too tight or loose, and ideally a quality brand should last you well.
Motocross Gloves – simple protection.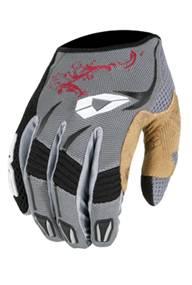 Motocross gloves are an essential part of the uniform worn by any dirt bike rider. While there are going to be thousands of styles of gloves out there, you are going to find that some of them are going to be a better choice for you.
The first thing you need to understand is that quality is the most essential part of the buying process.
While there are certainly very cheap options out there, you are going to find that they are a safety item of clothing - and because of that you are going to want to consider this being an important part of your selection.
This means when you are putting on the glove you not only check that the glove fits snug, but also that the pads properly cover your knuckles as well as the back of your hand.
What you are going to find is that in an accident, these pads will reduce the chances of broken bones as well as skin abrasions. With that in mind, you can understand why you want to get a more durable glove that will not tear while you are out riding.
If you are unsure of brands that can be of a higher quality, you may want to consider some of the following brands as potential buys. These are motocross gloves that have a high quality to them and they are preferred by many dirt bike riders. Keep in mind that the following is just a snapshot of the MX glove makes that you can have.
• Fox motocross gear
• Shift motocross gear
• MSR motocross gear
• Thor motocross gear

Motocross accessories
Opinions on dirt bike gloves.
Of course, you do need to keep in mind that when it comes to the quality of your motocross gloves, price is going to be a factor too.
Typically, the less expensive gloves are going to be a lower quality than some of the middle priced brands. Along with that, it is important to understand that some of the highest costing gloves might not be the best hand-wear for you based on how they fit (they might just be uncomfortable).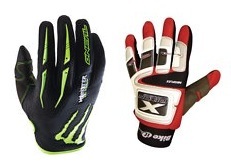 When you are looking at some of the options you have, you are going to notice a number of endorsements.
Also remember that while Ricky Carmichael, Chad Reed and even Jimmy Stewart may rave about their gloves out there on the track, you will still need to form your own opinion of each brand of gloves and determine which ones are going to offer YOU the best overall results for your riding style.
After all, these paid endorsements may end up being a great choice in the long run, but you do need to factor in that they are getting paid to rave about the brands that sponsor them - but you already guessed that right?
Finally, when you are looking over your choices for motocross gloves, you are going to want to be sure that you do your tireless homework above anything else.
Check what other dirt bike riders are saying about each of the brands (the good, the bad and the ugly) - and use the actual opinion of others to get the MotoX glove that is going to give you confidence to ride on the limit. While you can certainly look awesome in a particular brand, if it doesn't hold up when you wreck out, then it isn't worth the money that you end up spending on it.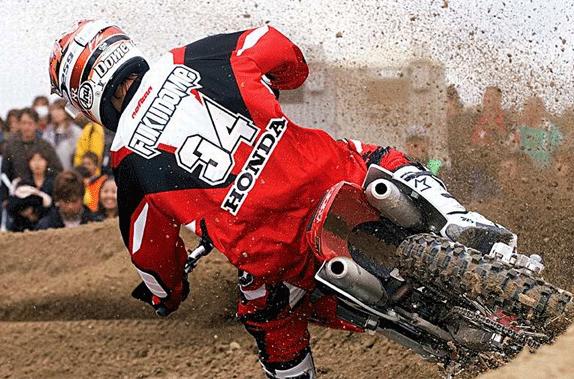 Track side finger pointing
If you're ever in the vicinity of championship races, go along and check out what gloves the professionals wear; you can guarantee they will fit your purposes. When beginning its important not to over-spend but do keep to hard wearing purchases that will last you many races. Gloves are one of the easiest items to buy cheaply and still retain its quality and protection.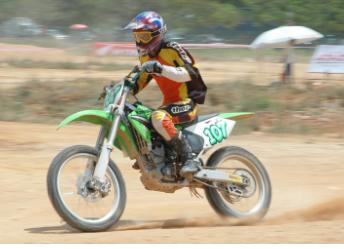 ---
Home | Dirt Bikes | Cheap Dirt Bikes | Accessories | Mini Dirt Bikes | Motocross Racing
Motocross Gear | Off Road Bikes | Used Dirt Bikes | Wholesale Dirt Bikes
Honda | Kawasaki | Suzuki | Yamaha