Motocross honda bikes
Honda quality – that's why you buy.
A motocross honda bike offers a brilliant and exciting ride. It has both pace and reliability, and the honda range gives a fantastic choice depending on what you wish to do. The honda dirt bike is a familiar sight within MX races across the USA and indeed the world.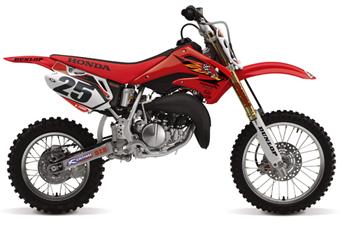 Honda have a huge following, right from the accessories such as motocross garments, to the full sized bikes themselves and of course the all important bike parts.
Television often shows the Honda motorbike, in all kinds of mx activities. So its no wonder the Honda ride is a great kids bike and something that the pro rider uses to a great extent as well.
The Honda dirtbike, can also be found in stadium events, to simple local trails. It's a brand that has universal appeal.
Being able to get the honda motorcross parts you need without a fuss - is a big PLUS for most riders; time taken away from riding to hunt for spares is a giant pain in the butt.
The bargains within this sport are fantastic, plus honda spares are vast so no need to worry about tiny bits that you'll need quickly.

Trail accessories are great to, from graphics kits to dirtbike gloves. Clothing combos are available too - that have the honda logo plastered all over them.
The best thing about honda off road bikes is buying them "used". Loved used Honda motorbikes are one of the sports hidden gems.
So where are these brilliant motocross honda bikes ? Let's go shopping online..............
Digging the dirt for honda's
Why are Honda dirtbikes so good?
Ebay was our first stop searching for motocross honda(s), ebay is not just for keychains and cheap bike helmets - It's got proper Honda pit & dirt bikes. The auction site turned up a Honda CRF, which had a current bid of $3,349.00, but only 8 hours 37 mins left for this motor bike to be snapped up.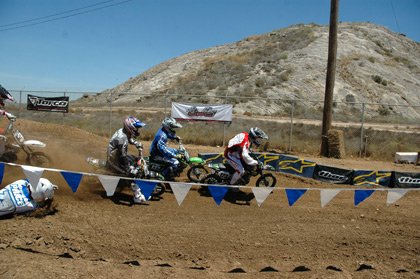 The bike was the CRF450R honda trail bike, with a 449cc liquid-cooled single cylinder four stroke engine. Front suspension was a 47mm inverted Showa cartridge fork with 16-position rebound and 16-position compression damping. And at the rear of the motocross honda bike; was a Pro-Link Showa single shock with spring preload, 17-position rebound damping, and compression damping adjustment separated into low-speed.
With a Close-ratio five-speed transmission and a Keihin 41mm carb and lots of other bits, it's a lot of motocross honda for the money. A much older Honda bike that we found was a Honda CR500R showing a current bid of $1,737.41. Sold as ready to ride and comes with tons of MX parts. This bike has Pro Taper Bars, FMF Gnarley Pipe w/Power Core 2 Stinger, Boysen Power Reeds, Boysen Clutch and Magnito covers, Frame Guards, and Fastway wide foot pegs.
Or perhaps you like the vintage look ? While still on ebay up came a vintage late 70's Honda XL250, which was being sold for spares and repairs. There looked to be significant work, but the price was only a mere £300 with a days' worth of bidding to be done. This was a 250cc Five-speed manual bike, and although there was little paperwork and no battery – if you were looking for a renovation project this could be an ideal motorbike to begin with.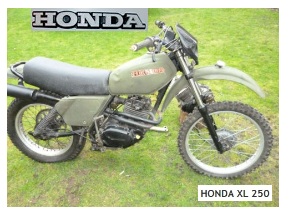 Now for parts - hondaminitrail.com might have a number of off road spares ideal for your honda trail bikes. The sites quite large and we stopped to check out the NEW ULTIMA Stainless Steel Racing pipe kits, for $595.00. These have fantastic performance and build quality.
Or would you like a CHP Billet Counter Sprocket cover going for $69.25? The unit is 100% machined in the USA from billet 6061-T6 aluminum, anodized and then re-machined again to deliver that 3-D look.
For many kinds of MX spares, do take some time out of your day to look though the online catalogue full of their products.
Moving on we went to - mxchange.co.uk, who are the masters in off road bike "used" ad's, but you shouldn't find too many crocs on this website. Mxchange have a full page of crf motors ( motocross honda bikes ). And we discovered a Honda CRF 250F selling for £1900. This motorcycle, had new stainless steel valves, a spare set of tires and track spikes.
Also advertised was a Honda CRF 150 going for £1699. With very little use this 150cc dirtbike had been looked after and regularly serviced.
And finally a Honda CRF 450R came our way for £2,300. This had 12 months MOT, so fine for road & highway use; complete with manual, tyres and a brand new dirtbike seat. We didn't see any mini bikes this time, but mxchange adverts change all the time. Plus you get many pics of all the models advertised, and reasonable descriptions on nearly all the motorbikes.
Cmsnl.com was our final site; who have a ton of mx parts for all manner of Honda's. If you break your bike on a hellish trail, these guys should get you back on the track without a fuss.
We discovered a Magnetic switch for €56.50 which would fit a Honda CL450 SCRAMBLER. Or a piston kit selling at €45.50 for the Honda CL350. But we must warn you the cmsnl.com website is huge. Fortunately it's easy to navigate and you can dig down to find the spare you require for the motocross honda model you own. Then you can contact them if you dont see the part listed.
The Honda engine.
It goes without saying that the honda dirt bike engine is one of the very best. It's reputation has been hard won and the Honda company are not likely to stint on quality any time soon to tarnish that.
Honda engines can go wrong though, if an old owner hasn't changed the oil and generally thrown the bike about beyond its limits even the mighty Honda motor can fail.
Its those kinda motocross honda bikes you certainly DON'T want to buy.
Buying a honda will certainly make you a top class player, but only practice will make you an excellent rider.
---
Home | Dirt Bikes | Cheap Dirt Bikes | Accessories | Mini Dirt Bikes | Motocross Racing
Motocross Gear | Off Road Bikes | Used Dirt Bikes | Wholesale Dirt Bikes
Honda | Kawasaki | Suzuki | Yamaha