The Motocross jump - Just Cool
The Lure of the Motocross Jump
The superstars of motocross have several surprises in their bag of tricks each time they take part in an event. The dirtbike jump gives them the opportunity for big air and the breathtaking moves that result in their fame.
The Bubba Scrub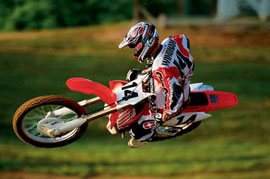 James Stewart set his own style of a motocross jump with the Bubba Scrub during the 2003 SX season. The bike approaches the jump at an extremely small angle, flicks the handlebars in the opposite direction, and then flicks them back to their original position.
The result is negative gravity and the ability to accelerate and land sooner. The adverse side of the resulting jump is that it can result in landing to the side of the track, rather than on it, resulting in a loss of control. Watch some of Stewart's recent videos for an example of this reaction. You will find both good and bad results.
Backflipping Record
Nicknamed, the Godfather of Freestyle Motocross, Metzger is an incredible example of what an athlete can achieve when the mindset is practice, practice, practice. Not only are his jumps amazing to watch, the takeoff and landing are works of art.
Mike Metzger met his goal of safe and successful backflips thanks to his soaring, well-executed motocross jump. It appears that Las Vegas is the place to show the world jumping talent. His world record for backflipping his motorcycle 125 feet over the fountains at Caesar's Palace is just one of the amazing jump exhibitions in that city.
Ramp-to-Ramp World Record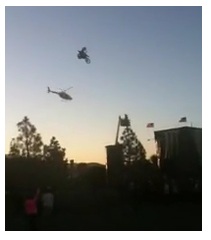 Reno wanted some of that motocross jump action and in September 2009, the Grand Sierra Resort in Reno invited Ryan Capes, known as the 'king' of distance motocross jumping, to wow the crowd by attempting a ramp-to-ramp jump for a world record.
Capes brought along Destroyer, his upgraded 2009 SE Monster Energy/Kawasaki KX250F, for the jump designed to beat Jason Rennie's 1999 world record of 252 feet. The first jump accomplished that with 287 feet. Capes then had the ramp distance adjusted, opened the throttle to exceed 80 mph on the take off ramp, and soared up and over 316 feet.
Double Grab Flips
A native of France, David Rinaldo was born in 1989. Active in FMX since 2004, he first drew attention with his command of double grab flips. In 2010, he participated in the Night of the Jumps Tour for the European Cup with his Yamaha YZ250, qualifying with emphasis in Cologne and then crashing after a superflip.
Another Night of the Jumps competition in Mannheim provided the first display of his Double handed Seatgrab Backflip. A couple of podiums in the 2011 series and fifth position in the FIM Freestyle MX World Championship has set the stage for more motocross jump action in 2012.
FMX Riders to Follow
Watch these "bests" from the 2011 FMX participants for more action, starting with Chile's Javier Villegas, Best International FMX Rider.
Best European FMX Rider is Spain's Dany Torres, and it is certainly no surprise that Robbie Maddison repeated his title as Best Australian FMX Rider.
X-Games Champ Nate Adams is Best American FMX Rider, and Luc Ackermann, who holds the world record for "youngest backflip on a motorcycle", is the German FMX Rookie of the Year. The action never stops and instead just seems to get better.
Jumping for joy – tricked out dirt bikes.
Doing a motocross jump does take time to perfect. It might look the simplest thing, but it's the speed and the landing which gets novice riders into trouble. We would recommend some motocross body armour and a tuff dirt bike helmet before even considering these types of jumps or tricks. It's best to do this under supervision in case something does go wrong - that way you'll have covered all the bases before you start.
Riding can be fun, but before you get into any motorcross games on a bike get some solid training. A dirt bike is a wonderful machine, with glinting rims and strong suspension, ready for the trails and circuits all over the USA.
Should you be looking into extreme riding and FMX- (freestyle motocross), we cant stress enough how good your gear needs to be. Body armor will be needed and you'll also need some of the best brands that's out there. Elbow and knee armor is also good - plus a very strong pair of boots. Should you land badly the bike may come down on top of you, even if YOU land ok.
So that armor will take some of the sting outta the landing.
The professionals will tell you, that although armor is necessary ribs still get cracked on a hard landing. But where it's really going on is – the helmet. The dirtbike helmet is the difference between being dazed and hospitalised. So a cheap close-out helmet must be binned, you need to be buying the very best if you're going to be a pro-jumper.
Also get advice on the right kind of MotoX bike to use, they too will need to be adapted. Its not just about the lightness of the bike and the power of the engine.
You will require all the accessories to complete jumps like Travis Pastrana does. Plus having a good parts store in your little black book, that can deliver spares quickly is a great idea as well.

We show you some of the best motocross jump videos below, they are a joy to watch and will hopefully inspire you to one day become a jumper creating your own moves for the fans applause.
Body armor is definitely required.
And if you do get the motocross jump fever, visit the FMX shows, there is nothing like watching the real pro's in action.
Big dirt bike jump into a van
Little Sahara motocross jump
Step up at Gorman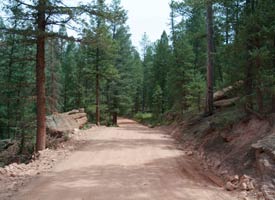 Places for motocross stunts
If you begin your jumping career on the highways and roads of your local state you'll find it'll be pretty short lived. However big tracks are more than obliging, smaller jumps are part of a motocross course in any case.
Bigger jumps will need to be created, and if you have the skills and confidence, begin with jumping into a pit filled with foam blocks – this will save both your bones and your bike. Then progress onto a soft earth platform. Never try and land on a hard compacted soil hill (even pro's have hospitalized themselves doing that), the soft fresh earth will take a lot of the impact out of the landing for you.
---
Home
| Dirt Bikes | Cheap Dirt Bikes | Accessories | Mini Dirt Bikes | Motocross Racing
Motocross Gear | Off Road Bikes | Used Dirt Bikes | Wholesale Dirt Bikes
Honda | Kawasaki | Suzuki | Yamaha