Motocross logos
Say Mine with Motocross Logos.
Just look at the motocross logos sported on bikes, vehicles, shirts and any other bit of once open space on the MX scene and you will discover hundreds of different types of decals and stickers of favorite racers and brands.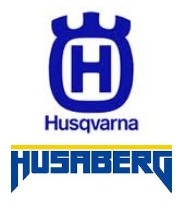 From Metal Mulisha to the diamond block of Allsport Dynamics, there are colors, contrasts and shapes to brighten the bike and send a message about some of the rider's personal choices for oil, service, parts and any other statement he or she wishes to send.
Sponsors have their own specific motocross logos and decals that bring instant recognition to riders, fans and the general crowd of viewers. Other companies, however, have let their imagination go wild and added brand names against colorful plaids and bright splashes of yellows, pinks, blues, blacks and letters that stand out and entrance the public.
Compare the traditional Yamaha or Dunlop sticker for your bike to the ones put out on the Fusion Graphix Plazma Series. Artistry, creativity and color are just a few things that make a big difference in the way your bike sends a message.
Online stores like motosport.com sell small logos and decals in a group, making it easy to have Geico and Honda motocross logos on your bike, Rockstar Energy Drink decals, a Suzuki or Kawasaki name or two, and the branded recognition logo of Monster Energy. Dress up your bike and add extra protection with red, yellow, black and white rear fender, fork guard, and front fender decals. Riders make use of the stickers for upper fork protectors and the standard trim kits.
Adding numbers to the bike means having a size that the crowd can see that stand out and look good.

No more standard boring numbers; they can now say something about you with the various shaped numerals in straight or slanted styles. The popularity of purchasing used bikes means that the number plate may not be in the best shape and if you are busy reworking the backgrounds you can find assistance at many of your local or online motocross shops to boost its appearance.
Talk about a great birthday surprise! Have a revamp party for a friend and make that bike gleam with motocross logos put on with finesse. Before adding any sort of decals or stickers, you need to clean your bike and get it ready for the new look that you want.
Use a blow dryer and razor blade to get rid of any old stickers and the adhesive residue. Clean and dry the plastic.
Warm the plastic where you are adding the first decal or sticker.
Peel the sticker away at an angle. Smooth the shape on the bike while the backing is taken off.
Use a straight pin to pop any air bubbles and work the decal together to cover the pinhole.
Smooth the decal with a small squeegee to reinforce the application and help it to last longer.
Radiator shroud graphics are designed to fit under the seat. When you take it off so the motocross logos, decals and other graphics look right, why not add a new seat to the bike and make the team gift more impressive?
Any other special touch, such as cleaning the chain or replacing the handles, is like frosting on the birthday cake and a welcome surprise for a good friend.
The logos on dirt bike decals.
Motocross logos & decal kits carry all the latest brands on them. Unsurprisingly riders like these brightly coloured stickers on their dirt bikes. Costs vary but high quality is best as these decals will take a few knocks if you're riding regularly. Other accessories come in all manner of options from cheap sticker set sheets which cost a few dollars, to a whole professional bike decal kit costing hundreds.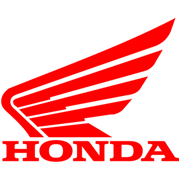 If your looking for motocross logos, the internet is the best place to find them. Stores know these items are winners, and most riders are brand aware from their childhood.
So we went to a few websites to find some MotoX and track logo's for dirtbikes you might find useful.
Rides.webshots.com, had a Motocross Logo album, with images of spectacular jumps and offroad riders. These were just dirtbike images however - no stickers.....we kept looking........
Coolchaser.com, had a gallery filled with MX logo's, from hurley logos to the famous Honda winged symbol plus some excellent skate logos as well.
Mediauk.com has a gallery sheet of blazin' MX brand logos and images that could prove useful too.
After looking at these biking logos we wanted to take some home, so what about stickers and decals? Dirtbikebitz.com had a cheap Sticker Sheet for £11.99. With a random selection of manufacturers symbols, cartoons and the all famous big four branded logos.

Logos that you can stick anyplace.
Ebay is better for MotoX products, and we wanted everything offroad – well.... related to stickers and decals anyway. We weren't disappointed with an 8" Fox gear logo in rugged vinyl for extreme conditions. Price was £2.51 + £2.15 shipping. Now that's just for one track sticker, what about a sheet of stickers?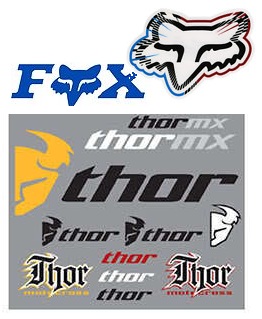 Ebay again turned up some MORE motocross logos; with a Motocross Logo kit B, which had 34 assorted images, including some fox racing designs ..all for £12.50.
And a Bike-It vinyl sticker set for £5.99. (This set from Bike-It was 2 sheets of A4, filled with mini-bike and full size decals).
The motorcross imagery on the earlier sites was pin-sharp which made us think that you could even produce your own stickers if you have the technology.
But if you do buy real motorcross logo decals, ensure you buy high quality vinyl ones, they look good under track lighting, and they should last a very long time.
Michelin motocross tires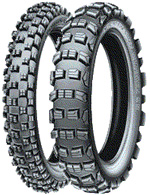 You can spend a lot on gear and the bike, so keep a tight rein on your cash.
Often logos are not just for decoration, they usually carry a symbol of quality particularly when you're buying parts or tires, like Michelin motocross tyres.
Logos can be easily forged of course, so your supplier is just as important as the item itself.
Does it come from a trusted source? Or could you be buying a fake item that'll fall apart at the first corner? So ask questions from the seller, if you don't like the answers don't buy, simple as that.
---
Home | Dirt Bikes | Cheap Dirt Bikes | Accessories | Mini Dirt Bikes | Motocross Racing
Motocross Gear | Off Road Bikes | Used Dirt Bikes | Wholesale Dirt Bikes
Honda | Kawasaki | Suzuki | Yamaha