Motocross madness
The MAD moto-cross game.
The motocross madness game has been very popular. The combination of gameplay and graphics has given this computer game many fans. Although the moves and action is fast paced it can be over-the-top in comparison to real life dirt biking.
Retro Moto X games.
The Madness Video Game inc. MX madness 2 .
The Motorcross Madness game was probably the most successful motocross game series in history. Some other games tried to imitate it and do what it did, but nobody was really able to match up with the graphics, quality of play and all around fun that this title provided.
Learn more about the game and its history here, and you may be convinced to pick up a copy on the cheap even though it's an older title.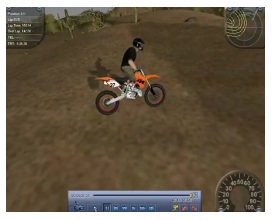 The first Motocross Madness game was released in 1998. It was developed by Rainbow Studios and backed or published by Microsoft, and it was for the PC computer platform.
It was a solid game which included several different styles of game play, including Baja, Stunts, Enduro, Supercross, National and the career mode where you can make money and build on your success. It had realistic graphics for its time and a fun style of play that combined realism with entertainment and even humor.
That was a solid first effort, but across the board, Motocross Madness 2 was the better game. In fact, it probably remains as the highest rated motocross video game ever, even a decade after its original release.
The 2nd in the series was released in 2000, and was also a computer game for the PC or Windows platform. It basically took everything that the first game did and made it better, while expanding on your options and incorporating more aspects of the sport.
A highly rated dirtbike game.
Did you ever see a pixilated legend ?
A madness motocross message – from the mad skilled motocross men.
The same six styles of play were all still available, but there was also a large multiplayer game and multiplayer network that existed through the MSN Gaming Network through at least 2006.
Other new features for the 2nd title ( motocross madness 2 ) included how easily and how dramatically you could customize your rider and your bike, upgrades you can make along the way if you participated in the career mode known as Pro-Circuit, and more.
This game was really highly rated, and it scored 8.5-9 ratings out of a possible 10 from most major gaming sources, including IGN and Gamespot. It was known to be really fun and addictive, and to feature insane crashes and jumps. It was a game that brought you in and kept you there, and while the graphics were solid they weren't exceptional, but the style of play more than made up for it.
In a surprising twist that could serve as a great trivia question today, over a decade after motocross madness was released, Incubus provided the majority of the songs for the soundtrack.
Today of course they are one of the biggest rock bands out there, but at the time, they just had two major studio released albums and were still developing. Their music definitely added to the fun of the game.
Motocross Madness, and especially the 2nd game of the series, is basically a legend in the world of motocross gaming, but even in the larger worlds of both motocross and gaming on its own. Gamers who knew nothing about the sport could have a great time for hours with their friends, playing online or doing the career mode, and motocross enthusiasts who never played games before could appreciate this one easily.
A Racing motocross helmet
But what about actual dirt bikes? Would you consider giving up your console and riding for real?
If you want the real challenge of a racing motocross bike there are a few things to consider. You will need a good motocross helmet and some hard wearing motocross clothing such as padded jerseys and pants, plus chest protectors too.
Falls can be frequent when you're a beginner and getting good gear from the start will benefit you straight away. As for the dirt bike, a local track may rent one to you for the day. So you can reduce the amount of cash you're paying out. Gear too can be loaned, or rented but your best having your own helmet and boots as they will fit a whole lot better for your day out on the dirt-bike track.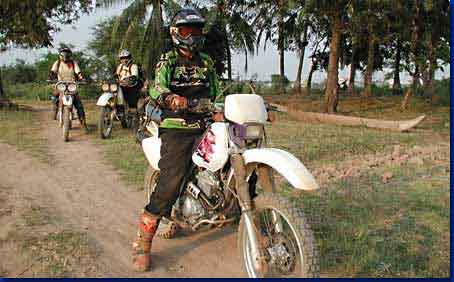 ---
Home | Dirt Bikes | Cheap Dirt Bikes | Accessories | Mini Dirt Bikes | Motocross Racing
Motocross Gear | Off Road Bikes | Used Dirt Bikes | Wholesale Dirt Bikes
Honda | Kawasaki | Suzuki | Yamaha