Motocross racing trophies
Spectacular Recipients of Motocross Racing Trophies.
Recent recipients of motocross racing trophies have to work hard to earn the same respect as that given mega-winners Jeremy McGrath and Ricky Carmichael. The competition is high and the performance each rider must produce gets more involved every year.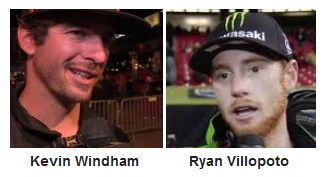 Just ask Kevin Windham, who has ridden for factory teams such as Yamaha, Suzuki, Kawasaki and Honda. His MX and SX talent and style are indisputable, but five times the National Championship has gone to another rider while Windham finishes in second place with points. Jousting for position in Houston with James Bubba Stewart in the March 2012 AMA/FIM Supercross Series resulted in a crash, injuries, and the end of his 2012 season.
While Houston spelled bad news for Windham, Ryan Villopoto, one of the most notable recipients of motocross racing trophies in the past few years, won the 2012 Supercross Class Title with his victories in Round 13, the earliest clinch on the SX title in thirty-nine years. Dominating the track for over a year, he scored the highest paying victory in Supercross, one million dollars from Monster Energy in Las Vegas.
Late April 2012 saw his opportunity to defend his Motocross Championship title end with a first turn spill and bad knee injury in Seattle. Surgery was performed April 26, 2012, effectively ending his 2012 season.
Fans wondered if the absence of Villopoto would be the inspiration for Bubba to prove his greatness once again. He took the right step recently with a new ride. The opportunity to see James Bubba Stewart show off his talent in yellow is one of the benefits of the multi-year contract with Suzuki signed in May 2012, competing with a RM-Z450 in motocross and supercross.
Some of the motocross racing trophies on his shelf include two AMA SX titles, an AMA Pro MX title, two Motocross des Nations titles, and an FIM World SX Championship. A crash at Thunder Valley resulted in a wrist injury, so Bubba will miss Millville and Washougal while his wrist heals. Southwick will be an opportunity to get used to his bike as he prepares for a stellar 2013 season of Supercross.
To win a trophy on your dirt bike.
There are lots of motocross racing trophies to be won, it just depends on how skilled and how long you have been using a dirt bike.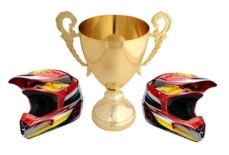 You can go from club trophies, all the way up to national events on TV. Each event proudly displays their trophies on their websites, or in the case of the TV events a celebrity or MX model will hand over a trophy to the champion. Then the popping of the champagne can begin!
You may want to host a MotoX race event yourself, in which case there are hundreds of stores that will make a trophy for you, and inscribe it however you wish.
Dirtbike awards, come in all shapes and sizes. From glass to silver to gold ? You need to pick something suitable for the day – ok perhaps a glass trophy might be slippy on a muddy riders hands – but you still need something impressive to wow the visitors.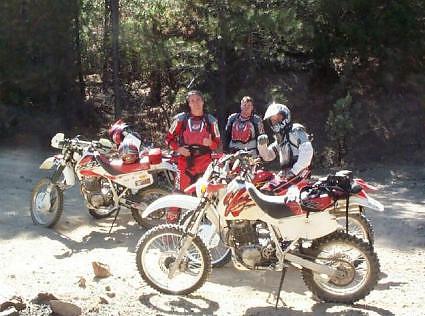 Riding the best bike today doesn't guarantee you an MX trophy. Fitness and practice on a track all helps. Remember offroad biking, isn't just down to your cool bike and the greatest motorcycle tire you can buy.
It's all down to you.
It still takes preparation and lots of dedication to win a race.
Also you need to have fun. The more you enjoy track vehicles and riding your dirt bike the better you will get. You might be the next steve wise, and have a girlfriend like the one james stewart has! Those are the rewards for being a winner.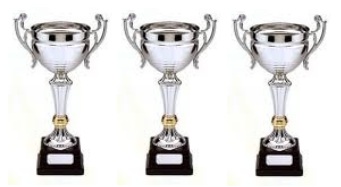 Awards fit for a champion
Etched in silver or brass.
We'll show you some great stores that sell trophies for your pit bike & dirt bike racing. Follow these links to find your perfect motocross racing trophies.
A1trophies.com, have some enhanced trophys, made from resin, and you can specify name plates too – it's all included in one price.
Then we have race-rewards.com who have trophies from $6.91. Great for local races and local tracks where you might be needing a cheap but acceptable award.
Trophycentral.com have a free engraving service with their trophies supplied by them. Single column awards came in at $8.79 each, while 3 column trophies were $64.90 each. So you should be able to find something for all your race ceremonies under the track lighting of the circuit.
Finally we have some trophies and award ceremony videos. It's great to be in a podium photo under the lights n' glitz, getting your hands on the winners cup. And now YOU can too, keep practicing and we'll see you on the podium, getting those motocross racing trophies and popping a cork!
Motocross of Nations - Trophy awards ceremony.
Motocross racing trophies.
Trophy time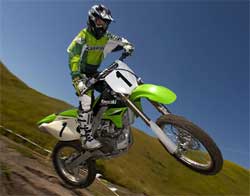 If you do decide to run your own events the trophy is an important lynch pin in rider satisfaction.
Get the awards ceremony right, with a suitable trophy and people will come back for more.
Trophies don't have to be expensive – it just depends on the type of event your running.
An impressive trophy is remembered that's for sure, so take a look around for something sparkling and spectacular.
---
Home | Dirt Bikes | Cheap Dirt Bikes | Accessories | Mini Dirt Bikes | Motocross Racing
Motocross Gear | Off Road Bikes | Used Dirt Bikes | Wholesale Dirt Bikes
Honda | Kawasaki | Suzuki | Yamaha