Motocross racing with Honda
Motocross Racing with Honda is something else!
Motocross racing with Honda is amazing because of the number of factory teams and the long history in motocross. With a considerable number of notable riders, it is easy for some to be overshadowed by other greats. Today's riders and those of the past continue to be mentioned in videos, news articles, events and across the internet.
Past, Present and Future Legends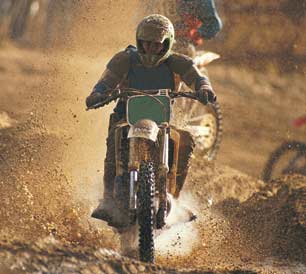 GEICO Honda team member Eli Tomac set a record by winning the first pro race entered, the 2010 250 Class AMA Motocross season opener at Hangtown. An amateur national champion several times over, motocross racing with Honda behind his efforts has proven to be just as effective.
Just shy of the 2011 Monster Energy AMA Supercross Lites West., he won Supercross twice and gleaned the best points finish for a GEICO Honda rider summer season. Riding a Honda CRF250R, his racing career in 2012 continues along a winning path, such as the July 14, 2012 250 MX Lites win at Spring Creek MX in Millville, MN.
Dani Pedrosa rides Repsol Honda RC213V, where he finished second at Mugello on July 15, 2012. One of Honda's most successful riders, he has earned more podium appearances (97) for that company than any of their other riders . Dani has a 125cc World Championship and two in the 250cc class, adding to the excitement of Moto GP.
David Thorpe began racing the motocross Grand Prix for Team Honda in 1983. He won 3 world titles in the 500cc and was at times referred to as Europe's King of Motocross. Steve Lamson rode for Team Honda on the CR125 from 1993 through 1998, winning the 125cc AMA Pro National title in 1995 and 1996.
Jeremy McGrath had a 250 outdoor title and four AMA Supercross titles with Honda before he left to ride a few other brands, returning after adding to his record wins. Jean-Michel Bayle won two world titles on Hondas.
Adding to the mystique of motocross racing with Honda, Johnny O'Mara had many victories in national and international events, such as the U.S. Team victory at the Trophy and Motocross des Nations in 1981.
Honda racing – as good as it gets?
When your motocross racing with Honda dirt bikes, you have a good set of wheels under you. Honda bikes are deservedly respected by riders due to their reliability and rugged ability on jumps and tracks.
There are so many models of Honda motocross bikes its impossible to cover them all here, but you need to buy the bike that's the right (size and cc) for you.
If you get one too big or too powerful for your skills, it's inevitable it will end in an accident. So appraise yourself realistically and you can upgrade the bike later as you become more experienced.
Honda clothing looks fantastic. The quality of most honda gear, is undeniable. Honda combo's (jerseys, pants n' gloves) are in demand as are honda parts.
With so much being offered from the bikes themselves to motorbike spares, you can get a bit overwhelmed.
If you have a Honda sport bike, with cool michelin tires ready for the track then take a look below at some bargains we found for Honda clothing and gear.
Our first stop was slyfoxmx.com in relation to motocross racing with Honda stuff. They don't have items like shop manuals or bike parts for specific bikes, but more in the way of MX gear and accessories.
On slyfoxmx.com we encountered a Honda Red Combo for $114.90. This item has Durable rubber logos, Adjustable velcro waist, Mesh Linings for excellent ventilation of the riders body. It comes in either KTM Orange or Honda Red. Ideal for any entry level motorcycles and even pocket dirtbikes.
This top store also had a Simpson Motocross Pro Jersey selling for $199.95, which has a polyester mesh construction and adjustable cuffs.
Or maybe you'd prefer a vintage motocross T Shirt for $19.95 in pre-shrunk cotton? Slyfoxmx.com has numerous bike gear for road tracks and local dirt tracks – they always have sales on as well, so you can be sure of bagging a bargain for the tracks you ride.
All the Honda stuff.
If you have a budget this might prove useful.
Getgeared.co.uk was next, and although they are not a honda dealership, they have many parts and accessories.
Such as a Honda Motorcycle Mirror (E-Certificate), priced to sell at £22.95. And a HELD 9003 Motorcycle Cover for a price of between £41.99 – £49.99.
Great for most Honda off road vehicles and Honda pit bikes. It's also breathable, waterproof and heat-resistant and won Ride Magazines Best Buy a few years ago.
Last up we have mxdirtrider.com, where we dug up some dirt bike parts and cool motocross racing with Honda gear.
A Racing Honda 180 set of Pants for $49.99 were spotted first, also some Fox Racing Honda HC Jerseys were only $24.95 and a Fox Racing Honda Gear Bag to carry all your Honda items was priced to sell at $119.95.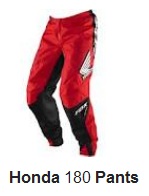 So as you can see getting motocross racing with Honda gear for tracks or a trail, shouldn't break the bank. You can even pick up a MX tire or some offroad wheels from ebay.com too.
Forums can assist with your buying, inc. places to visit or maybe they have a few classifieds on there of riders that have lost interest and want to sell off their old gear and bikes.
Do keep to your budget when buying motocross racing with Honda clothing and parts & accessories. Its easy to rack up the cost very quickly even if you think your buying bargains.
Here are some great videos of offroad bikes, showing what the Honda can really do! Plus some reviews of the Honda CRF250R and Honda CRF450R as well.
Team motocross racing with Honda movie
Honda CRF250R - Motocross Bike Test
Honda CRF450R Motocross Dirt Bike Comparison
Cheap Honda dirt bikes.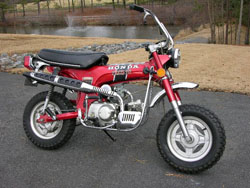 Honda has been with us for decades so a used Honda motocross bike should be easy enough to buy.
The reliable engine of a Honda is what most riders will go for, along with the fact that there are tons of spares for all kinds of makes and models.
Even your child may start on a Honda 50cc or a monkey bike, to begin their racing career.
That's the beauty of this brand, immense choice and good quality bikes – a winning combination.
---
Home | Dirt Bikes | Cheap Dirt Bikes | Accessories | Mini Dirt Bikes | Motocross Racing
Motocross Gear | Off Road Bikes | Used Dirt Bikes | Wholesale Dirt Bikes
Honda | Kawasaki | Suzuki | Yamaha