Motocross results
Resulting in superior information.
Motocross results can be all important to the true fan. Some websites offer this information for free so you can see how your favourite rider has done these last few weeks. These result details sometimes need to be double checked so its worth having 2 sites on a shortlist to ensure you have the correct MX result information.
Where to Find Motorcross Results?
If you're tired of googling motocross results and coming up empty handed, or should I say empty linked, there are a couple that you might want to add to your favorites to save some time. Some of the sites offer the results but you have to read all the highlights of the race. Others offer just a list of the winners for each race.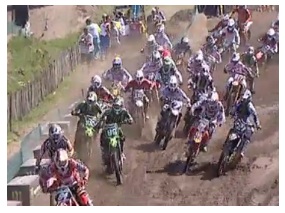 One of the sites that offer all the highlights and background to sift through is mx247.com . You can find almost every race across the country and internationally but you'll have to read through an entire article on each and can't just look at the standings. That's not necessarily bad if that's what you want.
Another great site is Supercross.com . Here, you can see the results including the timed practice without having to sort through interesting but irrelevant information if you only want to know who placed first, second or third. To find the motocross results at this site, click on "Race Results" at the top of the page.
Yamaha has one of the best sites if you only want the final info to see who placed. When you go to the Yamaha Motors site , you'll see "AMA MX Schedule and Results" at the left hand side. Simply click on it and you'll see the various races with the word on the far left of each race that's completed.
When you go to that link, it offers a small blurb about the races but has the results prominently shown so you don't have to read an entire article if you don't want to do that. If you do, the material is available on the same page. I find this way of listing motocross results works best for me, but everyone has their own preferences.
Release the press……...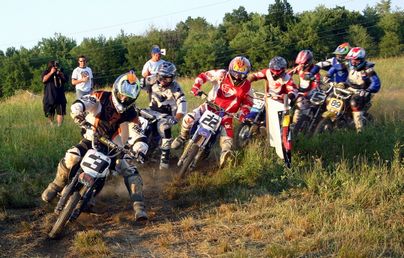 Are you into Dirt bike Press Releases, and the latest motocross news?
Well you're well catered for with free information and motocross webcasts all over the net. If you're following your favorite Suzuki team or just want last nights AMA news its all there for you.
If you're wanting to look up the ama schedule for motocross results, supercross.com is ideal. They have all the rounds of this season. Often their links are broken down to each weekend on the home page. You can then dig down further to see which rider burnt up his racing tires - and which riders simply burnt out.
Don't forget to print the relevant web pages to keep track of your results, the web can be unpredictable and a page you might want to check out later might not necessarily be there, so a hard copy will be invaluable. Following your favorite racing team and rider has never been easier.
Dirtbikerider.co.uk – although a uk site for motocross news, has some fantastic press releases & results. Using the RSS feed function, you'll get the inside releases when they become available. Mx247.com has an eclectic mix of motorcycle results. From the Namibian Moto Cross Championship to the Valence International Motocross in France - yep we checked and thats what was listed!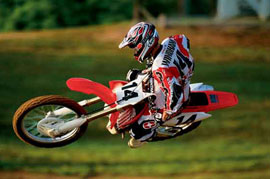 Get the thrill of the track, as you read about the latest MX sidecar racing and which rider got podium – did you guess right? They also feature local dirt bike events, so hit the trail to this cool n' informative website.
Lastly crash.net has a number of motocross & supercross links for the most universal motocross fan. They do have, however news, and previews of womens MX and freestyle outcomes too.
You can also check out the larger ATV forums that list motocross results for the latest headlines and releases; all this should keep your inner dirt bike fanatic more than happy.
Our Motocross website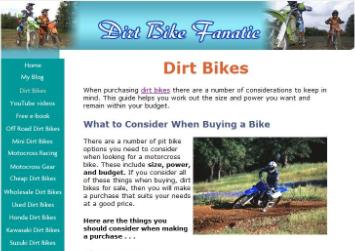 Our website is a few years old now, and it's interesting to see how some brands & sites have improved.
With the advent of mobile searching and instant video streaming results are often only for those that have missed the race itself.
The websites above should have all the results you could need, plus a quick visit to youtube and you can actually see a re-run of the race in question.
Online is the place for up-to the minute results and that's not likely to change any time soon.
---
Home
| Dirt Bikes | Cheap Dirt Bikes | Accessories | Mini Dirt Bikes | Motocross Racing
Motocross Gear | Off Road Bikes | Used Dirt Bikes | Wholesale Dirt Bikes
Honda | Kawasaki | Suzuki | Yamaha