The Motocross riding boot
Dirt bike footwear for winners.
Buying a motocross riding boot does take a bit of consideration. It can be an expensive purchase and is critical to your success as a rider.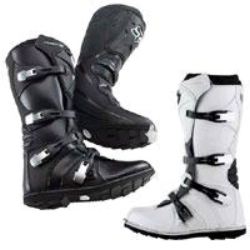 Buy a comfortable boot, which is not too loose or tight on your foot. Quality is all important as your boot is part of your motocross safety gear.
Your MX footwear is important. Riding your offroad motorcycle can get pretty frantic in the mud terrain. So you'll need not only good motorcycle apparel, but boots that won't need you to go and get a loan.
On the web we checked out dirt bike boots of all classes to see what could be best for your own riding; What really does give good value?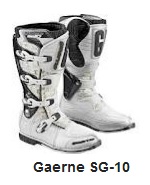 First up was slyfoxmx.com. They had Thor motocross riding boots, Alpinestar motorcycle boots and ANSWER trick footwear. But we found some great AXO Prime boots that came in at $248.95.
They had a 3 colour injection moulded PU shin plate, rubber moulded gaiter and the (PU Rubber) ankle area is supported by 2 floating buckle housings.
Also available was a superb pair of Gaerne SG10 Boots that were priced to sell for $327.95. This MX boot is made in Italy; with gel padding it gives amazing support with a hinged heel. The quality of these mud plugger boots should impress you.
Riding boot stores have em' all
A heavy duty solution.
What next on our search for the perfect motocross riding boot ? Well to see you over those dirt bike races; how about some Oxtar07 TCX Super Motard Soles for $56.77, from motoshopper.com. They use heavy-duty Velcro, utilizing the "Quick Velcro® System". Worn soles on your dirtbike boot can now be replaced quickly and easily, using better compounds often found on the regular motorcycle boot.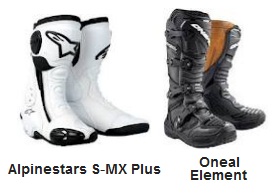 But for complete boots, try the Oxtar07 Sunray Gore-Tex® Boot in Black selling for $195.18. The leather boot has a GORE-TEX® membrane and reinforced shin plate. A Side stretch strap & zip with a heel counter; were all included within this boot.. wow..we loved it.
The next website we visited was getgeared.co.uk. Now they had some stunning sidi motorcycle boots for around £209.99. The SIDI Vertigo Mega Gore boot had a waterproof and breathable GORE-TEX membrane. Ready for all dirt bike rider needs.
Maybe the ALPINESTARS S-MX plus MX Boots are more your style for £239.95. Combining comfort, safety and control, with impact and abrasion resistance outers. Then lastly we had the SIDI B-2 Gore-Tex motorcycle racing boots coming in at just under £219.96. With a waterproof leather construction, this pair of MotoX boots; are fine for racing & trails.
The final stop in our motocross riding boot search was ebay. They have hundreds of classifieds, from motorcycle exhausts to all manner of clothing. But we were interested in the ONEAL ELEMENT MX ENDURO MOTOCROSS BOOTS. Going for £64.99, it had a clear set of pictures and the seller was having a sale; so look out for those buys on ebay!
The boot itself had a leather construction, Bio-Foam padding, a leather heat shield & a durable gaiter; plus an adjustable genuine hook and loop closure system.
Quality boots will keep you protected - and these sure will.
The better the bike boot the more expensive they will be, and as you can see for the better branded boots your looking around the $150 - $250 dollar range. Sure you can buy cheaper but would you really trust those kind of cheap boots?
Boots = safety gear
When your bike and gear is perfectly matched you really will see your skills improve on the dirt tracks. A twisted or broken ankle is something you don't need. MX boots will prevent this, or in the worst case - if a dirt bike should land on your leg, the motocross riding boot will do its job and be a solid barrier between you and injury.
Think long and hard about the MotoX boots you buy.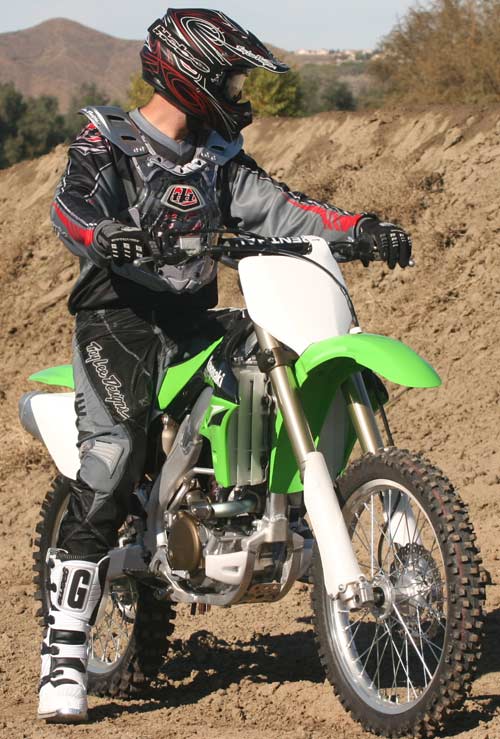 ---
Home | Dirt Bikes | Cheap Dirt Bikes | Accessories | Mini Dirt Bikes | Motocross Racing
Motocross Gear | Off Road Bikes | Used Dirt Bikes | Wholesale Dirt Bikes
Honda | Kawasaki | Suzuki | Yamaha