Motocross riding gear and clothes
Mx clothing you buy for better riding.
Motocross riding gear and clothes can certainly put a dent in your wallet. Boots and a dirtbike helmet are a few hundred dollars for these items alone. Ebay can be a source of used quality items, but ideally new gear is better. Shop around and go for quality brands as often as possible.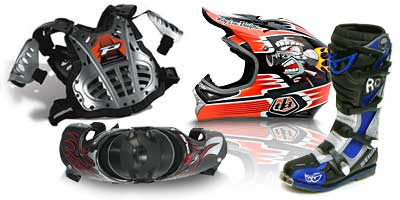 Do you look fantastic on your dirt bike? Well motocross riding gear and clothes can help you look better. All kinds of MX clothes are available with logos, and vibrant designs plastered all over them.
Some cheap dirt bike gear is the key, but you require it to be of sufficient quality to stand up to a racing mud fest event and whatever offroad motorcycling can throw at it.
So we looked all over the net for the best motocross riding gear and clothes with brilliant graphics for the rider who wants the best.
Slyfoxmx.com was our first store – they have excellent gear, you can use for roads and dirt tracks.
A set of Answer Replica RockStar Team Apparel was being sold at $125.95. It was a SPECIAL LIMITED EDITION in black; and looked stunning. The MX Jersey had lycra micro cuffs, non-restrictive collar and a generous cut which gives you freedom of movement. The pants had the new pre-curved, contour knee which gives a snug fit. It also had a 28 mm wide stretch waistband with four rows of rubber gripping; and a ratchet high speed buckle set-up which is normally found on more costly dirt bike clothing.

Female motocross gear
Strong n' tuff off road apparel.
Slyfoxmx also offered some incredible womens motorcycle clothing (An Answer Women's MX Combo); for a mouth watering $115.95. The pants had multiple and durable nylon fabrics, the ratchet high-speed buckle system and side waist adjusters were also included. The Womens MotoX Jersey incorporated fade-free graphics and a non-restrictive collar.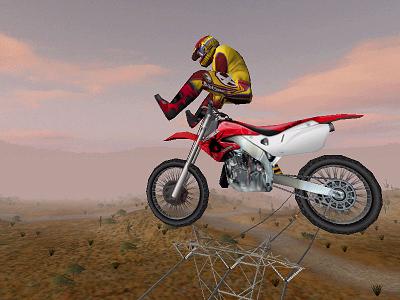 The female gloves featured multiple stretch fabrics; a Clarino palm, and lycra eyelet inserts at the knuckles not to mention injected rubber patches to give extra grip on a wet handlebar.
Next we looked at ebay in relation to motocross riding gear and clothes – which has a lot of good prices in relation to dirt bike apparel and even kids MX clothing.
We spied some thor gear (well a THOR PHASE MOTOCROSS COMBO), to be exact. At a buy it now price of £49.99, it featured:- padded elbows, no-fade graphics and raglan style sleeves. Finished in 4820 nylon, with Spandura stretch panels and ballistic knee panels you should get plenty of wear from this motorcycle kit.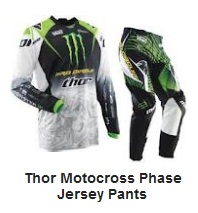 Get more buying power with non-branded motorcycle racing gear. Such as a simple kids jersey we found on ebay. This top has durable bold sublimated graphics, a non-fade Screenprint logo plus quality Sleeve cuffs to hold it's shape – the cost of this dirt jersey was a mere $39.95! (This was a brand new jersey in all sizes XS-XL).
Dirtbikexpress.co.uk, should also be on your shortlist when buying MX gloves and combo's (aka - motocross riding gear and clothes). The things that caught our eye were an Alpinestar Bionic Stella jacket for £154.99. This jacket had stretch cordura inserts, adjustable waist, adjustable arm and shoulders and was CE approved on the enclosed GP protectors on the shoulder and elbow areas. Plus a Removable back protector, was also included. Made from a breathable 6 way stretch net construction and it was purposely built to fit a womans body.
Also while there a pair of Alpinestar Stella Charger Punk Motocross Jeans (pants) in Violet for a reasonable £90.99 appeared. With heavy nylon reinforcements, durable nylon construction and a re-enforced and padded 3d knee setup should keep any lady rider happy. A final check before we left the site uncovered an Alpinestar Stella Motocross glove pack for £20.99. This was a 1 Piece Clarino Palm Construction glove with fitted wrist closure and 3D injection-moulded rubber protection for the back of the riders hand.
We didn't see any gear reviews on any of these sites where customers can leave feedback for motocross riding gear and clothes they have bought – which was a shame. But all these stores should come in useful during your searching.
If you do get stuck in the mud follow this buying guide above, and if anyone should invent clean mud you wont need any gear at all! – but we think that'll be a long time in coming……lol
Cheap and cheerful?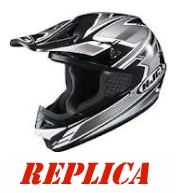 Not all motocross riding gear and clothes are cheerful, far from it. It's easy to copy labels and brand names, so when you buy you have to check and double check your buying the real-deal brand.
Cost will obviously give it away – if it's a reputable make being sold for buttons it's most likely to be a cheap replica of that said item of clothing.
With helmets and body armor it becomes a little more sinister, as these items you will be relying on to save you from harm. A cheap replica really won't be up to the hammer you'll be getting on the track. So please buy carefully and from whom you buy – those extra checks on your motocross riding gear and clothes will be important.
---
Home | Dirt Bikes | Cheap Dirt Bikes | Accessories | Mini Dirt Bikes | Motocross Racing
Motocross Gear | Off Road Bikes | Used Dirt Bikes | Wholesale Dirt Bikes
Honda | Kawasaki | Suzuki | Yamaha