Motocross riding gear
A choice of Motocross stuff.
So much choice is available when you buy motocross riding gear, so take your time in your decision and research the brands you like.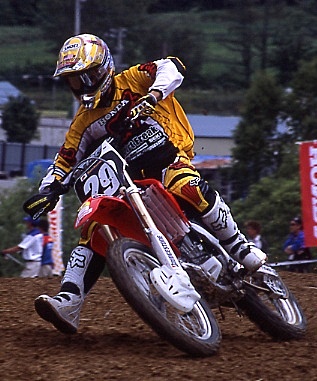 Well known brands are WELL made, and should be more than enough to help you with your MX racing & dirt bike hobby. If you should be unfortunate enough, you want the best gear that you can afford, to stave off injury.
Helmets, boots and gloves should all be of excellent quality these days. Even used items too, have been manufactured to a high enough standard, so don't be afraid to bag a bargain if you're tightening your belt.
Good motorcycle gear and motocross riding gear; should not be difficult to buy. You might have the best bike with some amazing mud tires; but you will still need quality racing clothing if your to succeed on the circuit.
It needs to fit well, so not so loose that you get tangled up in your bikes moving parts, but not too tight that your riding is spoilt by uncomfortable boots or helmets. Branded items like KTM jerseys or suzuki clothing are superb, but you can pay out a lot of cash for known brand accesories. Big brands = big cost, but not always.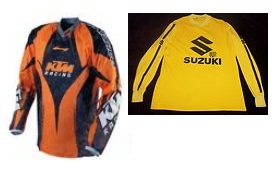 Also dont forget about the used MotoX clothing from classified ads, and magazines - its not all junk. All it takes is a rider who loses interest and the gear may have only been used a couple of times - then you can buy new later.
The internet is the place to find dealers who offer good motocross riding gear, and if you like playing on the mud tracks see these picks that we found.
Ebay.co.uk was first, which has tons of motorcycles - you'll not be surprised to know. But we were seeking dirt bike clothing this time. An ALLOY MOTOCROSS JERSEY was uncovered first - for £4.99 and only 5 hours to go and no bids! Or what about a THOR S7 CORE MCGRATH MOTOCROSS JERSEY for about £22.99? A GHOST MX ENDURO MOTOCROSS 2PC JERSEY & PANTS set was also viewed coming in at £49.99.
This was a "new" set, using water repellent material, elastic adjustable waist, micro cuffs plus injection moulded rubber patches in the knees, belt, thigh & rear yoke area.
For dirt bike kids
Jerseys, gloves and pants…….oohh my…….
We then stopped off at getgeared.co.uk. They had a pair of MADHEAD S7P Kids Motocross Gloves; selling for £16.99. Including reinforced palms and flexible protective panels and of course made from stretchy material. Another pair of MADHEAD X1B Motocross Gloves was on a clearance sale at £14.44.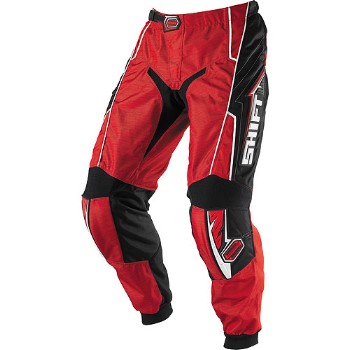 These too had reinforced palms and flexible protective panels, which are set on the knuckles and back of the hand. It offers superb value, and this motocross riding gear should be excellent for any of your local bike tracks.
On mx-power.eu was a fine and dandy pair of SHIFT MX enduro motocross pants (in red) for 59.95 € - marked down from 130 € ! These pants from shift are very lightweight and have an ergonomic design making them super-comfortable.
Want more motocross riding gear ? OK......Well motoshopper.com had plenty. Here we encountered a VFX-R AIR DIVISION helmet being sold for $346.49. Be sure that any motorcycle helmets you buy are DOT-218 and Snell-M2000 approved like this one was.
Also you need your motorcycle helmets to have some sort of EPS (shock absorbing liner), which is removable, washable and replaceable too.
Just as the VFX-R AIR does.
Motoshopper also had a V-MT/MOTO helmet, in white, black and orange colours and many, many sizes too. At a more reasonable $269.99, this model is more than suitable for safety buffs and should see you over most accidents you'll encounter. It had no decals, but this plain helmet could be customised as you wish.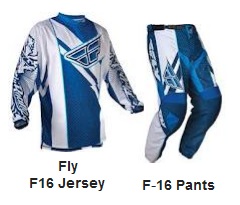 Finally we visited slyfoxmx for our motocross riding gear pitstop. They had some F-16 JERSEYS (Fly Racing) selling for $22.46 and an F-16 ATV TRIGGER GLOVE (Fly Racing) at a low-cost $25.16. The trigger glove has - Re-enforced thumbs, Silicone finger grippers, a TPR wrist closure system and Clorino Palms.
Some F-16 PANTS (Fly Racing) were also on sale at $58.46. Constructed from 1000D on the rear, and 900D Poly dye printed graphics, plus they had 1680D knee panels and a Stretch Rib area as well.
As you can see these online stores have both clearance sales and main lines for reasonable costs. Thats the best way to get geared up.
The dirt bike helmet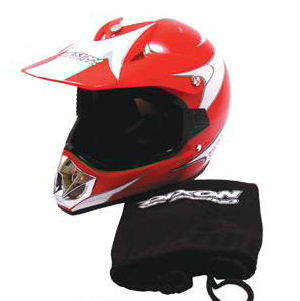 Buying a dirt bike helmet is a pretty straight forward affair. You need a helmet that's both dot and snell approved (there will be decals on the helmet to tell you this). Plus you need to buy from a reputable seller.
This (as much as possible) – should prove that the decals are genuine. Also buy good quality well known brands of MX helmet, such as fly, arai, bell and hjc.
Some motocross riding gear stores will throw in a helmet bag – which is great for keeping scratches off your brand new head protection (for a while at least).
Do NOT buy second hand helmets – they might be cheap, but who knows how many previous crashes they have been in? you just can't take that chance.
---
Home | Dirt Bikes | Cheap Dirt Bikes | Accessories | Mini Dirt Bikes | Motocross Racing
Motocross Gear | Off Road Bikes | Used Dirt Bikes | Wholesale Dirt Bikes
Honda | Kawasaki | Suzuki | Yamaha