A Motocross sponsor
The funding and the money…………
A motocross sponsor or dirt bike sponsors are always at the big races and MX events. The money involved in the sport does help out the teams that come from sponsorship funding. It's not always guaranteed of course.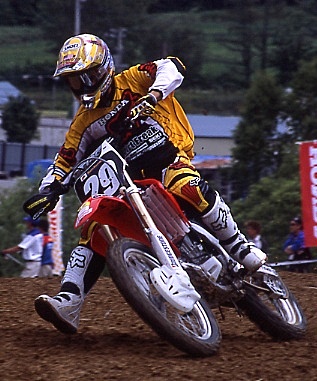 If you go to a motocross park race you will see all kinds of riders, and some of these may have sponsorship. It could be worth asking around if you need sponsorship yourself.
You could ask local businesses, they are often the best way to begin. Along with a cheque they should supply their decals for you to attach to your bike and gear – to advertise their wares to the roaring crowd.
There are a few options in raising cash for your MX career. Yes you can get a loan; or go to motorcycle salvage yards to save draining your cash pot.
But if your wanting to experience victory wins at motorcycle events you'll need a dirt track sponsor (or motocross sponsor)to help you along.
You don't need to be riding the best offroad motorcycle in the world; but you will need to have a few riding wins under your belt – before approaching a dirt bike shop.
This way they'll know their adverts & stickers will be seen. You might even engage on a safety course or have a resume of all the trophies and races you have won in the past – this all helps in showing how serious & professional you are.
However if you want information on getting a motocross sponsor, see our tips below.
Mxsponsor.com is an obvious website to start with. The site is impressive with numerous links, on offroad motorsports. The features include sending UNLIMITED resumes to UNLIMITED sponsor names and building your rider resume, this includes uploading Unlimited Images and Videos too. They have a FAQs section, and although we can't vouch for the site itself – always be careful when submitting and showing personal data on the web.
Also do be sure to ask what "unlimited" means, you don't want to be bombarding potential sponsors and get a reputation as a spammer. Better to take the personal approach if you think you can really nail a deal with a sponsor.

Dirt bike sponsorship
Avoid the bad apples.
Some advice at the forums from other riders who are dirt bikers; may also give you some valuable tips. Before sending your resume to a store, or a local motorcycle dealer, you may need to get your pro license otherwise they may not take you seriously.
Extremesponsors.com should also be worth a look for MX sponsors.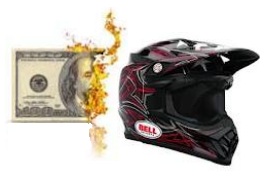 They offer a free search and an email newsletter, on their website plus networking & sponsorship opportunities giving good value.
You can be riding new yamaha bikes or non branded mighty-mud pluggers, it shouldn't really matter its your skills that count.
WARNING - Also its sad to say that not all dirt bike websites offering motocross sponsorship are genuine. So if your being asked to part with money upfront – be sure you know what your getting (and don't be afraid of asking for address, phone and email details of those your paying). Plus be wary of those wanting sensitive personal details from you.
Rather than give credit card details send a cheque – but never send cash or wire money, you can lose the lot!
To save money before you get a motocross sponsor, do simple things like learn how to change your own motorcycle oil, basic maintenance, and hunt for cheap motorcycle insurance – should you require it.
Don't forget to have fun in the mud and keep your mind on winning – after all that's why you got into dirtbike racing in the first place. A motocross sponsor is sure to follow, if your winning consistently.
Going about it, the right way.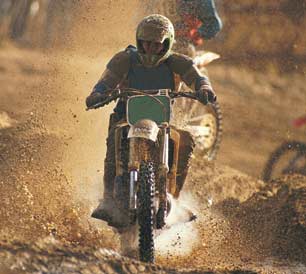 Stores that sell motocross gear would be ideal for future sponsorship. As you could possibly get "geared up" for minimal amounts, often stores will rather fund the gear & accessories rather than give you a cheque outright.
However you go about sponsorship always be polite; ie: if a business declines one year they may accept the year after!
Get as many sponsors as you can too, but don't forget these firms will want you to do well. So hone your skills as a rider and win a few local races, well before you seek out funding.
Be business-like, if you have agreed to wear a sponsors name or brand be a "man of your word" - see the contract out - even if there are tensions. It'll stand you in good stead. A bad reputation for a young rider can hold you back in the future getting sponsored again.
---
Home | Dirt Bikes | Cheap Dirt Bikes | Accessories | Mini Dirt Bikes | Motocross Racing
Motocross Gear | Off Road Bikes | Used Dirt Bikes | Wholesale Dirt Bikes
Honda | Kawasaki | Suzuki | Yamaha