Motocross video clips
A night at the movies – dirt bike movies that is!
Motocross video clips are scattered all over the web such as torrent downloads and of course youtube. They are a great way to find out "how not to ride" sometimes, when you see the amount of crash clips that are available. The more specialist websites, (inc. youtube) can even offer hints and tips about motocross jumps, and how to perform tricks and ramp jumps in a controlled way. Those types of videos are certainly worth checking out.
The wonders of the motocross video clip.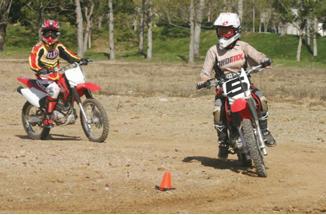 Finding Motocross Video Clips Online
Watching motocross video clips is a favorite hobby for anyone involved in the sport or the dirt bike scene. Even for people who have never gotten on a bike, or never even seriously followed any of the sport or its competitions, it can still be great to kick back and watch some of the latest videos.
Plus, there are many types of videos, whether you want to be amused, entertained, impressed, shocked, etc. Use this guide to learn a little bit more about where to find them and what to look for.
First, what types of motocross video clips are available? Depending on what kind of mood you're in, or what kind of entertainment you're looking for, there will be plenty to keep you busy. One of the most popular categories of videos will be the funny clips. These are bloopers, mistakes and accidents, or just people doing weird things on their bikes either in their free time or at an event.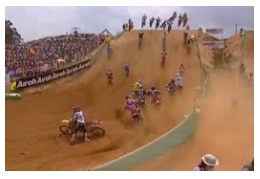 Then you'll find the motocross video clips with really gory, gruesome or intense accidents. These are also very popular for that wow and shock factor, and you won't believe some of the crashes that people have had.
Whether it's at top speeds on the track or a brutal, high fall from a jump, collisions with other riders or objects, you'll find a huge range of these out there on the web.
From there, you'll also find videos with really impressive tricks, or really impressive maneuvers, rides, speeds and so on. These are where you can see some of the best in the sport and what they're capable of, and be in awe of what somebody can do on a bike. You'll also find videos of people showing off their dirt bikes, or specific upgrades or parts of their bikes, after all the work they've done on their machine a video rounds off the completed ride.
Don't forget, you'll also find lots of videos and coverage of recent races and competitions, so you can see who did what, who won, and how it all happened. Finally, you'll also find plenty of motocross video clips featuring the babes of the sport, models and trophy girls too.
Motorcycle videos that rock
Love dirt bikes ? love the MX clips.
Of course your first stop for where to find and watch these clips will be YouTube. They have so many videos it will be impossible to get through them all. You can search for exactly what you're looking for, or just browse around and watch recommended or highly rated clips of any kind.
But there are also many other places where you can find videos like this online today. For one thing, you can check in on the major motocross magazines and news websites. Motocross.com, Dirtrider.com all have tons of videos within their pages.
You'll find reviews, special features and interviews, race and competition coverage, and all of that good stuff. Many other motocross fan sites and forums also house entertaining clips.
As you can see, there's no shortage of motocross videos to watch online today, and there's plenty of places to turn to when you're in need of a fix. Whether you want to laugh, get up to date with the latest news, see a top rider or bike in action or be shocked at a catastrophic crash, it's all out there.
Anyway here are aerobatic dirt bike videos and clips, just don't try them on your MX bike - unless your a seasoned expert.
Freestyle motocross video clips
Brilliant Freestyle Dirt bike Riders
A Freestyle Motocross Tribute
Using videos to get better.
Use the motocross video clip websites well; and also fit this knowledge into your own skills and never attempt something that is way beyond your abilities. Performing any trick is dangerous, and going blindly into any stunt will end in disaster.
So use MX videos to your advantage.
The videos can be stopped, rewound or slowed down in some cases, so you can see precisely what a rider is doing at a particular moment, when they are performing the stunt to the max, and the tipping point where it went wrong. It's a quick and easy way to get that useful information jotted down in your brain, and if a picture paints a thousand words, a video must paint more than a thousand pictures.
---
Home | Dirt Bikes | Cheap Dirt Bikes | Accessories | Mini Dirt Bikes | Motocross Racing
Motocross Gear | Off Road Bikes | Used Dirt Bikes | Wholesale Dirt Bikes
Honda | Kawasaki | Suzuki | Yamaha