Motorcross bikes for sale
Using the adverts to YOUR own advantage.
The usual adverts for motorcross bikes for sale you see are hopefully very informative and honest. Don't be put off by the odd bad picture, as the bike could be a genuine ride. The more paperwork and receipts you can get; should help you understand the bike has been looked after. Maybe buy a motorcross action magazine and check out any adverts and reviews they offer within it. Then you can pick motorcross bikes for sale sensibly - and with a clued-up mind.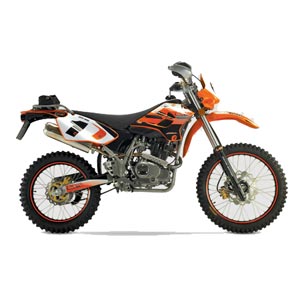 A used motorbike can make a sensible buy, if your thinking of stunts, or have over-spent on your gear & MX clothes.
New kawasaki's and honda's can prove very expensive indeed, and although we cant promise you a free dirt bike, do take a look at our 2 stroke – and four stroke picks on the web.
We first went to bike-exchange.co.uk for motorcross bikes for sale. They are a great site from England (but there may be similar franchises in lots of other countries). Anything from 110cc dirtbikes to used suzuki's will be found here!
Do you want a real motorcross bikes for sale bargain?; a 2006 KTM SX 125cc that was in mint condition was an immediate find. Selling for £1050, it had some new parts (chain, sprockets and gasket). Plus the owner had put some new graphics on the bike only a few weeks ago.
Also advertised was a 2001 Yamaha YZ 125 going for £900. This used yamaha bargain had to go; as the seller needed some quick cash. The model had never been raced, and came complete with a full engine rebuild, fork seals, new barrel, and the bushes had been done too.
If you want good used motorbikes you'll spend hours on this website, just be sure to keep clear of any wrecked motorcycles.
Dirt bike stores
Which ones really help you out on cost?
What's next in our motorcross bikes for sale search? Well ebay is the obvious answer isn't it? If you want suzuki motorbikes, MX gear or kids dirtbikes – it's all here.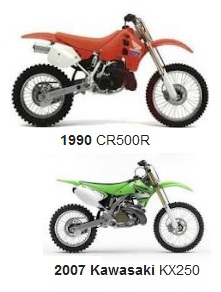 After a quick search we found a 150cc zongshen off road bike. With only 22hours & 26m to go on the advert, the price was a cheap £250.00. The owner had paid £650 about 4 months ago.
Although the used buy was in excellent condition it does need an accelerator cable and front mud guard – but on the plus side it had a lot of upgrades such as hydraulic disc brakes and a K&N style air filter.
While still on ebay we looked for more motorcross bikes for sale. A Masai DB125H Road Legal Enduro Bike honed into view. On a "buy it now" price of £699.99. It came pre-registered which saves hassle on the paper-work.
Specification was a 125cc 4-stroke engine, with wavy disc brakes all round plus a rear hydraulic monoshock and all this at 73kg of unloaded weight. Maybe this could be a good jump motobike?
Mxchange.co.uk is definitely worth a look as well. They have used honda's, generic motorcycles from china and rides you'll have seen in an older classic bike magazine.
So what did we find? Well how about a 2008 KTM SX 144 125 2 stroke bike, going for just £1,750. Although it was only used four times it had some parts and tools thrown in with the sale.
Then there was a 1990 Honda CR 500 2 stroke motocross bike for £700. This has had a rebuild - but again with lots of good upgraded spares, you'll only need to buy some goggles, a helmet and MX clothing and your ready to race.
Last up a 2007 Kawasaki KX 250 4 stroke motocross bike caught our eye. For a mere £1,400, this immaculate cycle had only seen 1 motorcross race, so you can rely on this engine for sure.
The cool thing about the website is that you can navigate easily around the 65cc, 85cc and 125cc dirtbikes and pick from the 250f, and 450f adverts - to drill down to your perfect choice (and price).
Mypurerush.com is about as far from MX junkyards as you'll get. All new stock; with a 5 working day GUARANTEED delivery. Two nice buys were a Akuma Assassin 110cc - (in Blue) for £359.99, and a Dirt Cat Titan selling for £549.99. The dirt cat had a 125cc Lifan Engine, a Mikuni Carb, Official Titan Mud Tires and USD Forks.
If you do save lots of cash on some used transport, why not get yourself some training at a dirt bike school with the extra cash? If you check out the motorcycle safety foundation website, you'll be able to ride your bike on the road. Also training saves you wearing out your brake pads and tires.
Do be careful buying salvaged MX bikes; you can get really good bargains its true - but some are outright dangerous, and just take way to long to get fit for riding.
The in's and outs of motorcycle ads.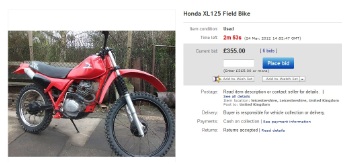 Stay clued up on motorcross bikes for sale; and READ what has been mentioned in the adverts and more importantly what's been left out!
Read between the lines if the picture has some obvious aftermarket accessory on it, and yet it hasn't been mentioned in the ad – why is that? Perhaps the seller is intending to keep it! If so you need to clarify with an email.
Read the ad at least 3 times, and be sure everything is mentioned that you would expect to see on a bike of that model and year. Many times a seller will throw in workshop manuals, un-used spares even hardly used gear.
But don't get distracted by these goodies only to find that amazing aftermarket exhaust is not on the bike when you go to pick it up.
Be wise when buying motorcross bikes for sale.
---
Home | Dirt Bikes | Cheap Dirt Bikes | Accessories | Mini Dirt Bikes | Motocross Racing
Motocross Gear | Off Road Bikes | Used Dirt Bikes | Wholesale Dirt Bikes
Honda | Kawasaki | Suzuki | Yamaha