MX goggles - Eyes right!
Protect your eyes on the motocross track.
Buying mx goggles is quite easy. You only have to look in the best motocross stores and the net for a vast amount of choice. Some goggles might have the latest graphics on them, and others will be fairly plain. Dont get too concerned about the look, it's the quality you need. Tough, rugged materials that won't let you down are your main aim. "Spy" offer a great set of dirt bike goggles which are selling very well at the moment.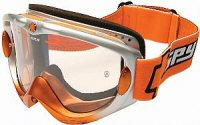 The outdoor world is a hard one – on your body that is. But one thing you must protect is your eyes. A bikers wheels will throw so much dirt and grit in your face you must have a pair of good Motorcross goggles, ready for the days racing.
We went to the stores that matter to get you a simple map of the places to go to for the best eye protection.
First along is motoshopper.com, they have a number of dirt bike accessories & apparel. But we looked at the pictures for brands we know and love; what goggle gear did they have? A pair of Hjc07 Outlaw MX Goggles were well priced at $31.34. And a set of Hjc07 Rogue Goggles came in at an even better price of $24.99.
HJC Classic Goggles have quality padded leather cushions that hold well against your face; and hi-impact, scratch-resistant lenses for anything the terrain can throw at you.
Ebay has a number of choices. We often find cooly priced michelin tires or some of the most classic motorcycles to buy. But this time we wanted some off road goggles, that would be usable in a hostile environment.
We uncovered many generic motocross "type" skiing goggles for around £12.99 – many with free shipping.

Dirt bike goggles of superior quality.
But are these any good? It's better to be safe and pick goggles fit for the job (the dirtbike track). We liked the look of a pair of Oakley MX crowbar goggles keenly offered for sale at £32.99.
Then a Thor enemy pair of goggles (in pink – so ideal for motorcycle girls), came our way for a mere £21.70. These MX goggles are high performance kit, which includes a molded strap adjustment, anti-fog Lexan lenses and drilled frame for added ventilation. If your attending rallies or going on tours and you want to look like a pro; scrambler goggles like these should be a great addition to your outfit.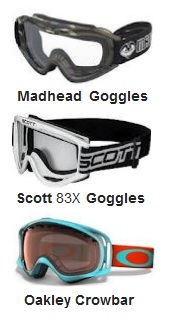 Getgeared.co.uk also have plenty of Goggles for motocross; whether it's on a trail in scotland or an energy circuit close to home.
Their MADHEAD "pitbike" goggles were selling for £21.99 – with a shatterproof construction and UV protected lenses they seemed a steal. The CE examined goggles should offer you a certain amount of protection you can rely on.
If you want to spend a little more however the Scott Model 83X Goggles kit comes in at £29.95 which is still not that expensive.
The Scott 83X Mx goggles are made from an Unbreakable Urethane frame, and include scratch resistant Lexan lenses and gives 100% UV protection. A perfect guard for your eyes, and fine too for mud races, dust tracks & jumps.
Finally we went to dirtbikebitz.com. Who have a vast range of great gear, for the tracks and motocycle circuits. A pair of Oakley Crowbar Goggles were £39.99. Which came in either black or gold and had clear lenses. Plus a cheaper set of Smith Intake Enduro Goggles were only £34.25, and both models had 10% off RRP.
Magazines often carry reviews of dirt bike goggles, which might help in your final decision to buy a certain brand. But often the best eye protection (cost-wize) can be found on the net.
Go for as many features as your pocket will allow, and see what other riders love – the cream often rises to the top – so buy the cream.
Google goggles………keep safe.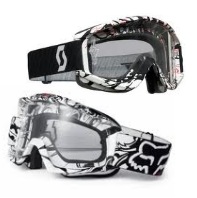 We should all know that riding a dirtbike or even a tiny pitbike without mx goggles is a stupid thing to do. Maybe we rush out without thinking or we can't find em' when we need them – so fun comes first.
But when you think about it, eyes are so delicate and we can't replace them. When a stone or fragment of debris hits us square in the eye, its only then we realize the seriousness of an accidental situation – plus your buddies would be mortified if they've injured you.
So don't put that kinda pressure on them – buy great mx goggles – leave them with the bike, alongside your helmet, and when you next rush out to the garage with your adrenaline pumping, your goggles n' helmet is on your nut within seconds and your ready to race.
No drama, no danger – just racing safely.
---
Home | Dirt Bikes | Cheap Dirt Bikes | Accessories | Mini Dirt Bikes | Motocross Racing
Motocross Gear | Off Road Bikes | Used Dirt Bikes | Wholesale Dirt Bikes
Honda | Kawasaki | Suzuki | Yamaha