MX graphics - Decal it.
Show off your identity and pride using colorful imagery.
MX graphics – A sticker or decal can say so much.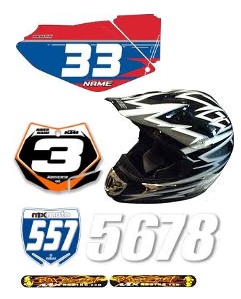 MX graphics are an art of their own. Whether the design announces the manufacturer of the bike, the various sponsor logos or it just adds the rider's own unique style, the result is colorful and informative.
Motocross and off-road graphics, primarily designed for motorcycles, ATVs and quads, often find their way to trailers, helmets, books and windows.
Graphics are a form of identity and pride. Identify yourself and your team with incredible colors, shapes, type style and personality.
Sometimes companies join together to increase their advertising dollars and inspire customers and potential customers to review their products. Unit Technologies, created by Paul and Ian Everest in 2002, shows the motivation and style of these Australian brothers and motocross fans.
Dedicated to graphics and clothing for motocross action and enthusiasts, they went from a garage-based company to a million dollar plus business in 8 years. In 2010, they added full-sized, late-model motocross models (bikes built between 2005 through 2011) to their graphics kit range.
To get the colors right, they teamed up with MX Ink, a company based in Tasmania. Customers requested the expansion of available MX graphics and the company responded by finding the sources needed to make it happen.
Some of the different motocross stickers available from different sites on the Internet include a vinyl jump decal. The motorcycle graphic is available in any color and great to put on fenders, saddlebags, car and truck windows or a helmet.
If your other bike is a skateboard, show off your first-loved sport. Flames are another popular decal.
There is really no limit to originality or popularity, thanks to MX graphics. Computers have advanced the manufacturing of custom graphics. Team and/or individual names are easily and quickly added to decals.
Stickers for dirt bikes are the way to go.
Another company inspired by a love of motocross is Factory Effex, started in 1992 by Bryar Holcomb, who won the 500 cc class in the very first Supercross event in 1972 at the Los Angeles Coliseum.
Graphics, primarily designed to protect the plastic on the dirt bike, quickly became recognized as an opportunity to show the graphic artists love of the sport.
Their works of art became visible all over the world as riders went from competition to competition.
Some of the bikes graced by Factory Effex graphics include ones ridden by Chad Reed, two- time Supercross champion, and Freestyle MX world champion and X-fighters winner Mat Rebeaud. Blake 'Bilko' Williams and Brian Deegan, both X Games gold medalists, also use the quality graphics by Factory Effex.
Design your equipment with a personal touch. Captain Morgan, Tinker Bell, Spiderman and T-Rex are just a few of the graphics available. Use them as a seat cover, a personal statement on your helmet or a window decoration.
As you can see, many of the industries created in response to the needs of the motocross rider owe their success to the kinship of the business owner to motocross, the quality and style of MX graphics, and the response to what riders and fans want.
MX graphics: it is not just a number or name. The graphics are a symbol of the tenacity and courage of riders performing tricks on their bikes, sometimes against the odds.
Companies like alloy mx, thor and Alpinestars take their graphics seriously and it's easy to see why, they need their products to stand out in a store or online, which benefit's riders and companies.
Are you buying mx dirt bikes for sale in magazines or auction sites? – or are about to? – Well double check if you can buy the same motocross graphics for it? (If yours are scuffed and tatty).
Sometimes it's not always possible, if it's a particularly old or rare motorcycle. Of course custom made motocross graphics are always an option – but an expensive one.
---
Home | Dirt Bikes | Cheap Dirt Bikes | Accessories | Mini Dirt Bikes | Motocross Racing
Motocross Gear | Off Road Bikes | Used Dirt Bikes | Wholesale Dirt Bikes
Honda | Kawasaki | Suzuki | Yamaha