MX radio - Listen and learn.
MX Radio Channels and Access.
Like any other sport, motocross has a specialized fan base and MX radio is often found by chance. Where you live affects live coverage, information and race updates on the radio. Dead air and overpowering signal destroys reception.
Competition is more intense in large areas of habitation, less refined in smaller areas and virtually nonexistent in remote areas.
Manx Radio started broadcasting in 1964, covering the Tourist Trophy (TT) motorcycle races on the Isle of Man. Today it has advanced to an internet-based radio station, providing those in the UK and around the world the opportunity to tune in for today's news or review past events.
FOX Sports Radio, ESPN and ESPN2 are additional ways to find MX radio events. Blogs and track websites usually list the channel or station covering the event. Listen to "On The Grid" Sunday morning, which covers motorsports events on FOX affiliates, American Forces Network and XM Radio Channel 169. "Speed Sport on FOX Sports Radio" yields intensive motorsports coverage.
Sirius and XM are among the most popular paid programming stations. Truckers and long-distance commuters enjoy the benefit of satellite radio that allows them to select what they want to hear. Both carry ESPN, allowing MX subscribers the chance to listen to race coverage when aired. XM carries Sporting News Radio and Fox Sports Radio.
Internet radio and live streaming constantly improve. Some MX radio sites require a subscription, so be wary of where you travel. You can get "On The Grid" streamed live on iHeartRadio.com and FoxSports.com.
Another spot for live stream is allisports.com. Access the action at home with your computer or on the go with WiFi and your laptop, Kindle, Netbook or Smartphone. Supercross and motocross action is available at mxtalkradio.com, as well as archived interviews and news. Xtrememotocrossradio.com provides racing news in states like Arkansas, Kansas, Texas and Oklahoma.
Rock1053.com from San Diego, California, covers motocross while going about its business as a rock radio station. Find interviews with riders like Jeremy McGrath or Nicole Madsen, who finished 9th overall in Women's EnduroX July 2012. Modern technology keeps all racing fans up to date.
http://www.allisports.com/motocross/live
http://www.manxradiott365.com/
http://mxtalkradio.com/
http://www.xtrememotocrossradio.com/
http://www.rock1053.com/pages/motocross.html
Drop out, and tune into dirt bikes.
Mx radio offers an ideal way to keep informed of the latest events within motocross; including live commentary. You might want to check out the freestyle events & supercross races too.
Of course there is just chat and interviews on a lot of shows but specific radio channels like this give some great free info.
If your looking for things like race results, radio might not be the ideal choice. In such cases it could be best to check out websites like motocross.com & supercross.com or even specialised dirt bike magazines.
However two stroke fans and other riders love to take in a show on the radio - why?.Because they specialize in talkative interviews & tales of motocross adventures.
More often its interviews with the latest MX & SX riders exploring the latest tech thats on their Suzuki or Yamaha.
Within the US you can have many outdoor riders, giving a profile interview and the jocks try and get the best from this motorcycle sport and infuse excitement wherever possible.
Lets scan over the radio channels that love the dirt bike sport - so you know where to begin.
DMXS radio, is a great place to start. Now in its ninth year of existence, this radio channel has a couple of guys who have been involved in the motocross scene for a number of years. They offer up fresh motorcycle news of all the latest and greatest and keep you informed of the newer riders coming into motocross.
Radio shows for the MX fans.
Xtrememotocrossradio.com has a website where you can listen online – with their programs now in an MP3 format its easier than ever.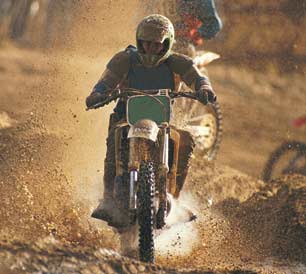 Single monthly interviews are conducted with the likes of Rob at Elk River and a fine interview with Mike Lorenz-Boogieville, plus a whole load more.
They always want feedback so if your based where they are hanging out - do contact them and let em' know.
Pitpassradio.com is a syndicated show on every Tuesday, 8 p.m. (Eastern time), and not only for US citizens but for anyone around the globe.
The mx radio channel even has a myspace page too - www.myspace.com/pitpassradio.
The talk show has a number of top notch jocks talking about bike analysis, race action and the latest riders on the scene.
Also if your interested in the radio marketing environment – you can contact them to advertise on the show itself.
MX radio is an amazing environment for fans of all ages to grab some chat from the riders that matter - and gain some nuggets of information you may have never heard before in a pre-race interview. Of course visit the radio shows' websites. They have clear photos and often buzzing forums – with female bike riders putting forward opinions on what's new and happening on the scene.
MX radio for off-road fans has never been better than it is today – so tune in (in stereo if you can) and enjoy.
Dmxs radio chat with Blake Wharton.
Simplicity itself from the black box.
Tuning into an mx radio show is simple, you can be driving in your car or chilling out at home. TV and the internet has taken over somewhat from the simple pleasure of motocross radio.
The main problem is you don't get to SEE the action, the overtaking and the spills all have to be explained. But when it comes to interviews a well-constructed radio show can be a joy to listen to.
Although there are dedicated shows and channels, be aware of your local station. When a freestyle (FMX) show is on in your town, you can be sure they'll be wanting to interview the stars – so keep your ears to the ground for some tidbits of information.
---
Home | Dirt Bikes | Cheap Dirt Bikes | Accessories | Mini Dirt Bikes | Motocross Racing
Motocross Gear | Off Road Bikes | Used Dirt Bikes | Wholesale Dirt Bikes
Honda | Kawasaki | Suzuki | Yamaha