MX superfly - Game time.
Are the games masters loving this release?
MX Superfly - Upgraded and Better than Ever.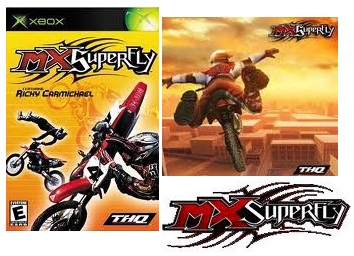 MX Superfly, released on November 21, 2002, still brings many options to a video gaming public with a penchant to accomplishing the impossible in MX tricks and racing. Minigames are good tactics for selling a game.
Some people do not want to get involved in the intricacies of a full game and find the same pleasure in a portion of the time. For those ready to ride, competition is available in various arenas. When you do not feel like competing, ride out in the open and find what there is to see.
MX Superfly features Ricky Carmichael. Do not get concerned if you cause Ricky to crash, because you will have another opportunity to make amends.
Upgrades of some features include 26 pros on the roster, so you have your choice of alter-identity and a choice of your ride: 125cc, 250cc, or freestyle ranks.
Build the track your way with obstacles, jumps and ramps. The more familiar you get with the bike, the more impressive your performance will be. Hey, there are many tricks, like a Rock Solid or Tsunami, most riders will never attempt in real life. Enjoy the opportunity now, when crashing does not hurt.
While you are building your offense, choose a great sponsor and pick the right equipment and gear.
Moving ahead in points gives you the opportunity to buy more gear. You will look good competing in any of the meets, whether you ride freestyle going for big air, amateur or supercross. Outdoor Nationals, THQ US Open, even FreeRide Moto-X, a complete season of competition awaits you in your new career mode.
Ride virtual MX tracks and win trophies.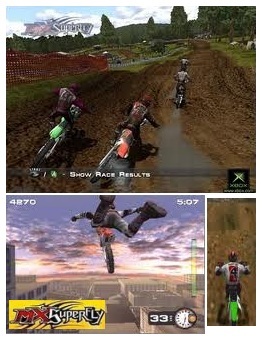 Use the opportunity to learn about how modifications and improvements affect handling on different bikes. Most likely, you will access some of the cheats, because the manual gives no guidance on how bikes will react to upgrades.
Few people want to give up their MX Superfly hard-earned cash for an upgrade on suspension just to find out the bike is too hard to handle.
PS2 is a good match for MX Superfly, but if you want to ride competitively against others (and most of us do), you will want Xbox Live, allowing internet play and the ability to really beat the competition, or learn more from it.
Regardless of which system you are playing on, stunts advance with experience. Controls allow tail whips, gigantic wheelies, and various other moves. Freestyle and racing offer five different multi-player modes.
Plan to spend time learning the different features and combinations of the controls that allow spins mid-air as well as an enormous selection of tricks. It is going to seem tedious at first, but then you are going to accomplish something amazing and realize MX Superfly is worth the time and practice.
Creating a rider from scratch in Career Mode is a different challenge. The positive feature is that while the rider is on the amateur tour, the player can learn the controls, the equipment and things about the competition. Just like any competition playing against AI, it will be hard at first to get ahead.
Then suddenly your rider is going to place and advance in standing. The struggle will continue in pro tours. The important thing is to figure out what needs changed to move ahead.
If MX Superfly does not come together right away, relax, have fun and learn what you can. There is always next season.
If you're a fan of mx super fly another game you might love is mx vs atv. Or actually the official title is now - mx vs atv alive, which improves upon previously released games, to immerse a rider in superb graphics and real feel riding.
---
Home | Dirt Bikes | Cheap Dirt Bikes | Accessories | Mini Dirt Bikes | Motocross Racing
Motocross Gear | Off Road Bikes | Used Dirt Bikes | Wholesale Dirt Bikes
Honda | Kawasaki | Suzuki | Yamaha