The off road bike for you.
How to Find a Good Off Road Bike.
Finding a good off road bike is a great experience if you are good at reading people's body language and in between the lines of the advertisements. Fill in the blanks with the data of your choice to get an idea of how ambiguous ads can be.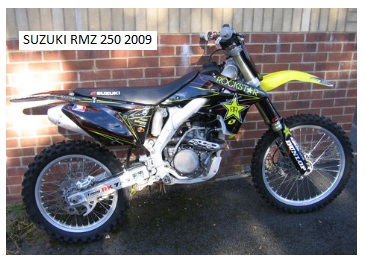 Bought this (bike name, year, model) just (number) years ago. Only (low number) hours ridden since. Replaced (name something) and (something else) last (month).
(Part) is always dependable. Great performance. Affordably priced at (amount)....etc..etc...
You will find some major brands for sale in the want ads and on eBay. Although prices can reach $7000, there are times when a deal shows up on the bike you have been looking for. A 2005 KX250 2 stroke for $1800 or a 2008 KXF for $3500 or best offer gets Kawasaki fans calling for further information or bidding online. Likewise, a 2009 Suzuki RMZ 250 for £2,399 sounds good!
Any model you consider will have a different design, engine power and build. Looking at a lesser known bike may save some money right away. At the same time you learn to do maintenance on another make of bike.
Searching the internet can lead to a number of false results. If you do not find what you are looking for when you click on a link, get out of there and try another site. Sometimes you must communicate with the seller for further information. Spotting a 1995 Husqvarna in mint condition after only 65 original miles at a price of $1400 led to a note that the owner will provide additional information when called.
There is a 100 cc 4-cycle Lifan 2007 listed in wantaddigest.com with an asking price of $450. The seller notes it starts with the 1st kick. The Lifan is a Honda clone made in China, where enterprising individuals have cloned the copies. It is important to verify any parts that you purchase are actually for your Lifan and not a lesser quality bike.
Some owners state that not all Honda parts are interchangeable. Find helpful articles in the online dirt bike magazines and blogs. A used off road bike can be rebuilt to last for years.
Dirt bike riding for anyone with the inclination.
Keen to buy an off road bike ? well a great many people are doing just that. The off road dirt bike is a popular choice for many trial & track riders and enthusiasts. If you think the sport is for you, some dirt bike gear should be purchased to keep you safe and the correct "fitted" helmet is an absolute must have.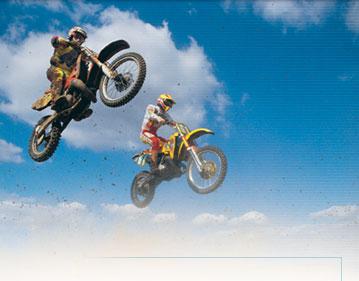 Two and four stroke engines suit the motocross rider. If this is new territory to you; you may be wondering what types of two stroke and four stroke bikes are for sale?
If you're a skilled or novice rider we'll show you the places where outdoor motorcycles are sold, so you can bag a bargain.
Ebay of course is a place you must visit – ideal for two stroke oil, terrain tyres, handlebars and engine parts; but what about motocross bikes?
Well a Kids / Adults 50cc Cobra bike with 10 Inch Wheels and Knobbly Tyres came in at just £199.99. Or what about a 125cc NINJA ASSASSIN DIRT BIKE with an all new graphics kit selling for £395.00. This tiny terrain muncher came with a MIKUNI carb, an adjustable rear shock at 4000 LBS, a telescopic front suspension, plus an alloy tank cap and handlebars. Excellent for your adventures this year.
With ebay it's so VERY easy to buy junk & salvage bikes with broken engines so never get auction fever and buy one, unless you really know what you're doing.
Mxchange.co.uk is a brilliant website for buyers of the off road bike. Pre-owned bikes are on offer everywhere - and this is a "good" cheap way to own the MX ride of your dreams.
Ok so whats on sale if you want a fine off road bike ? A Kawasaki KX 250 was being sold for £1900. This model had been well looked after, so has never been raced in its life. Plus its had a new water pump seal, new rear brake pads and an oil change. Plus loads of other gear was added into the sale – the rider was selling this older dirtbike as he wanted a new 4-stroke.
Then we uncovered a Suzuki RMZ 450 (2007 model) for a reasonable £1250. As the seller says this classic Suzuki would cost you over £10,000 to build new – so this seems an absolute steal. With a Boyesen water pump and cover, renthal twin wall bars, silicon hoses and custom graphics this Suzuki is in immaculate condition.
The off road dirtbike
Do you think they are expensive? Well think again.
Bike-exchange.com is another website very similar to mxchange to buy a used off road bike to get you started in the sport. It's a classified site for two stroke and 4 stroke engined bikes - and they advertise motorbikes of all varying conditions as well.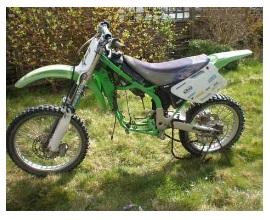 We first found a Kawasaki KX 125cc bike, coming in at a straight £1000. This too WAS a well maintained bike, with a newly powder coated frame and new frame guards. But the engine had been removed!
It needs a new kick-start recoil & a new linkage bearing – plus the motor needs to be put back IN (no really). The good news is that the bike has been dry stored, and all the parts were available. So if you fancy yourself doing a little project this winter - it could well be the MX motorbike for you.
If you want to spend a little more on your all terrain motorbike what about a Suzuki RM 250? Although a 1998 model, the engine had been totally re-built. With new piston rings and crank bearing's and the vital fluids all changed of course. Someone has done all the hard work for you. The price of all this? Just £1250.
Now if your buying a used bike with cool mud guards and solid suspension swing arms, you'll need to find shops that sell outdoor clothing. If you should become a mud duck on a MX circuit, this apparel will save your casual clothes from obliteration.
Slyfoxmx is one of the best we can find; and if you read a dirt bike magazine or have been online a while - you may have heard of them already.
This online clothing store sells MotoX helmets, jerseys, pants, boots and various other accessories – but not many actual parts like tires and engine components. For that you maybe better with ebay.
We like them because they always have sales on – and if you're a real bargain hunter, you'll love their regular discounts on lots of lines.
Hardcore Off-Road Dirt Bike Moto Fury
The amazing mini off roader.
Even though used motocross bikes can be so appealing because of their cheapness, would it suprise you to know you can go even cheaper.
Well you can with a mini off road bike.
These aren't always sold to kids (although they do sell a lot to children). A great number of adults buy them for messing about on, for a few hours.
A couple hundred dollars will buy a new one, so you can see the appeal.
Should you be on a small tight budget but still want the thrills and spills at a weekend; a small off road bike could be just what you need - so get shopping for one today.
---
Home | Dirt Bikes | Cheap Dirt Bikes | Accessories | Mini Dirt Bikes | Motocross Racing
Motocross Gear | Off Road Bikes | Used Dirt Bikes | Wholesale Dirt Bikes
Honda | Kawasaki | Suzuki | Yamaha